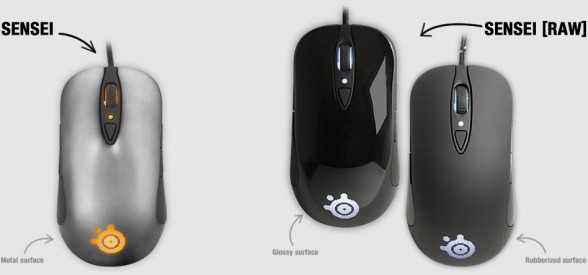 SteelSeries, a world renowned gaming peripherals manufacturer, recently unveiled a new gaming mouse this week at CeBit 2012.
The new mouse, dubbed the Sensei [Raw] is basically the same design as the original Sensei with a whole bunch of more advanced features removed to to allow the mouse to come in at a lower price point. For those who don't follow SteelSeries products, the Sensei mouse came a whole bunch of advanced features such as an onboard LCD menu system, memory for 5 different onboard profiles and a 32bit ARM processor embedded into the mouse itself to increase the mouse's CPI.
Since those features are unnecessary for most gamers out there, by dropping the LCD menu system, removing some onboard memory and dropping the 32bit ARM processor, SteelSeries is able to introduce the price of the Sensei [Raw] mouse at only $59.99 making it a great deal for those previously interested in the $89.99 Sensei mouse, but couldn't justify the cost.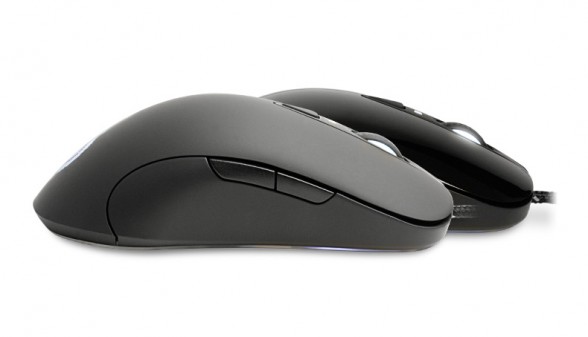 As mentioned earlier, the Sensei [Raw] is expected to come in at $59.99 and will come in two editions, one with a glossy surface and the other with a rubberized surface.
Still interested? Take a look at the full press release below
Press Release
[box_light]
Hanover, Germany – CEBIT– March 6, 2012 –Today, kicking off CeBIT 2012, SteelSeries, the leading manufacturer of premium-quality, competitive gaming peripherals, introduced theSteelSeries Sensei [RAW]. With best-in-class hardware like Omron switches, a pro-grade laser sensor and a CPI range from 90-5700, the SteelSeries Sensei [RAW] is designed to deliver the best in gaming performance. Its ambidextrous, all-grip design also features bright-white LED illumination in 3 zones –which can be configured with multiple levels of pulsation. Powered by the SteelSeries Engine software suite, users are equipped with advanced customization options and the ability to create and store an unlimited amount of profiles.
"When we built the SteelSeries Sensei, we knew that at the core of it, if you took out the on-mouse LCD menu and configuration options, it would be a really solid mouse from the sensor to the shape. The Sensei [RAW] delivers those core performance basics of a gaming grade mouse, like shape and its hardware, to those who don't want, need or care to pay for all the extras," said Kim Rom, SteelSeries CMO. "We also built the Sensei [RAW] with a transparent bottom to drive home the awareness that with this mouse, what's inside is what makes it awesome."
The SteelSeries Sensei [RAW] will be available in 2 different versions, each offering a very distinct feel for the user. For gamers who worry about sweaty palms, the SteelSeries Sensei [RAW] Rubberized features a rubberized black, hand-sweat resistant coating that allows for an exceptional grip and soft-touch comfort even during the most frantic gaming sessions. The SteelSeries Sensei [RAW] Glossy features a glossy black coating that delivers a unique grip and feel. This surface is ideal for players who prefer a smooth exterior that both looks and feels sleek.
The Sensei [RAW] Glossy and Rubberized also both feature:
• XL-size Teflon® Feet for a smooth, consistent glide
• 2m / 6.5ft anti-tangle black and white braided, nylon cord
The SteelSeries Sensei [RAW], Rubberized and Glossy editions, will be available in the SteelSeries Web Shop and select retailers starting in June with an MSRP of $59.99/ €59.99. For more information and images of the new mice, please visit http://steelseri.es/raw. Be sure to follow us on Facebook and Twitter for new product updates as well as all SteelSeries happenings during CeBIT this week.
[/box_light]