Intel 22nm Ivy Bridge CPU Launch Date Confirmed
The launch date of Intel's new Ivy Bridge processors have been confirmed for April 29, 2012!
According to a leaked slide over at DonanimHaber, Intel is launching 10 Intel Core i5 and i7 22nm Ivy Bridge processors on April 29 while another 5 more Intel Core i5 Ivy Bridge processors will come on June 3rd. Additionally, as rumored previously, Intel is planning to launch a total of 4 new chipsets along with the launch of the first wave of Ivy Bridge Processors. This includes the Intel Z77, Z75, H77 and B75 chipsets. Following on June 3rd, Intel will also launch their Q77 and Q75 chipsets as well.
| | | |
| --- | --- | --- |
| Date | Ivy Bridge Processors Launched | Chipsets Launched |
| 04/29/2012 | I7-3770K, i7-3770, i7-3770S, i7-3770T, i5-3570K, i5-3550, i5-3550S, i5-3570T, i5-3450, i5-3450S | Z77, Z75, H77, B75 |
| 06/03/2012 | I5-3470, i5-3470S, i5-3475S, i5-3570, i5-3570S | Q77, Q75 |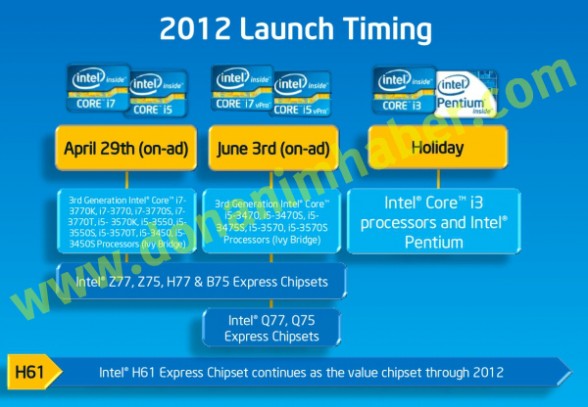 Source: DonanimHaber / FudZilla