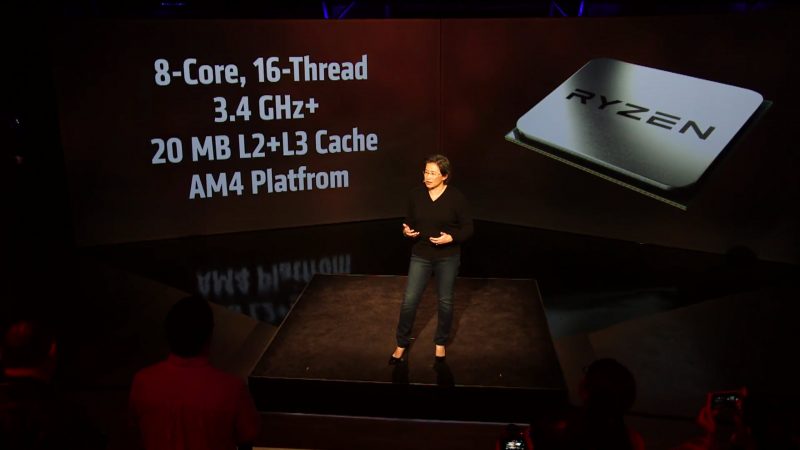 AMD has finally lifted the wraps on its upcoming Zen architecture based CPU which will formally be named Ryzen. Ryzen, codename Summit Ridge, will be built on the 14nm FinFET process, feature up to 8 cores (16 threads using SMT technology), have a base frequency of 3.4GHz+, 20MB of L2+L3 cache, and a TDP of 95W.
Alongside Ryzen is the new AMD AM4 platform. AMD touts that AM4 will give users a versatile upgrade path, utilizing a single socket for everything from the mid-range to enthusiast. One of the most interesting features of AM4 is its split I/O operation. Certain I/O features are baked into the socket which help to reduce the access to the chipset for simple functions. AM4 also natively support NVMe, SATA Express, and USB 3.1 Gen 2.
AMD SenseMI
During AMD's presentation, they also unveiled some of the biggest new core technologies in the Ryzen processor which are collectively known at SenseMI. SenseMI includes Pure Power, Precision Boost, Extended Frequency Range (XFR), Smart Prefetch, and Neural Net Prediction.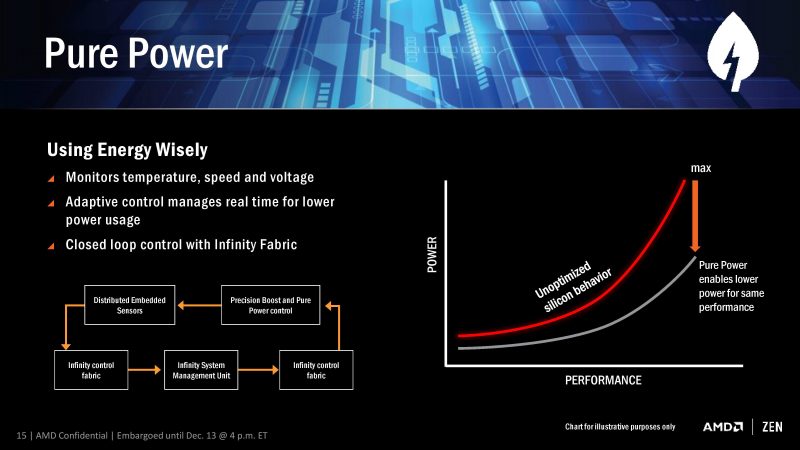 Pure power is Ryzen's new power management system which relies on their Infinity Fabric to provide adaptive power control. This allows the chip to only draw enough power as necessary which helps decrease power usage.
Precision boost is Ryzen's frequency management system which relies on their Infinity Fabric to provide precision clock speed tuning in increments as low as 25MHz on the fly. This allows Ryzen to squeeze the most performance from any given amount of power.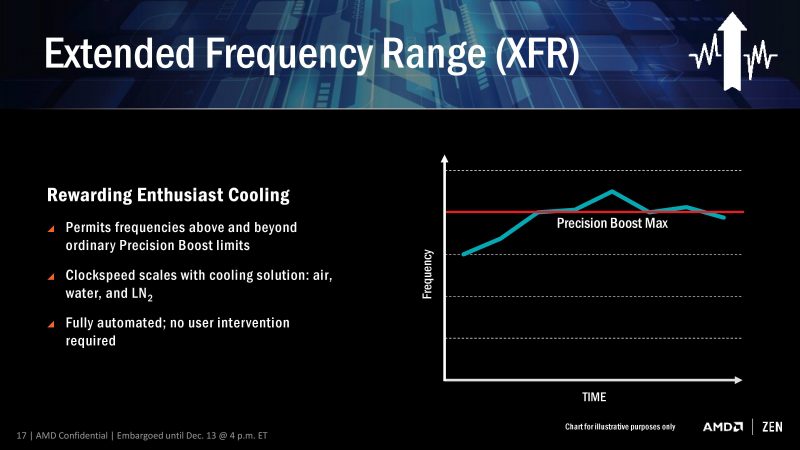 In combination with Pure Power and Precision Boost, Ryzen also features Extended Frequency Range, (XFR). According to AMD, Ryzen's clockspeeds can be extended beyond the base and boost limits if higher end thermal management solutions are used. In other words, the chip will auto overclock itself in a fully automated which removes the dangers of novices damaging their systems by tweaking the wrong settings.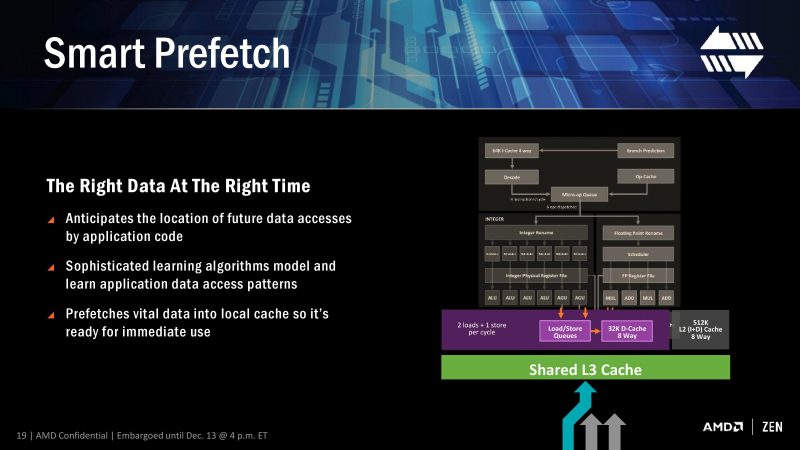 In addition to power and frequency control, AMD also integrated some powerful caching and prediction capabilities into Ryzen. The first is Smart Prefetch which allows the CPU to better understand access patterns of frequently used software. It will pre-load data into the L2/L3 cache before they're requested so data is available before it's even requested.
In combination with Smart Prefetch is also Neural Network Prediction. Unlike Smart Prefetch, NNP will anticipate future decisions, pre-load them and choose the best available path through the CPU. This of course minimizes processing time. According to AMD, NNP is very accurate which helps greatly improve processing performance.
New Horizon Event Demos
But the New Horizon event wasn't just to gloat about specs and features on paper. AMD showcased many actual demos running on the new silicon.
The first test is a Blender test. On stage, the Ryzen matched the performance of the Intel Core i7-6900K. The test was run with Blender version 2.78a. AMD has provided this test on their website here.
Next up is an encoding test using Handbrake. Ryzen was able to complete the task in 54 seconds, beating out the Intel Core i7-6900K by 5 seconds. A power chart showed that despite the performance lead, the power consumption of Ryzen was 5W lower than the Intel Core i7-6900K. One of AMD's highest priorities when it engineered Zen was to aggressively improve IPC (instructions per clock) for individual cores without increasing power consumption.
The final demo in the professional test is the ZBrush, a 3D design suite. ZBrush relies heavily on the CPU as it mostly uses software rendering. On stage, Ryzen was able to render 54 million polygons without any visible lag at nearly real time.
AMD also had an array of gaming test lined up for the reveal. Ryzen was once again pitted against the Intel Core i7-6900K. The first test consisted of Battlefield 1 running on max settings at 4K. There was no frame counter shown, but no discernible difference was present.
DOTA 2 is then shown to run streaming and gaming simultaneously. This time around, a system with an Intel i7-6700K has also been added to the mix. Both the Intel Core i7-6900K and Ryzen handily breezed through the task.
The last test is the most interesting. AMD paired a consumer version of its Vega GPU alongside Ryzen. It was shown to be capable of handling Starwars: Battlefront at 4K. The Nvidia GeForce GTX 1080 typically achieves around 48 FPS on average at 4K in the same title at the highest settings. Unfortunately, no additional testing parameters were revealed, but this further confirms Vega's existence and gives us a lot of hope that AMD will hit their target timeline of launching Vega in 1H2017.
After the event, one thing curiously missing is the expected price. From the demos, it appears that the flagship Ryzen part will likely be on par in terms of performance compared to the Intel Core i7-6900K which typically retails for over $1,000. If AMD could target $599 or below, it would be very serious competition for Intel.
The good news is that we won't have to wait long to find out. At the end of the event, AMD CEO Dr. Lisa Su mentioned that "Ryzen is coming really soon" and it's on track for a 1Q2017 launch.