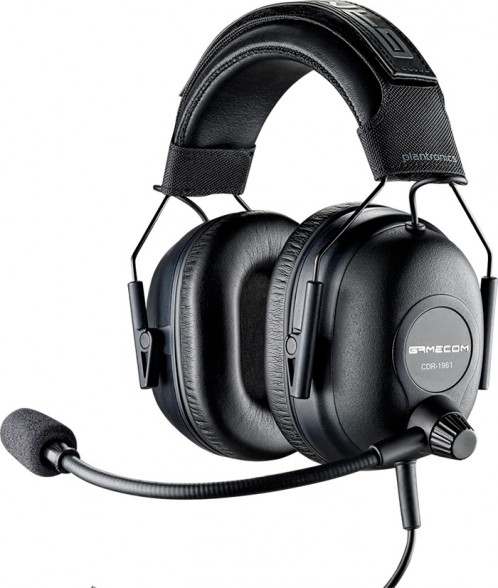 Press Release
Bring Your A-Game with a Headset Designed and Built for Professional Gamers
Plantronics Limited Edition GameCom Commander Headset Lets Competitive PC Gamers Keep Their Heads in the Game
When the competition is fierce and the stakes go beyond bragging rights, gamers need every possible advantage to win. Where adrenaline is the common fuel and superb skills are the norm, the competitive edge for world-class gamers is focus. More than the opponents, distractions are the enemy to beat. The new limited edition Plantronics GameCom CommanderTMheadset lets competitive PC gamers hear and be heard no matter how harsh the playing field.
With exceptional noise isolation, the GameCom Commander distills the roar of the crowd into a silent current of energy so gamers can stay plugged in while distractions are tuned out. The extremely durable and comfortable headset boasts Plantronics' best audio and voice technologies that ensure gamers will hear every crucial command, signal, and strategy whether competing in front of thousands on the main stage or sharpening their skills at home between competitions. The GameCom Commander also features easily accessible controls, breakaway cords and includes a custom built durable carrying case for convenient storage and transport.
"Professional gamers have unique needs which make the performance of their equipment as important as the skills they possess. The GameCom Commander headset is one of the most important weapons in the gamer's arsenal, engineered in the long-standing tradition of Plantronics headsets for astronauts, pilots, emergency workers, and others on the frontlines," said Tanguy Leborgne, vice president of consumer solutions at Plantronics.
The GameCom Commander features:
Unparalleled noise isolation technology
Dolby® Pro Logic® IIx and Dolby Headphone technologies for a realistic 7.1 experience
Superior professional grade fit and comfort with over-the-head ruggedized design
Quick connect controls to PC, mobile or tablet with breakaway cords
Numbered Limited Edition
Case for tournament travel and storage
Adhesive headband strip for branding and personalization
PAX Prime attendees can experience the new GameCom Commander first hand at the Plantronics booth #1232 from August 31-September 2 in Seattle.
Pricing and Availability
The GameCom Commander is available for pre-order for $299 MSRP today on Plantronics.com and Amazon.com with expanded availability in September.