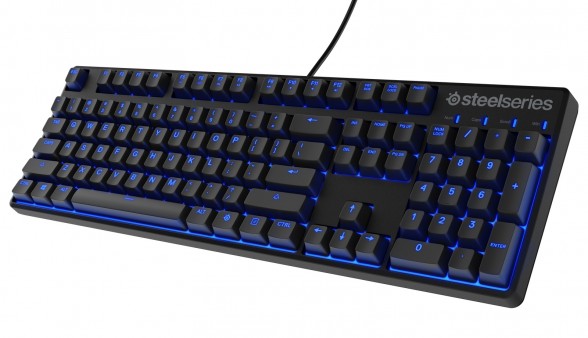 SteelSeries' keyboard designs never stray too far from conventional. The company has always chosen function over form for quite some time. Its latest creation, the SteelSeries Apex 500 Mechanical Gaming keyboard, is another no-frills keyboard that draws upon the essence of practicality.
Carrying on the legacy of SteelSeries' highly popular 6GV2, the SteelSeries Apex 500 is a mechanical gaming keyboard built entirely around the needs of professional gamers. That means it's got programmable macros, backlighting, and high durability. The Apex 500 uses Cherry's MX Red mechanical switches, which have an actuation force of 45g and a silent, straight travel. This switch type is ideal for gamers who tend to spam all day, a typical usage scenario for pro gamers. An industrial-grade plastic case and a metal backplate ensure that the Apex 500 will be able to handle the heaviest (and angriest) of hands. Trash talking in the dark has been simplified as the keys are now backlit.
The SteelSeries Apex 500 is now available for $99.99.