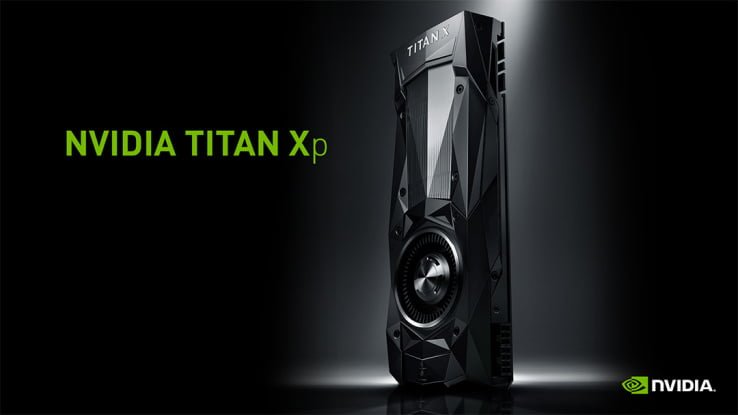 NVIDIA has just launched an all-new version of its flagship, ultra-high-end Titan X graphics card, dubbed the Titan Xp (Yes, really). This new 4K gaming beast brings with it a fully unlocked GP102 GPU core, featuring 3,840 CUDA cores and 12.15 TFLOPs of compute performance.
NVIDIA GeForce TITAN Xp
Manufacturer
NVIDIA
Model
Titan Xp
Titan X
GTX 1080 Ti
Codename
GP102
GP102
GP102
Architecture
Pascal
Fabrication
16nm FinFET (TSMC)
Boost  Clock (MHz)
 1582
 1531
1582
CUDA Cores
3840
3584
3584
Framebuffer
12GB
12GB
11GB
Memory Type
GDDR5X
Memory Interface
256-bit
384-bit
352-bit
Memory Clock
11.4 Gbps
10 Gbps
11 Gbps
Memory Bandwidth
547.7 GB/s
480 GB/s
484 GB/s
TDP
250W
250W
250W
Launch Price
$1,200
$1,200
$699
The new card is priced at the same $1,200 mark which was occupied by its predecessor, and features a healthy spec bump as well, with a 7% increase in CUDA cores and 14% increase in total memory bandwidth. All of this should make the Titan Xp the clear champion, and new fastest single graphics card on the market.
This rather surprising move is sure to confuse both fans and journalists alike (mysellf included) as the card was released without any review samples going to the press, meaning anyone who purchases it today will be doing so without fully knowing what exactly it is they're getting. On top of that, the new branding is sure to just add to the confusion as people already referred to the previous Pascal-based Titan X as the "Titan XP" in order to differentiate it from the older Maxwell-based Titan X.
Source: NVIDIA