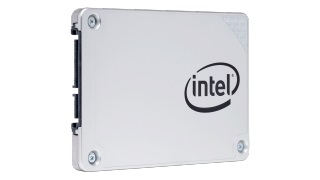 Got bills to pay but want to load things faster? You may want to check out Intel's new 540s series SATA SSDs.
As a new series targeting consumers, the Intel 540s series SSDs is built using Micron's TLC NAND flash memory. To speed things along, Intel states that it uses its SLC Caching technology. There's no dedicated SLC section on the SSD. Instead, the controller emulates SLC using the TLC NAND by storing only one value into each TLC cell.
According to the product brief, the 540s is optimized specifically for a 70%/30% read/write scenario. In terms of performance, the top end 540s can score up to 560MB//125MB/s in sequential read/write and 72,000IOPS/36,000IOPS in 4K random read/write.
The 540s comes in both M.2 and standard SATA form factors, both of which operate on the SATA interface. Capacity options stretch from 120GB all the way to 1TB. Intel has yet to announce an official price point for these drives.
Read the full spec sheet here.