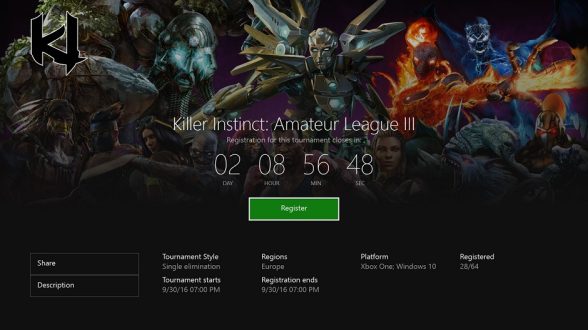 Microsoft recently introduced Arena, an online tournament platform currently available for preview on Xbox Live. At the moment, the only game available in the Arena preview is Killer Instinct where gamers can compete in daily Killer Instinct tournaments across Xbox One and Windows 10 PCs through the Xbox App. For the initial roll-out, Arena preview will only be made available to preview members through practice tournaments on the Xbox One in the U.S., eventually rolling out additional features and expanding the audience for preview later this month.
For those interested in participating in the tournaments, Microsoft has provided a couple details.
Preview members will be able to register for a tournament 24 hours before it starts on Xbox One. They'll be able to register for tournaments through the Tournament tab on the Killer Instinct Game Hub.
Weekday tournaments (Monday-

Friday

) will be single-elimination format made up of 64 competitors and begin at 7 PM PT
Weekend tournaments will be single-elimination format made up of 128 competitors and begin at

12 PM PT and 7 PM PT.
More information about Xbox Live Arena preview can be found at Microsoft's Xbox site here.