Press Release
Maximized Hardware Capabilities in a Short Full Tower
Lian-Li Industrial Co. Ltd, today announces a brushed aluminum EATX supported chassis with a front placed PSU – PC-V750. With the power supply placed in the front, the PC-V750 can hold the hardware that enthusiasts desire while keeping a smaller footprint.
Shorter than most EATX supporting chassis, the 440mm (17.32") tall PC-V750 can hold up to six 3.5" hard drives with hotswap capabilities in the HDD cage with one 2.5" at the bottom of the cage. Two more 2.5" drives can be installed if only four 3.5" drives are in the cage.
For users who don't want an optical drive, an additional 3.5" drive can be put in the 5.25" bay. Two more 3.5" or three more 2.5" hard drives can be placed on the floor on the chassis adding even more storage potential.
Under the HDD bay a standard ATX power supply can be comfortably placed. A pre-routed cable for the power supply wraps around behind the motherboard tray for plug access in the rear of the chassis. The PC-V750 provides ventilation slits underneath the PSU with a removable pull-out filter to help increase the life and performance of the power supply.
The PC-V750 has ten expansion slots for future upgradeability. Graphics cards up to 380mm in length can fit, and an arm helps to support longer cards.
Five well-placed fans keep your hardware at optimal operating temperatures. Two front 120mm fans blow cool air directly on the HDD rack. Dual top 120mm and one rear 120mm fans keep the cool air circulating throughout the case by pulling hot air out of the chassis. Additionally, the Lian Li PC-V750 supports water cooling with two rubber grommet holes.
On the front I/O panel there are two USB 3.0, one USB 2.0, one e-SATA and HD audio ports providing high connectivity capabilities.
Because details are important, this elegant brushed aluminum chassis has many features that DIY builders can appreciate such as easy-to-remove pop-off panels for simple installations and upgrades and sturdy aluminum feet with rubber bottoms to reduce vibrations.
The PC-V750 comes in three varieties: silver (PC-V750A), black (PC-V750B),and internal black with a side panel window (PC-V750WX).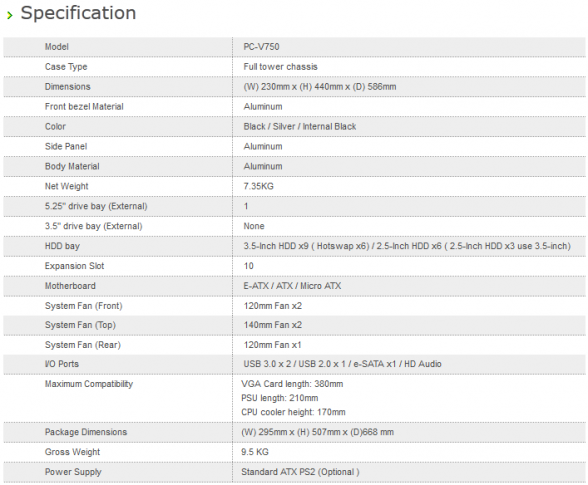 Source: Lian Li