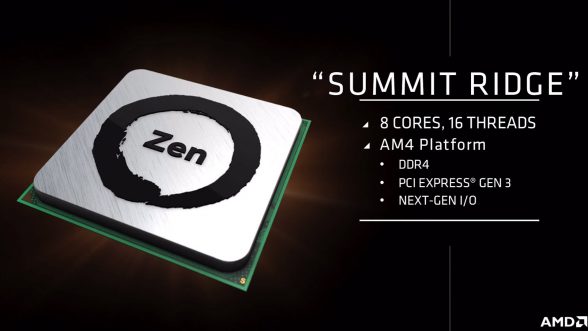 In a recent article by Digitimes, AMD may be gearing up to launch their new Zen based desktop CPUs with its corresponding X370 chipset based motherboards at CES 2017 in January. According to sources in the supply chain, AMD is already cutting prices of current inventory in order to clear room for new inventory.
While AMD is planning on launching their new Zen CPUs at CES, the sources believe that mass shipments aren't likely to begin until after February and as such, profits from the new chip sales aren't likely to be realized until 2Q2017.
AMD's Zen based CPUs are some of the most highly anticipated AMD CPUs in over half a decade. AMD is expected to bring some huge performance improvements thanks to the new Zen architecture along with the move to Global Foundries new 14nm FinFET process. This will mean that it'll be the first time in a very long time AMD's manufacturing process will be competitive against the manufacturing process of rival CPU maker Intel.
AMD is expected to first launch their 8-core, 16-thread Summit Ridge desktop CPUs in 1Q2017 followed up by their Zen based notebook CPUs in 2Q2017. AMD is also expected to launch their massive 32-core Naples server CPU in 2Q2017 as well.
Source: DigiTimes