[section label=1. ADATA XPG V2 3100MHz DDR3]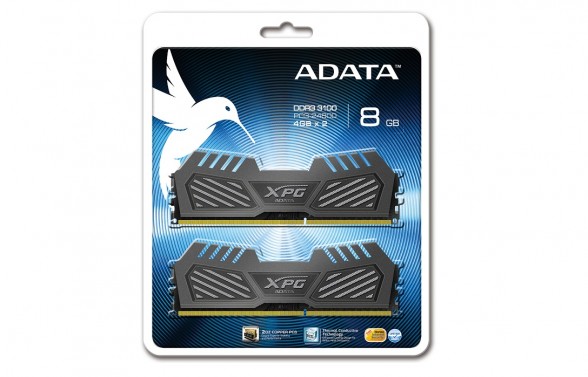 G.SKILL took the DDR3 performance crown at Computex 2013 with their introduction of the TridentX 3,000MHz memory kits, but it seems like ADATA has something up their sleeves as well. With a little co-op from their friends at ASRock, ADATA recently unveiled their latest XPG V2 memory kits which are now spec'd to run at a a ridiculous fast 3100MHz at 1.65v right out of the box. This is 100MHz faster than the G.SKILL TridentX 3,000MHz memory kit making the XPG V2 3,100MHz kit the fastest dual channel DDR3 kit on the market (assuming you can get your hands on a set).
No pricing or availability information is available at this time, but I'd expect them to cost a pretty penny if they do end up in stock.
[section label=2. Press Release]
ADATA Launches Newest XPG V2 3100 Overclocking Memory
Gamers and enthusiasts to benefit from latest DDR3 at 4GB density
ADATA™ Technology, a leading manufacturer of high-performance DRAM modules and NAND Flash application products, announced today the launch of the latest XPG™ V2 series overclocking memory, running at a stellar 3100 megahertz. This new product's dual channel is designed to bring ultimate performance to gamers using Intel™ Core™ fourth-generation processors and the latest Z87 platform.
The XPG 3100 V2 is the result of special cooperation with Asrock, and suitable for all motherboards that employ the enthusiast oriented Z87 chipset. Due to strict compatibility testing and QVL (Qualified Vendor List) certification, the modules can be directly overclocked using XMP (EXtreme Memory Profile) to the highest frequency of 3100Mhz. This unprecedented speed will gratify those who always seek an edge in boosting system performance.
The new XPG V2 product specifically targets the world's gamers with unmatched speed and unique cooling efficiency, fully meeting the specific needs that arise from overclocked performance. Not only can speeds of 3100MHz be reached, but bandwidth can attain rates of up to 24,800MB/second, once again breaking through top performance levels for overclocking memory.
Product Features
• Supports Intel XMP (Extreme Memory Profiles) version 1.3
• Supports dual channel mode
• RoHS compliant
• Complies with JEDEC standards.
• Uses high-quality 8-layer printed circuit boards and aluminum heat sink, effectively reducing the memory module temperature
• Adopts Thermal Conductive Technology (TCT) thermal technology for heat dispersal
• Supports Intel Core processors and the latest fourth-generation Z87 platform
Specifications
Model XPG V2 DDR3 3100
Timing DDR3 1333 CL9-9-9-24 at 1.5V
DDR3 3100 CL12-14-14-36 at 1.65V (XMP Profile 1)
Density 8GB (4GB x 2)
Performance 3100MHz (Frequency)
Peak transfer rate: 24,800MB/sec
Voltage 1.65 Volts