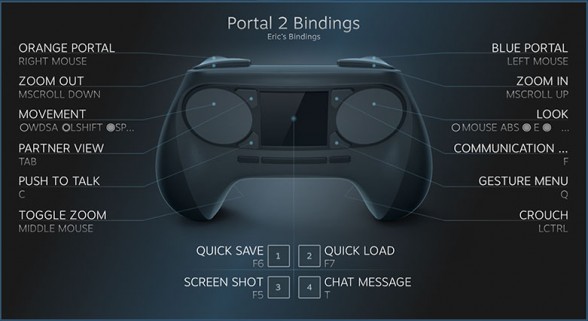 Following the recently announced Steam OS and Steam Machine, Valve closed the curtains on their mysterious three-day unveiling by introducing the Steam Controller.
Similar to the Steam OS and the Steam Machine, the Steam Controller is looking to break out of the usual conventions in multiple aspects. While an image of the final unit has yet to be released, the prototype image shows that the controller uses two trackpads as its primary method of control as opposed to conventional joysticks. This design more closely resembles a desktop mouse with its higher level of accuracy, and may ultimately win over the hearts of the traditional keyboard/mouse loving PC enthusiast.
Compared to today's controllers, the Steam Controller seems to be lacking in terms of top-side key population. The few buttons it has all seems to cluster around the touchpad, but there are two large buttons embedded into the handles on the back. Valve also added dual linear resonant actuators to provide vibration feedback to the player.
Also interesting is the hi-res display in the center of the controller. According to Valve, it "supports all games in the Steam Catalogue" and "allows an infinite number of discrete actions to be made available to the player, without requiring an infinite number of physical buttons". The screen is touch sensitive, but it can also be pressed like a regular button. Pressing it in-game will trigger an overlay that's displayed on screen so you don't have to move your eyes off of your TV. Additionally the LCD on the Steam Controller is also hackable. Steam will allow modders and software developers to customize the LCD display in any way imaginable.
Like the Steam Machine, the Steam Controller is currently in its beta phase as 300 lucky testers will get to try it out before the rest of the herd in exchange for valuable feedback. Valve is hoping to release the Steam Controller sometime in 2014.
Source: Steam