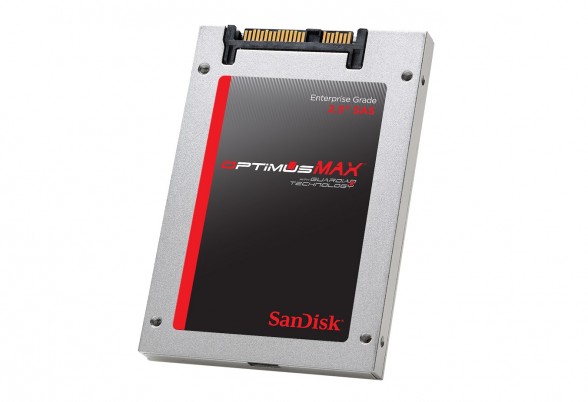 According to a recent press release, flash storage giant SanDisk is announcing the industry's first 4TB Serial Attached SCSI (SAS) Solid State Drive (SSD), the SanDisk Optimus MAX. The SanDisk Optimus MAX is SanDisk's answer for businesses and enterprise users who have traditionally been limited by either cost or performance when looking for high density, high performance storage options.
"Customers have been looking for a way to transition their data centers from HDDs to NAND flash, but have been forced to decide between cost and performance, or give up important functionality," said John Scaramuzzo, Senior Vice President and General Manager, Enterprise Storage Solutions at SanDisk.
Up until now, companies have had to rely on huge farms of 10K or 15K RPM HDDs for high performance storage at a low cost. Unfortunately, these HDDs have not seen the same increases in capacity as their slower spinning counterparts, hasn't gotten anywhere near the level of performance offered by SSDs, and the huge farms of HDDs require lots of rack space, electricity and infrastructure to operate. With the SanDisk Optimus MAX, SanDisk is effectively delivering performance, delivering capacity, and reducing infrastructure costs by cramming 4TB of storage capacity and up to 75,000/15,000 random read/write IOPS into a single 2.5″ drive.
http://youtu.be/lPrdk0sY1xM
Similar to the rest of SanDisk's Optimus SSD lineup, the Optimus MAX SSD will also come with the company's proprietary Guardian Platform, which includes FlashGuard, DataGuard, and EverGuard technologies that work together to provide a combination of enhanced error detection and correction technology, full data path protection, and data fail recovery.
http://www.youtube.com/watch?v=c_Z3I2qVggY
Along with the introduction of the SanDisk Optimus MAX, SanDisk is also refreshing their entire line of Optimus SSDs to take advantage of SanDisk's 19nm MLC NAND.
Optimus MAX SSD (1-3 full DWPD)
Optimus Eco SSDs (1-3 full DWPD)
Optimus Ascend SSDs (10 full DWPD)
Optimus Ultra SSDs (25 full DWPD)
Optimus Extreme SSDs (45 full DWPD)
All SanDisk Optimus SSDs come with support for SAS 6Gb/s along with a 5 year warranty (variable DWPD depending on drive).  The Optimus MAX SSD and the renewed Optimus family will be available Q3 of 2014. More information about the SanDisk Optimus SSDs can be found at SanDisk's website.
Source: SanDisk