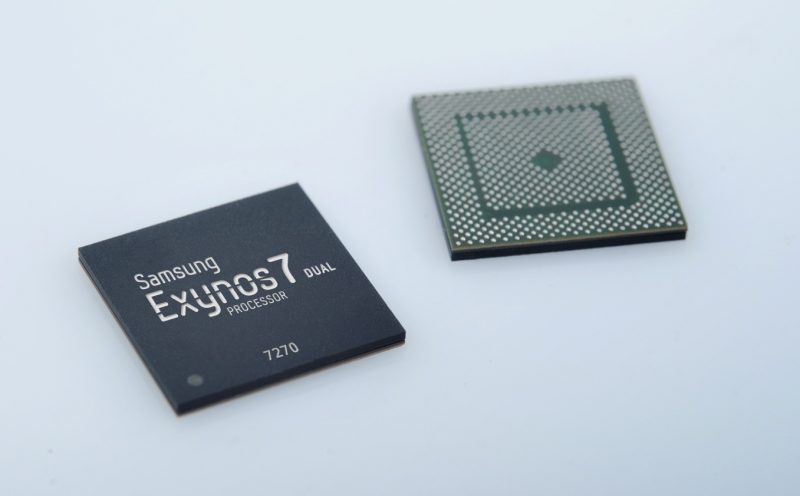 Samsung recently announced that they've begun mass production of their new Exynos 7270 Dual Core Application Processor designed for wearable devices.
The Samsung Exynos 7270 application processor features 2x Cortex A53 ARM cores, which will be built on Samsung's 14nm FinFET fabrication process. Samsung claims that the new process will allow the Exynos 7270 to be 20% more power efficient compared to its 28nm predecessors. While smartphone and tablet SoCs such as Samsung's Exynos 8890 have been in mass production on Samsung's 14nm FinFET LPP for quite some time, this is the first time Samsung is manufacturing a SoC designed for wearable devices on the 14nm node.
The new Samsung 7270 SoC will feature Samsung's System-in-Package (SiP) and Embedded Package-on-Package (ePoP) design which is essentially how Samsung is able to cram the processor, DRAM, NAND flash, and power management controllers into a single package. Thanks to this new design, the Exynos 7270 will pack more features than its predecessors within a 100mm² area despite reducing height by 30%. The Exynos 7270 will also feature an integrated Cat. 4 LTE 2CA modem, Wi-Fi/Blueooth, FM Radio, and Global Navigation Satellite System (GNSS).
The Samsung Gear S3 smartwatch, which is rumored to retail as early as the end of this month, is expected to be the first device to utilize the Exynos 7270 SoC.
Source: Samsung