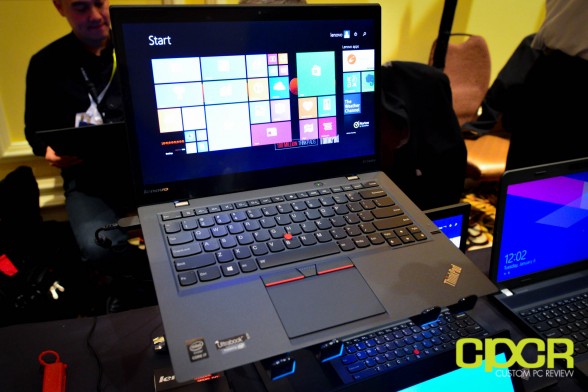 We recently had the pleasure of getting some hands on time with Lenovo's 2015 ThinkPad X1 Carbon here at CES 2015 and it appears that Lenovo is making sure that the ThinkPad X1 Carbon continues to be king of the business Ultrabook market.
First unveiled last year, the ThinkPad X1 Carbon differentiates itself from the typical laptops by using carbon fiber as its material of choice. This resulted in an Ultrabook that was durable, lightweight, and had a unique premium feel. It also successfully brought Lenovo's renowned ThinkPad reliability and innovation into the ultra-portable business market segment.
The 2015 iteration of the ThinkPad X1 Carbon aims improve on the greatness of its predecessor. Battery size has been bumped up a 50mWh and according to a Lenovo representatives, the new Thinkpad X1 Carbon can last up to 10.9 hours on a single charge. The function key and the trackpad buttons above the trackpad have both returned as well.
The hardware of the ThinkPad X1 Carbon have also been refreshed for the new year. The 2015 ThinkPad X1 Carbon now features Intel's latest Broadwell Core i5 or i7 CPUs, up to 8GB of RAM, up to 512GB Samsung PCIe SSD storage, and either a 14″ 1920x1080p FHD TN, 2560x1440p WQHD+ IPS, or 2560x1440p WQHD+ IPS touchscreen display. Connectivity options include WiFi 802.11 AC and Bluetooth 4.0 via an Intel 7265 chipset. The entire unit is only 0.70″ thin and weighs in at just 2.88lbs.
The 2015 Lenovo ThinkPad X1 Carbon is expected to be available available sometime in January with a starting MSRP of $1,249.