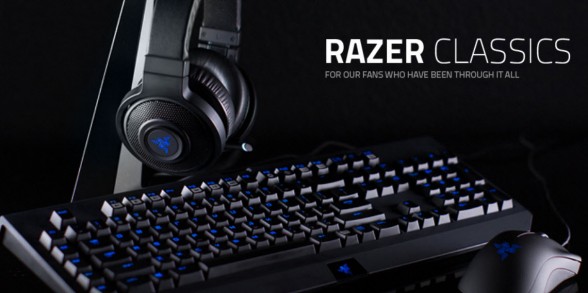 For those of you who liked Razer better during the good old days, Razer is doing a limited run of "Classic Series" products just for you.
According to a recent press release, Razer will be re-releasing five exclusive gaming peripherals on a limited time basis which will feature the classic blue LEDs from Razer past rather than the new green LEDs from Razer present.
"Each Razer Classic product will feature blue LED backlighting as a tribute to the company's formative years. These legendary products will include the latest Razer hardware and technology, ensuring contemporary performance, but with a subtle nostalgic vibe."
The new "Classic Series" products will include the "…Razer BlackWidow Ultimate gaming keyboard, the Razer DeathAdder gaming mouse, the Razer Kraken 7.1 gaming headset, the Razer Naga MMO gaming mouse and the Razer Tartarus gaming keypad". While none of these gaming peripherals are new by any means, they are some of Razer's most popular gaming peripherals on the market today, a number of which have been very favorably reviewed here at Custom PC Review.
Those interested in picking up some of these limited edition peripherals can order them directly through the Razer store here.