Press Release
Noctua's booth at last week's Computex Taipei not only hosted world's first public demonstration of a PC fan with integrated Active Noise Cancellation (ANC) but also gave a stage to upcoming Noctua products such as the new A-series fans, third generation NF-S12 fan and 37mm low profile CPU coolers. In addition to these upcoming products, Noctua also gave an exclusive insight on some of its current development projects for its D-, U-, C- and L-series heatsinks.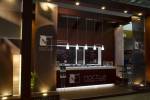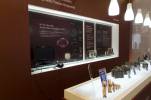 Firstly, Noctua has displayed its completely new A-series fans that feature a novel aerodynamic design measure called Flow Acceleration Channels to reduce boundary layer separation as well as Noctua's AAO (Advanced Acoustic Optimisation) frames. The new A-series fans are scheduled for launch in September/October and will come in square 140mm, round 140mm, slim 92mm plus 60 and 40mm sizes.

In the 120mm line-up, the pressure-oriented NF-F12 will be complemented by a new, third evolution of the airflow-oriented NF-S12 series for case cooling. Due its Anti-Stall Knobs and the new AAO frame, the third generation S12 provides up to 8% better airflow to noise ratio and an improved performance curve compared to its renowned predecessor NF-S12B. Like the new A-series fan, the next generation NF-S12 is scheduled for release in September/October.

In addition to its upcoming fans, Noctua showed new D-series, U-series, C-series and L-series CPU cooler prototypes as well as its upcoming new low profile heatsinks for Intel and AMD. Using the new slim 92mm A-series fan, the low profile coolers stand only 37mm tall in order to fit small mini-ITX cases and HTPC enclosures.


The two D-type dual tower prototypes both pursue the goal of further improving the award winning quiet cooling performance of Noctua's NH-D14. While one uses two second-layer heatpipes to remove more heat from the base at high heatloads, the other employs 7mm heatpipes and a transverse heatpipe layout for more even heat distribution throughout the cooling fins.


The 140mm, 120mm and 92mm U-type single tower coolers share the idea of combining further improved performance with better RAM compatibility. Measuring only 52mm thick, the 140mm model will ensure full access to the RAM slots on both sides of the LGA2012 socket. The two smaller prototypes are 45mm slim and guarantee 100% RAM compatibility on all current sockets. Both the D- and U-type prototypes are currently scheduled for Q4 2012.


The C- and L-series prototypes shown at Computex represent development projects for updating the existing NH-C14, NH-C12P SE14 and NH-L12 in 2013. In addition to the new heatsink prototypes, Noctua presented a SecuFirm2™ mounting solution for Narrow ILM Xeon E5 2600 platforms as well as IP66 compliant dust and waterproof fans for industrial applications.




The highlight at this year's line-up was the first public demonstration of a working prototype of Noctua's NF-F12 fan with integrated RotoSub® Active Noise Cancellation (ANC) technology. The development goal for Noctua's recently announced partnership with RotoSub is to speed up the award-winning NF-F12 120mm fan from 1500 to 2500rpm and to achieve a broadband sound signature that sounds more agreeable to the human ear as well as a similar overall sound pressure level as the original 1500rpm NF-F12 fan, resulting in 80% more airflow and 120% higher static pressure at the same noise level. The first prototype shown at Computex 2012 represents a first proof of concept that demonstrates how tonal noise components can be reduced using RotoSub® ANC. Noctua and RotoSub aim to have first products with this technology ready for the market by Q3/Q4 2013.
Source: Noctua