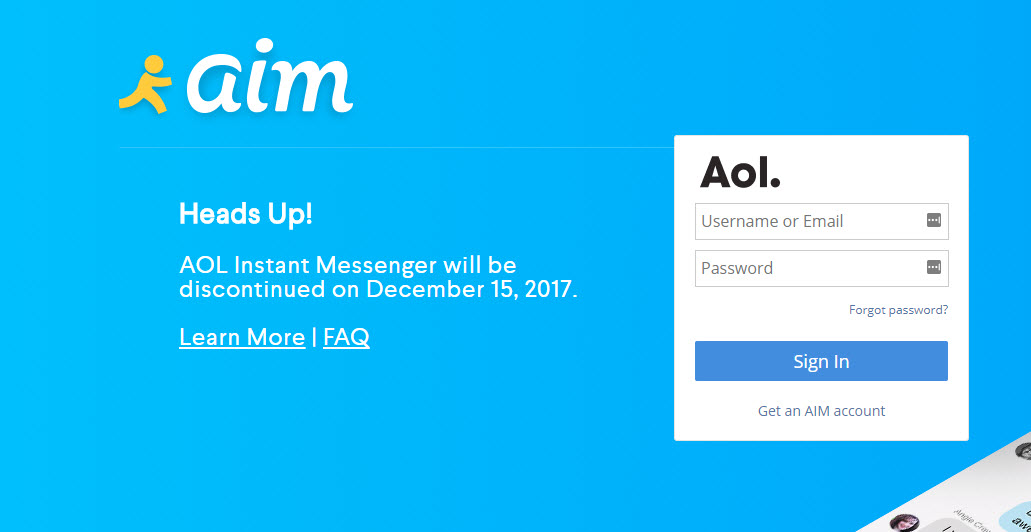 AOL Instant Messenger (AIM) is finally signing off after 20 years of service.
In a concise and nostalgic blog post, AOL announced that AIM will be closing its doors to all users on December 15, 2017.
AIM tapped into new digital technologies and ignited a cultural shift, but the way in which we communicate with each other has profoundly changed. As a result we've made the decision that we will be discontinuing AIM effective December 15, 2017. We are more excited than ever to continue building the next generation of iconic brands and life-changing products for users around the world.
AIM was massively popular in the late 90s and early 2000's, but slowly lost its dominance to the emergence of new competitors such as MSN Instant Messenger and eventually Skype, Whatsapp, Facebook Messenger and others. Though its user base is all but gone in 2017, avid users will undoubtedly remember it fondly.
If you haven't already, tell your AIM contacts it's about time to move to a newer platform.
Source: AOL