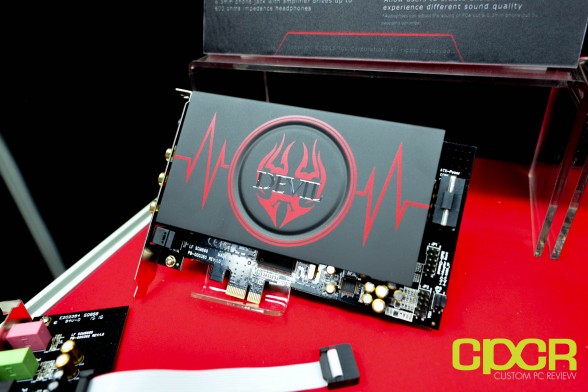 AMD board partners had a pretty disappointing showing at Computex this year since AMD decided not to launch their upcoming 300 series graphics cards at the show.
Rather than go empty handed however, PowerColor did show off their upcoming Devil HDX sound card (SCM888-DHDX) which they claim will improve audio quality over onboard sound for gamers and audio enthusiasts.
PowerColor was nice enough to let us take a look under the hood of the Devil HDX which revealed that the sound card does in fact have a full array of "real" audio processing hardware.
While we didn't get too much time to closely examine the entire PCB, we did notice that the Devil HDX uses an C-media CM8888 Oxygen Express sound processor and includes stuff like a Wolfson WM8741 DAC, JRC 4580D replaceable opamps, LM 4562NA opamps, and probably a few more items I missed. Additionally, we can also see that the connectors are shielded, the entire PCB is shielded, and there's external power coming in from a 4-pin – all of which should in theory reduce added electrical noise from coming from the motherboard or components around the card.
As for specs, PowerColor claims the Devil HDX is capable up to 192KHz/24bit sampling rate/resolution, a SNR of up to 124dB via the RCA out ports, and a THD+N of 0.00039% (-108dB). It'll also support professional headphones up to 600 ohms, and it'll also have plenty of I/O options including RCA, 6.3mm out, 3.5mm in/out, coax, and optical.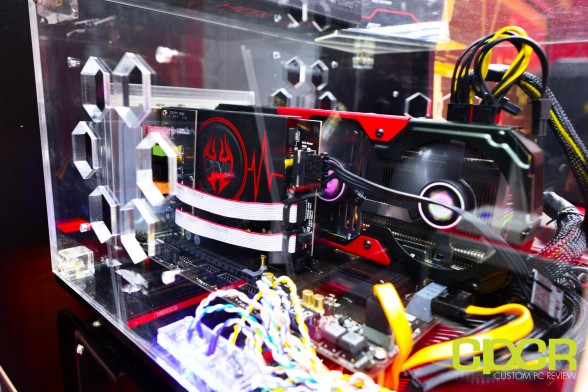 PowerColor tells us that the Devil HDX should be available sometime this month and they're currently looking at around the $159 pricerange although they're still working out final pricing.