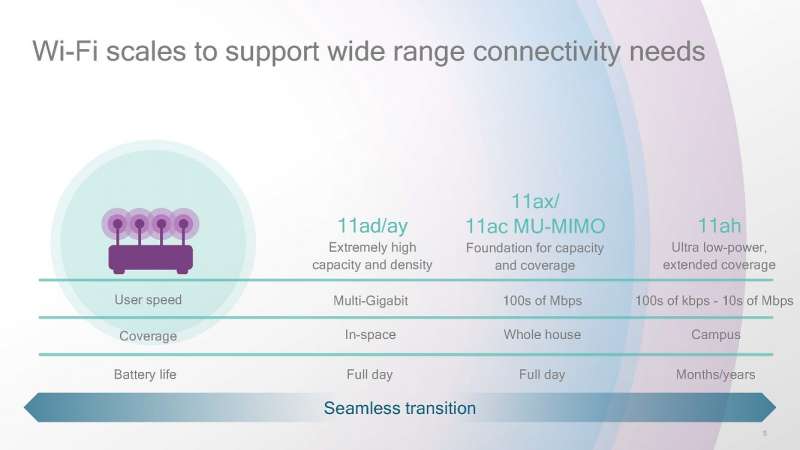 Thought your brand spankin' new 802.11ac wave 2 router was going to last 2017 without going obsolete? Guess again.
In a recent announcement, Qualcomm unveiled two new chips, the IPQ8074 SoC and QCA6290, becoming the first chipmaker to unveil an end to end solution for 802.11ax Wi-Fi, the next Wi-Fi standard beyond 802.11ac wave 2. Whereas previous versions of Wi-Fi prior to 802.11ac wave 2 have always focused on improving speed, 802.11ax Wi-Fi continues the trend started by 802.11ac wave 2 by focusing more on capacity and coverage rather than just pure single client performance. In order to achieve this, 802.11ax utilizes technologies such as 8×8 MU-MIMO, OFDMA, 1024 QAM, uplink resource scheduling and more.
The Qualcomm IPQ8074 SoC is Qualcomm's upcoming 802.11ax Wi-Fi SoC for access points and routers. It uses a 12×12 MU-MIMO design (4×4 MU-MIMO 2.4GHz + 8×8 MU-MIMO 5GHz) which can deliver up to 4.8Gbps aggregate bandwidth. Powering the IPQ8074 SoC is a 14nm ARM based Quad-Core 64-bit A53 CPU and a dual core network accelerator.
The Qualcomm QCA6290 is Qualcomm's upcoming 802.11ax Wi-Fi chipset for client devices. It uses a 2×2 MU-MIMO, but can reap the benefits of 8×8 MU-MIMO by supporting the advanced 8×8 sounding mechanism. Using a combination of dual band operation and 1024 QAM operation, the QCA6290 is capable of up to 1.775Gbps. Additionally, thanks to new power saving features, the QCA6290 utilizes 2/3 less power than previous chips.
Qualcomm is expected to begin sampling their new 802.11ax Wi-Fi chips by 1H2017.