Zalman to Sell AMD and Nvidia Graphics Cards
A couple weeks ago we were greeted to news that Zalman was planning to sell their own AMD graphics cards. Well, according to the images below, we are greeted to more news that Zalman is planning to sell both AMD and Nvidia graphics cards. As expected, it also looks like Zalman will be imparting their extensive cooling solutions expertise on the video cards as well.
Pricing and other details are currently unknown. Zalman is expected to unveil the new graphics cards at CES 2012.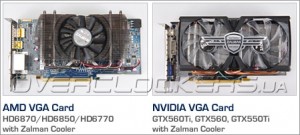 Source: TechPowerUp