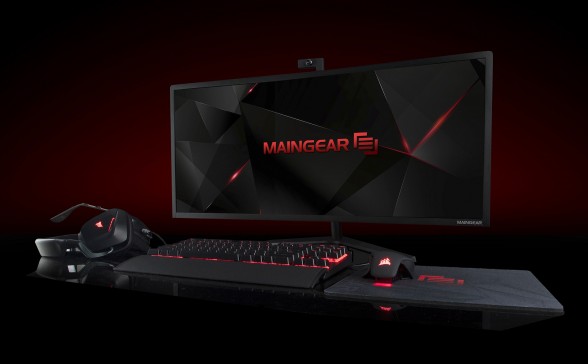 Maingear seems to be after our hearts by  releasing quite possibly the most powerful AIO to ever hit the market. The Maingear Alpha 34 comes with a 34 inch ultra wide curved 3840×1440 screen, a liquid cooled Intel Core i7 -5960X or 18 core Xeon, the choice between a Nvidia GeForce 980 TI, Titan X, or AMD Radeon R9 390X along with 32GB of Kingston DDR4 and a Samsung 950 Pro M.2 NVME SSD.
While this may seem completely overkill for most people looking in the AIO market, it's highly suitable for for a compact, powerful workstation or gaming rig. The beefy GPU is a necessity to process 3D intensive tasks at such a high resolution.
The best thing about the Alpha 34 is that unlike most AIOs, the components are user upgradeable. No components are locked down, so you don't have to throw away the gorgeous display the moment your graphics card becomes obsolete. We'll have to, however, wait until Maingear gives us a breakdown of how easy it will be to upgrade and any size restrictions.
Those looking to pick one up can check out Maingear's website. The Maingear Alpha 34 starts at $1,999 for the base model equipped with an Intel Core i3 CPU and an AMD Radeon R9 370 GPU. Something similarly spec'd to the high end system we mentioned above is going to run in the $3,500 range. Expensive? Yes. But having a sweet 34″ AIO is pretty awesome in my book.