Swiftech announced the release of two new All-in-one liquid cooling kits. The Drive X2 and Drive X 2 "Prestige" series AIO cooling kits extend the customization which Swiftech originally started offering with their previous H220 and H220-X AIOs.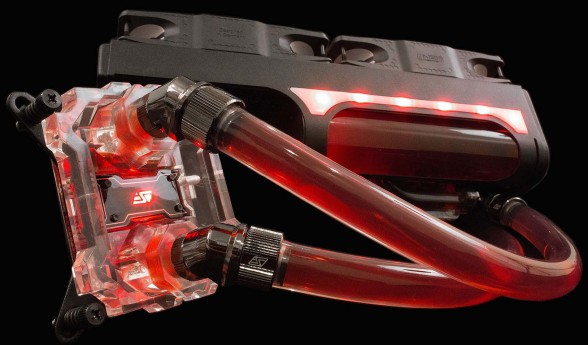 The new products feature an completely redesigned radiator+reservoir+pump combo which consists of a large clear acrylic tube-shaped casing, which displays the inner workings of the system's pump. The radiator comes in three sizes: 240mm, 280mm, and 360mm in length. The kit also includes Swiftech's all-new Apogee XL2 CPU waterblock which features a chrome-coated copper base plate and a redesigned housing with "enhanced flow characteristics for better hydraulic performance."
The housing is made of a clear acrylic material, and the tubing is also clear. This allows for the newly implemented RGB ALED lighting system to fully light up the coolant for a radial glow. The "Prestige" version of the kits includes all of the above features, but also include upgrades for added performance and silent operation. These features include Noiseblocker eLoop fans, and the use of Lok-Seal black chrome compression/rotary fittings throughout the assembly.
Swiftech says the new kits are rolling out worldwide starting today. MSRP on the H220X2 and H220X2 Prestige starts at USD $139.95 and ranges up to USD $214.95.