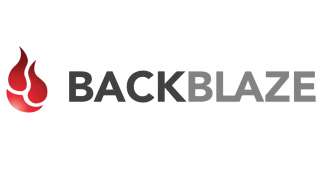 Popular low cost cloud storage company Backblaze recently shared their hard drive failure rates for 2016 and to no surprise, HGST is once again the most reliable HDD maker.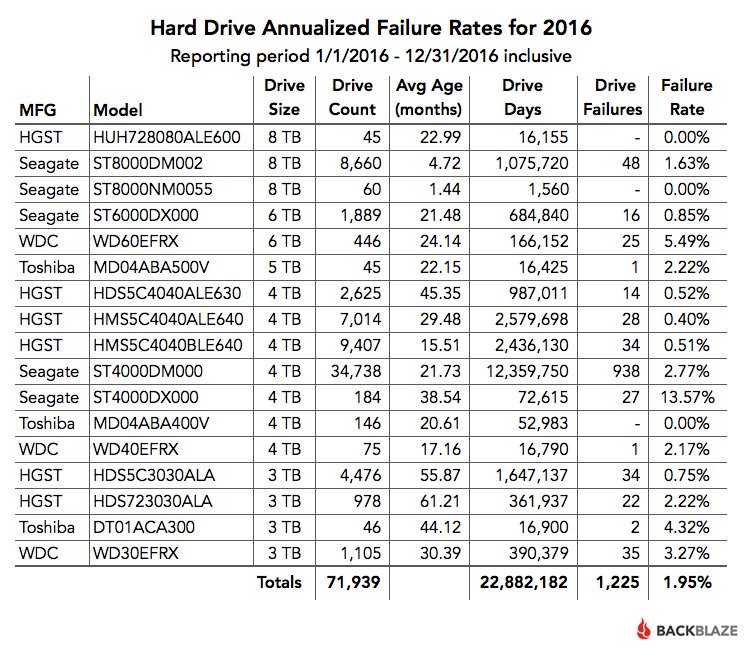 According to the stats, Backblaze has a total of 71,939 HDDs in their datacenter and 1,225 of them failed in 2016. Most of the failures came from Seagate's 4TB ST4000DM000 drives which saw 938 of the 34,738 drives fail over the year with an average age of 21.73 months.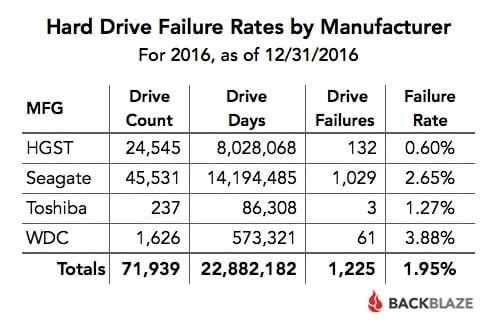 Aggregating all the hard drive failures by manufacturer, the hard drive maker with the least failure rates once again was HGST which only experienced a failure rate of 0.60%. The drivemaker with the highest failure rate was WDC with a failure rate of 3.88%.
While these statistics are definitely interesting, do keep in mind that Backblaze is using drives designed for consumer use in a 24/7 on datacenter environment, and it's not a controlled study by any means with different sample sizes and different amount of time the drives have been in the datacenter. Not only that, there's also no information on how much certain drives are being used compared to other drives which may affect longevity. That said, HGST's performance here is pretty good and is looking like a pretty good pick for anyone in the market for a new HDD.
Source: Backblaze