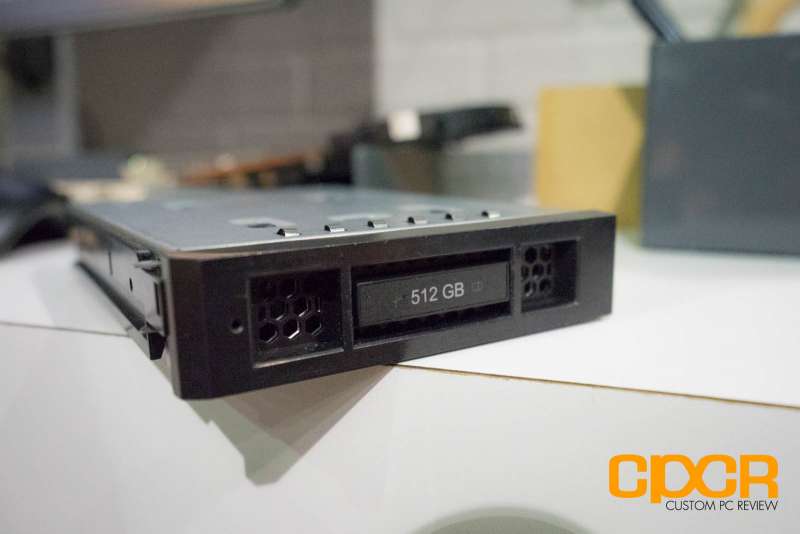 Dell showed off an entire array of new lineup of Skylake-W and Skylake-SP servers at SIGGRAPH 2017 which we'll be covering soon, but before that, we wanted to share a few of the docking solutions and adapters for PCIe NVMe SSDs that caught our eye.
The first is a hot swappable M.2 PCIe NVMe SSD dock which is the first time we've seen such a solution. Designed for Dell Precision workstation users who want to be able to take full advantage of NVMe PCIe SSD storage, but also want to be able to take it on the go, Dell's M.2 hot swap dock includes a compact hot swap tray for M.2 SSDs which allow the hot swap functionality.
According to Dell, the company had to develop a custom interface to connect the tray and the dock as the M.2 interface is too fragile to be constantly plugged in and removed. The interface is then connected via a U.2 interface directly to the motherboard.
In addition to the hot swap M.2 dock, Dell also showed off some of their already existing PCIe adapter solutions which include a dual M.2 PCIe adapter which can support up to two M.2 22110 SSDs. The other shown is a quad M.2 PCIe adapter which can support up to four M.2 2280 SSDs. Both adapters also have their own active cooling solution to ensure that the M.2 SSDs don't overheat while in operation.
Dell's M.2 hot swap dock, dual M.2 and quad M.2 NVMe SSD adapters will be available as options with Dell's new Precision 5820 Tower, Precision 7820 Tower, and Precision 7920 Tower.