Rounding up our coverage of Computex 2016, we had a chance to stop by the Phanteks suite, to check out some of their latest innovations and gorgeous chassis designs. The company had a lot to show us, including the all-new Enthoo Elite, premium chassis and the company's first foray into liquid cooling with the brand new G1080 water block built for the GeForce GTX 1080. Phanteks also made some interesting updates to some of their other cases, which we'll detail below.
Phanteks Entoo Elite – $699 Ultra Premium Chassis
First off we have the amazing Enthoo Elite, which you might recall was originally shown off as a prototype at this year's CES, at the time it was simply dubbed "Project 916" but Phanteks has finally given it a proper name, which definitely suits it.
The impressively large chassis features a triple-chamber design, internal and external lighting complete with a controller wheel on the front panel for changing modes and cycling through colors, and a large tempered glass side panel which reveals both the main  and bottom chambers.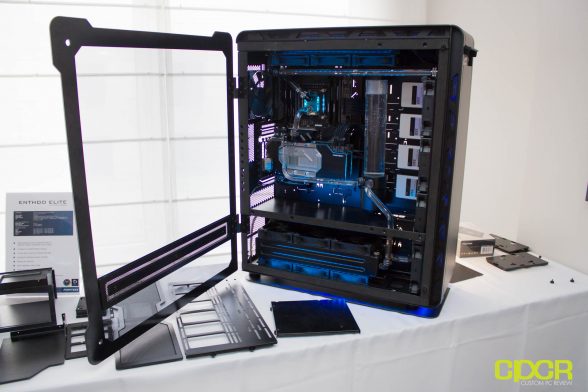 The chassis is purpose built with liquid-cooling in mind, housing enough space for extra large radiators and reservoirs.  It also includes a bracket for vertical mounting of GPUs, so can properly show off your shiny new graphics cards.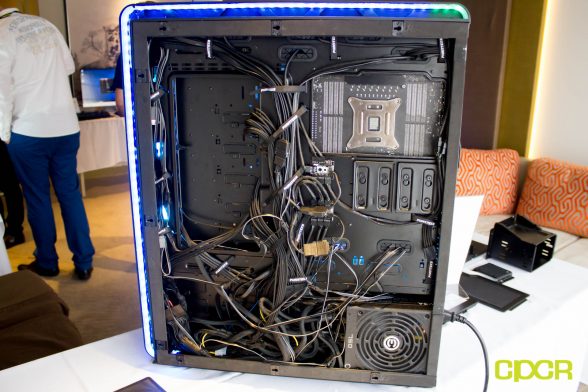 Around the other side we can see lots of cable tie points, complete with Phanteks signature velcro-straps. We can also see a removable plate, which is used for mounting the four SSDs in the front chamber, but can be replaced with a bracket for mounting additional fans or radiators. A lot of you may question the price, but for what you're getting here (too much to cover in this report), I think it is justified.
TEMPERED GLASS EVERYWHERE!
Phanteks has also updated some key chassis in their lineup with new tempered glass side panels, in addition to the EVOLV ATX TG (Review coming soon!), they've also got tempered glass versions of the Enthoo Pro M and Enthoo Luxe cases.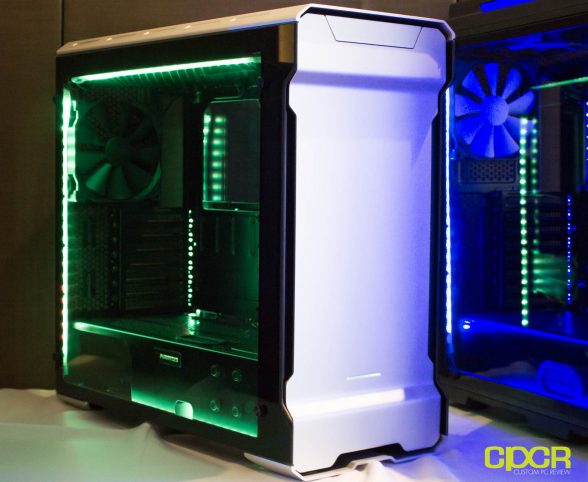 The Pro M will feature only a single Tempered Glass panel, rather than both as seen on the EVOLV ATX. We're also told that it will have a price point of $99, so not too much more than the standard windowed version.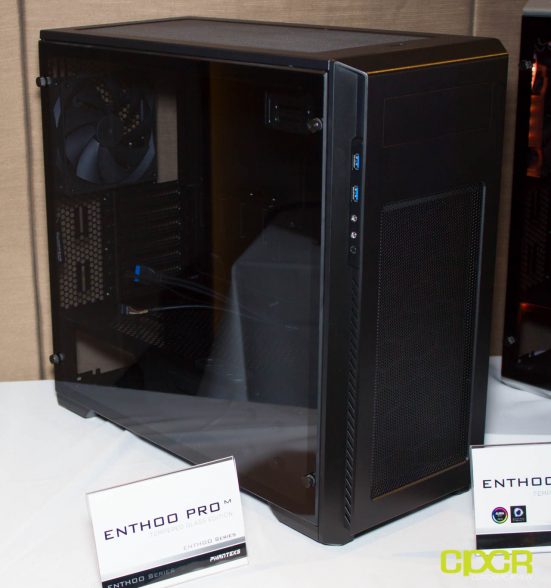 Like the Pro M, the Enthoo Luxe also has just a single tempered glass side panel, it also gets an update to its lighting system with RGB LEDs lighting both the interior and exterior of the chassis.
Phanteks Glacier G1080 Water Block
Moving on, we have the all-new Phanteks G1080 water block, which features a nickel-plated copper cold plate, acrylic top and sandblasted cover plates. it also features RGB lighting which connects with Phanteks chassis, for a complete interior lighting solution. Currently, the blocks supprt only the GTX 1080, but I'm sure we'll see more models for popular GPUs soon enough.