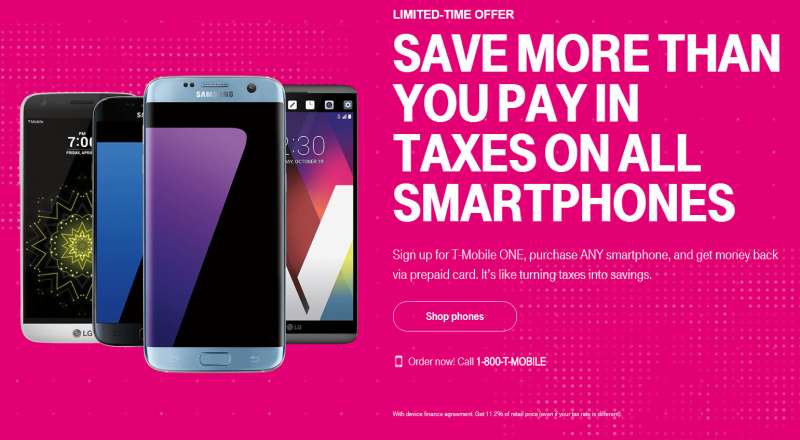 Tax season is coming up which always sucks, but look at the bright side. T-Mobile recently announced that they'll cover your sales tax on a new smartphone!
According to the T-Mobile website, those on either T-Mobile ONE or Simple Choice Unlimited plans who buy a new smartphone on EIP (Equipment Installment Plan) will get 11.2% (11.5% in Puerto Rico) back on a prepaid MasterCard. If you've been eyeing a new smartphone lately and aren't interested in waiting for the upcoming Samsung Galaxy S8 or LG G7, this could be an excellent time to buy a new phone.
In order to take advantage of this promotion, simply purchase a new smartphone, ensure you're on either T-Mobile One or Simple Choice Unlimited, head over to the T-Mobile promotions site and enter the promotion code 17DEVICECREDIT. Then, simply wait 6-8 weeks for your prepaid card to arrive in the mail.
Also for those not already on the T-Mobile network, this promotion is stackable with T-Mobile's switcher promotion where they will rebate you $150 for each line switched to T-Mobile ONE for up to 12 lines making it an even sweeter deal.
Anybody going to buy a new smartphone? Let us know in the comments below!
Source: T-Mobile