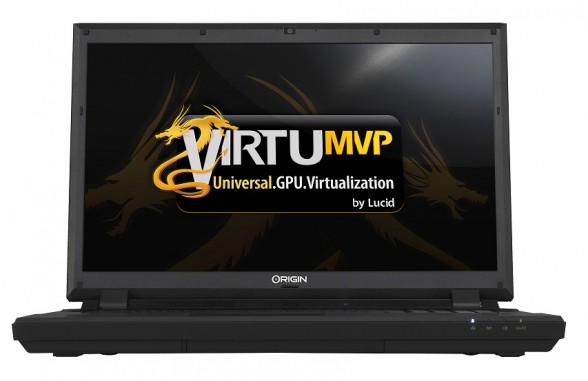 Press Release
LucidLogix and ORIGIN PC today jointly launched Virtu MVP Mobile GPU virtualization software, available now with the award-winning ORIGIN EON laptops. With Virtu MVP Mobile, gamers can enjoy increased system performance, better responsiveness, tear-free gaming and reduced power utilization; unlike that of any other laptop on the market today.
"Virtu MVP Mobile gives our customers an even better competitive edge," said Kevin Wasielewski ORIGIN PC CEO and co-founder. "Crisp graphics without tearing and rapid fire response are among the many exclusive benefits they can enjoy while gaming at home or on the road."
Lucid Virtu MVP Mobile is the world's only GPU virtualization software that balances power consumption and system performance by dynamically assigning and rendering media tasks to the best available graphics resource, either the integrated or discrete GPU. In doing so, in game responsiveness is improved, videos and games run harmoniously and power is minimized to provide a better overall gaming experience.
Other key features of the software include:
Virtual Vsync – Experience the visual quality benefits of Vsync, while keeping frame rates high and improving responsiveness for smooth, tear-free game play without the 60 FPS cap.
HyperFormance – Boosts the responsiveness and visual quality even further as indicated by increasing frame rates higher than the original maximum GPU performance – often as high as 30 percent.
"Virtu MVP has been growing in popularity for its ability to improve the overall gaming experience," said Offir Remez, President and co-founder of LucidLogix. "Launching Virtu MVP Mobile with the 'Rolls-Royce' of laptops delivered by ORIGIN PC signifies the quality and benefit of GPU virtualization and our commitment to PC and Mobile gaming enthusiasts around the globe."
Virtu MVP Mobile has been tested with the majority of popular game titles and is available immediately. As the exclusive launch partner, ORIGIN PC is offering Virtu MVP Mobile at no cost with their EON laptops.
Join ORIGIN PC and LucidLogix at PAX Prime this week from August 31 – September 1, for a complete hands-on experience with Virtu MVP Mobile running on EON laptops in Booth #3340.
For more information, be sure to visit OriginPC's website here and LucidLogix's website here.