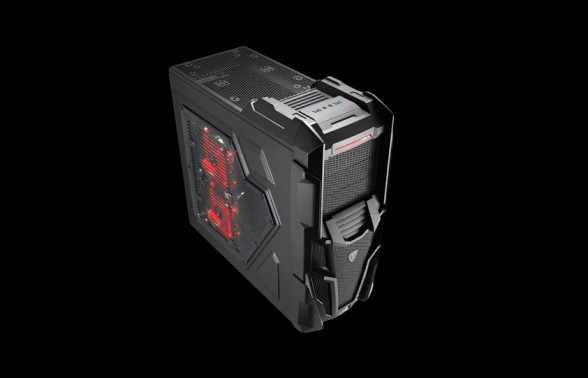 PC cooling and case manufacturer, AeroCool, recently sent out a newsletter detailing the release of their new Mechatron Black Edition case. As the name implies, the new case has been designed with a futuristic mecha robot theme in mind featuring all black styling, mid tower design, support for USB 3.0, support for up to 8 fans, and much more.
Product Features
Ideal "mid tower" case for gamers and PC enthusiasts.
All black chassis interior.
Solidly constructed chassis with 0.6mm SECC Japanese steel.
Support CPU cooler max. height up to 175mm.
Supports longer high-end cards up to 330mm.
Supports 3 x 5.25″ (External) + 3 x 2.5″ HDD (Internal) and 4 x 3.5″ HDD (Internal).
Supports 2 x USB 3.0 or 2 x USB 2.0 and Audio/Mic ports are easily accessible from top panel.
Pre-drilled holes for cable management with high-end rubber protection.
Pre-drilled CPU on MB plate for ease of CPU assembly.
Includes washable and easily removable (with magnet) PSU filter.
Includes water-cooling holes to support water-cooling system.
Includes anti-vibration pads to absorb shock and vibration from PSU and HDDs.2 x USB3.0 and Audio/Mic ports are easily accessible from top panel.
Supports up to 8 fans.
The AeroCool Mechatron Black Edition is expected to be available in early October 2012. Pricing is currently known at this time. For more details, check out the product page here.