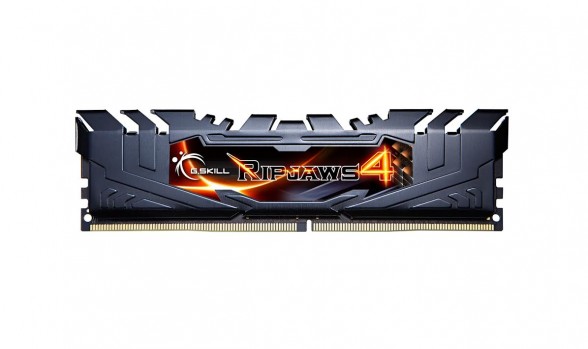 When DDR4 was first "launched" alongside Intel's Haswell-E/X99 platform, the biggest complaint among the enthusiast crowd was that it offered little performance and capacity improvements over DDR3 despite costing a significant amount more. At the time, DDR4 manufacturers were quick to point out that performance and capacities would improve, but we weren't exactly given any timelines on when that would happen.
According to a recent press release, G.SKILL recently announced that they've begun shipping their latest Ripjaws 4 series memory kits at up to 3,333MHz, making G.SKILL the first memory manufacturer to offer memory at higher performance than DDR3. Up until now, the fastest DDR4 modules available for purchase were DDR4 2,800MHz modules which are still slower than some of the fastest DDR3 3,100MHz modules on the market.
The flagship G.SKILL Ripjaws 4 modules will run at a maximum frequency of 3,333MHz with a CAS latency of 16-16-16-36. It will only be offered as a 16GB kit at this time. In addition to the new 3,333MHz Ripjaws 4 DDR4 modules, G.SKILL is also releasing a 3,300MHz version and 3,200MHz versions as well with significantly lower pricing.
The G.SKILL Ripjaws 4 is available for pre-order at Newegg for $469.99, $579.99, and $699.99 for the 3,200MHz, 3,300MHz, and 3,333MHz versions respectively. According to Newegg, the modules will ship on 09/05/2014.