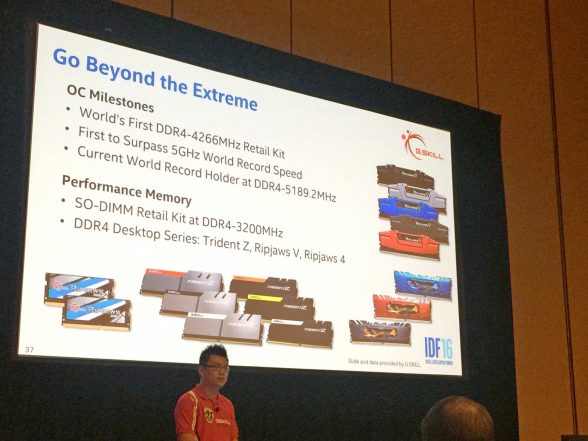 G.SKILL is no stranger to pushing the boundaries of capacity and performance with their memory kits, and at IDF 2016 they showed off some of their fastest and highest capacity memory kits available. At the show, G.SKILL demoed both the 128GB Trident Z DDR4-3333MHz CL14 kit as well as the 64GB Trident Z DDR4-333MHz CL13 kit which represent some of the highest capacity high performance DDR4 kits out on the market today.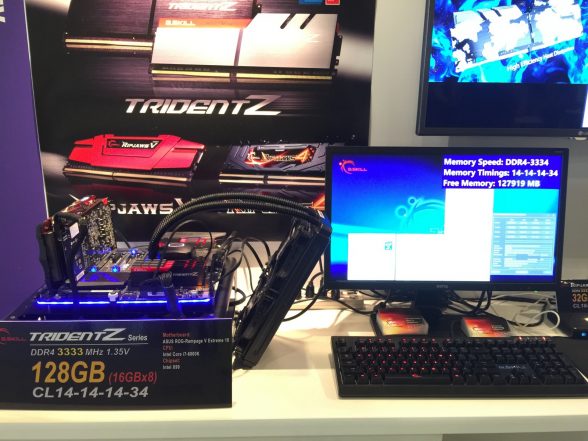 While DDR4 3333MHz kits have been available for quite some time, they've been generally only available in lower capacities such as 16GB kits. However, thanks to the use of Samsung's new high performance DDR4 8Gb DDR4 DRAM dies, G.SKILL is now able to offer DDR4-3333MHz CL14 (14-14-14-34) 1.35v up to 16GB per DIMM, making one of the fastest 128GB (8x16GB) kits out there.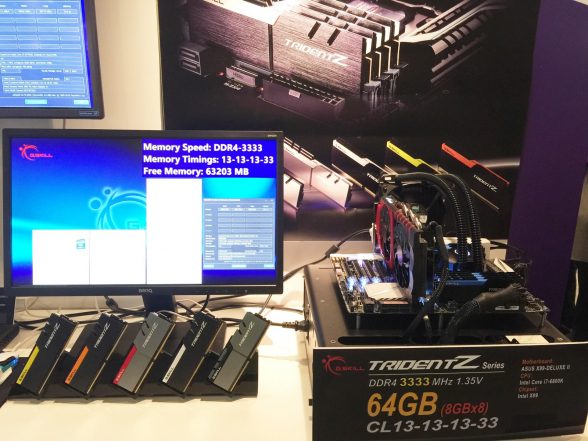 Furthermore, G.SKILL also demoed the 64GB (8x8GB) Trident Z DDR4 3333MHz CL13 (CL13-13-13-33) 1.35v kit. The 64GB kit utilizes 8GB DIMMs and is able to offer tighter timings than its 128GB kit, 16GB per DIMM bigger brother.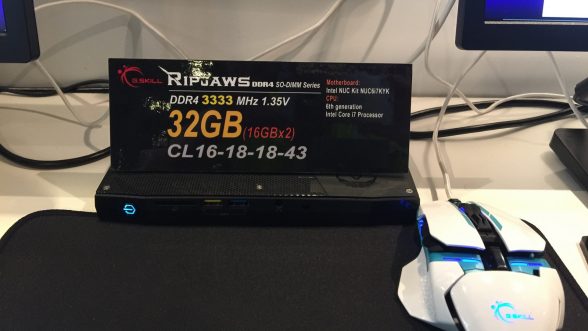 G.SKILL also demoed their 32GB (2x16GB) Ripjaws DDR4-3333MHz 1.35v SO-DIMM memory kit, strategically used in an Intel NUC system. The new 16GB SO-DIMMs will be able to provide both capacity and performance in mobile or other compact applications.
No word on these kits will be available at this time, but with working demos already available, it shouldn't be too long.