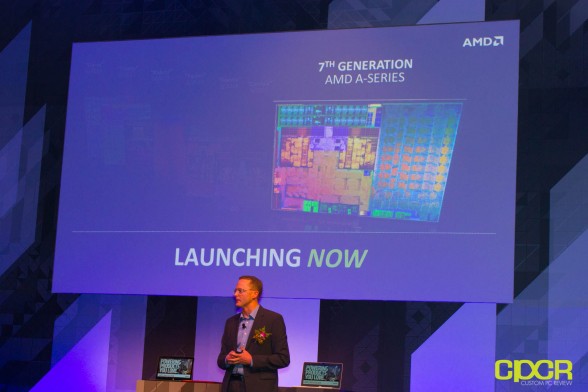 AMD has just unveiled its "Bristol Ridge" and "Stoney Ridge" APU. As the last APUs that will be based on the 28nm node, Bristol Ridge is looking to set up the ground work for AMD's future collaboration with OEMs and developers.
Developed using AMD's "Excavator" cores, both Bristol Ridge and Stony Ridge focuses on improving performance in the mobile segment. Bristol Ridge consists of 35W and 15W versions of AMD FX, A12, and A10 processors while Stoney Ridge comes only in 15W versions of the A9, A6 and E2 processors.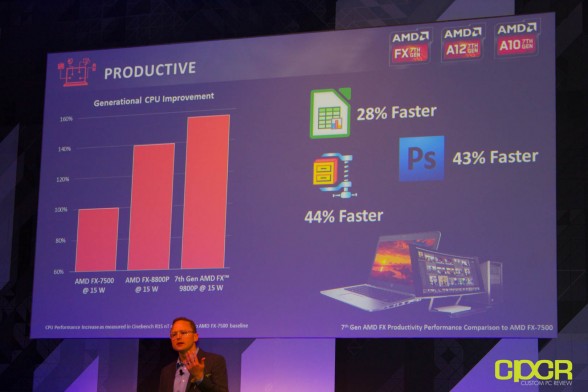 According to AMD's internal testing, the AMD FX-9800P outperformed the Intel Core i7-6500U by whopping 51% in compute tasks. Although it didn't specify the exact TDP the chip is configured at, AMD did mention that the FX-9800P was able to reduce power consumption by 12% compared to the previous generation FX-8800P "Carrizo" APU. Since at the press conference the FX-9800P was put on display configured with a 15W TDP, it's safe to assume that this is also the configuration used for the internal test. The Bristol Ridge APUs would most likely be found in performance-oriented laptops.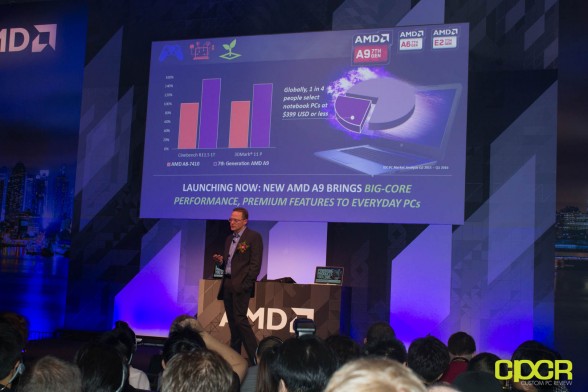 The Stoney Ridge APUs are looking to bring much higher performance into budget laptops. Combining improved GCN cores and the same Excavator cores as the ones in more powerful processors, the Stoney Ridge APUs look to deliver higher quality entertainment experiences and reduce wait times. AMD claims that the transition to Excavator saw a 50% performance bump over the previous generation, and that the improved graphics surpassed Intel's Pentium-4405U by 27% and closely matched the Intel Core i3-6100U.
A host of premium features has been tacked onto both Bristol Ridge and Stoney Ridge. Key features such as AMD FreeSync, Advanced Power Management, and HEVC 4K hardware codec have been implemented on both lineups.
With the release of the new chips, AMD is also looking to aggressively partner with OEMs to integrate their APUs in as many product as possible. Some noteworthy partners are Lenovo, Dell, Acer, HP, and Asus. AMD showed off some products at the press event including the new Dell Inspiron 5000, the Lenovo Y series gaming workstation, and an ASUS notebook.