During AMD's press conference at Computex 2016 in Taipai, the company unveiled their first GPU to utilize the company's all new Polaris graphics architecture. Dubbed the RX 480, the new card is targeted at the mainstream graphics segment and priced at just $199.
AMD Announces RX 480 VR Ready Graphics Card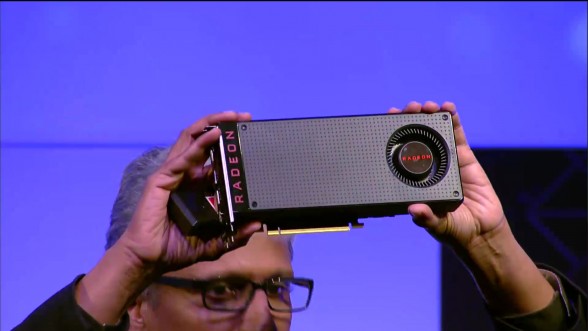 With the new Radeon RX 480, AMD aims to bring VR gaming to the masses with an under $200 price point. The company even demoed the two of the new GPUs running in CrossFireX playing Stardock's Ashes of Singularity, in DX12. The cards were compared against NVIDIA's recently released flagship GTX 1080, and managed to deliver better performance — although, it did seem like the GTX 1080 demo was running at higher graphical settings — while utilizing only 51% of both GPUs.
UPDATE: 6/1/2016 – 1:34 AM
AMD has confirmed with us that the game is indeed running at the same visual settings in the demo. The variations in visuals seem to be due to the procedural-generated nature of Ashes of the Singularity.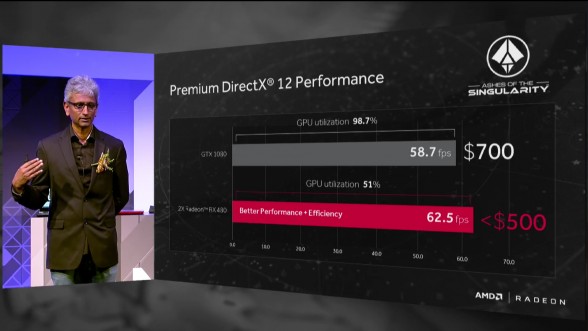 Radeon RX 480 Specifications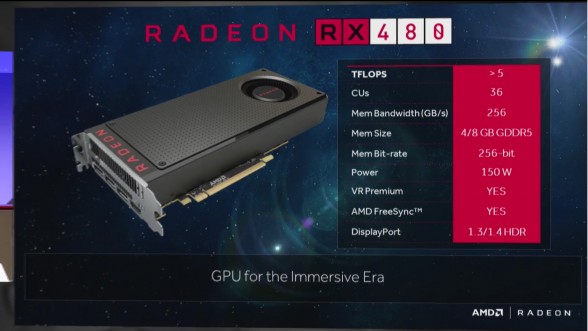 The company also detailed the specifications which include 32 Compute Units,  4 or 8GB of GDDR5, 256 GB/s of memory bandwidth, and over 5 TFLOPs of performance, with a TDP of just 150w. The card also supports DisplayPort 1.3 and 1.4 for HDR as well as AMD's FreeSync variable refresh rate technology.
The Radeon RX 480 will be launched on June 29th.