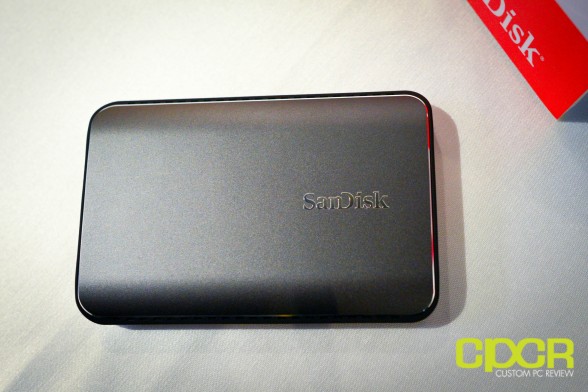 SanDisk is making a splash this year at Computex 2015 adding two new external SSDs to their product lineup.
The star of show is the SanDisk Extreme 900 which is a high performance, high capacity solution designed for enthusiasts and media professionals who constantly need to move lots of data on the go. Enclosed in an all aluminum casing, SanDisk claims the Extreme 900 will be the largest portable SSD on the market with capacities of up to 1.92TB.
Of course it wouldn't be too fun waiting for 1.92TB to transfer with outdated USB 2.0 or even USB 3.0 for that matter, so SanDisk also put in a USB 3.1 interface allowing the Extreme 900 to be capable of speeds up to 850 MB/s. Speaking with SanDisk representatives, this is achieved by combining the performance of two SSDs in a RAID-like manner.
Those worried about the contents of their drive will also be glad to know that SanDisk will also include SecureAccess software which will allow users to encrypt the contents of the drive using 128-bit AES encryption.
SanDisk expects the Extreme 900 to ship in July with pricing for the 480GB at $399, 960GB at $599, and 1.92TB at $999.
In addition to the Extreme 900, SanDisk also introduced its smaller sibling, the SanDisk Extreme 500.
Unlike the Extreme 900 designed for those who want ultimate performance and capacity, the Extreme 500 is designed to be more of a mainstream product for those who want the performance of a SSD in a compact, ultra-portable form factor. As such, the Extreme 500 is significantly smaller than the Extreme 900, but is only available in capacities up to 480GB and performance up to 415MB/s via the USB 3.0 interface.
The SanDisk Extreme 500 is expected to be available in capacities of 120GB, 240GB and 480GB for $99, $149, and $239 respectively when it becomes available in July. It will also include SecureAccess encryption software.