[section label=1. Gigabyte Z87X-UD7 TH]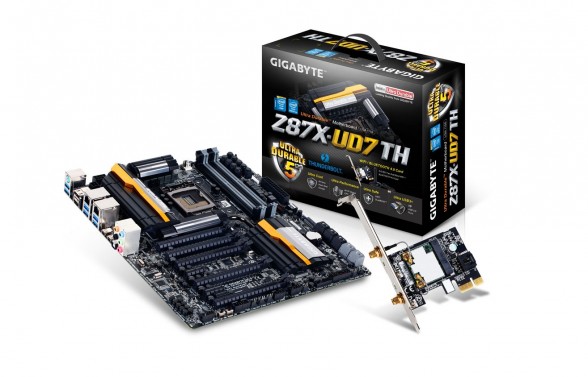 If fast external interfaces is something that piques your interest, then this latest announcement from Gigabyte is bound to put a smile on your face.
Gigabyte has recently announced that their Z87X-UD7 TH motherboard is now Thunderbolt 2 certified. Code-named "Falcon Ridge", Thunderbolt 2 doubles the bandwidth of first generation Thunderbolt by aggregating previously separate channels within the Thunderbolt interface giving users access to up to 20Gb/s (~2,560MB/s) via a single external interface!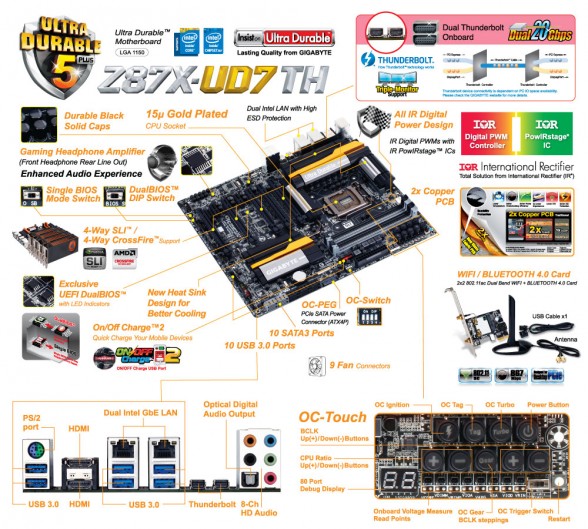 Of course, it's not just about having Thunderbolt 2 that makes the Z87X-UD7 such a sweet product. It's also jam packed to the brim in features such as support for Intel's latest Haswell processors, support for 4-way SLI/CrossFire, and it adheres to Gigabyte's Ultra Durable 5 set of technologies which includes a fully digital IR (International Rectifier) power delivery system, 10K solid black capacitors, a 15µ gold plated CPU socket, 2x copper PCB, and an ultra slick, all-new heatsink design. As for connectivity, it also features 10x USB 3.0 ports, 10x SATA 3 ports, dual Intel Gigabit LAN, 802.11AC/Bluetooth 4.0, and more!
If the Gigabyte Z87X-UD7 TH sounds like something you've been looking for all along, you can pick it up at Newegg for a cool $429.99. Full press release after the break!
[section label=2. Press Release]
Press Release
GIGABYTE Z87X-UD7 TH Motherboard Debuts 20 Gb/s 'Falcon Ridge' Dual Thunderbolt™ 2 Controller
GIGABYTE TECHNOLOGY Co. Ltd., a leading manufacturer of motherboards and graphics cards, today announced official certification of the latest dual port Thunderbolt™ 2 technology on the GIGABYTE Z87X-UD7 TH motherboard. Code-named 'Falcon Ridge', the new Intel® Thunderbolt™ 2 controller supports an incredible 20 Gb/s aggregated data transfer simultaneously across two channels per port.
"GIGABYTE is delighted to announce official certification of Intel's latest Thunderbolt™ technology on our flagship 8 series motherboard," commented Henry Kao, Vice President of GIGABYTE Motherboard Business Unit. "This underlines our commitment to offering our customers the absolute fastest connectivity options, placing GIGABYTE at the forefront of technological innovation."
"Thunderbolt™ delivers unparalleled performance, flexibility and simplicity to personal computing," said Jason Ziller, Intel's director of Thunderbolt Marketing. "As the first Dual Thunderbolt™ 2 motherboard from GIGABYTE, the Z87X-UD7 TH introduces new and exciting possibilities for enhanced media creation processes and 4K video workflows."
Thunderbolt-2-BandwidthDual Thunderbolt™ 2 – The Fastest Connection to Your PC Just Got Faster
The new Dual Thunderbolt™ 2 controller from Intel®, builds on the success of previous revisions, adding channel bandwidth aggregation to facilitate single channel transfer speeds of up 20 Gb/s, compared to a max of 10 Gb/s on previous designs.
This allows for incredible data transfer speeds when using high performance storage devices, while also supporting daisy-chaining of up 12 devices and triple digital display support.
4K Video Transfer Display On-the-Fly
4K_diagramThe new Thunderbolt™ 2 specification incorporates DisplayPort 1.2, providing sufficient bandwidth to simultaneously transfer 4K video content of up to 20fps while also streaming the content to a 4K display. This opens up a wealth of options for content creators working with increasingly high bandwidth 4K content.
GIGABYTE Z87X-UD7 TH
Supporting the latest 4th generation Intel® Core™ processors, the GIGABYTE Z87X-UD7 TH motherboard packs a number of exciting features and technologies that make it truly a flagship GIGABYTE 8 series motherboard.
Support for maxed-out 4-way SLI™ and Crossfire™ graphics configurations is paired with an incredible 16 phase digital VRM for the CPU and memory making the GIGABYTE Z87X-UD7 TH a real contender in extreme system build. Special onboard features assist DIY builders and overclockers in getting the absolute maximum control from their new 4th Generation Intel® Core™ processors. A new and updated GIGABYTE UEFI DualBIOS™ provides a customizable user interface allowing you to adjust overclocking and performance settings in real-time.
GIGABYTE Ultra Durable™ 5 Plus
The GIGABYTE Z87X-UD7 TH features Ultra Durable™ 5 Plus technology, GIGABYTE Ultra Durable™ 5 Plus, a range of features and component choices that provide record-breaking performance, cool and efficient operation and extended motherboard lifespan.
GIGABYTE UEFI DualBIOS™ with Dashboard Mode
Take control of how your BIOS looks and feels with the new GIGABYTE UEFI DualBIOS™, a fully customizable user interface that allows you to adjust overclocking and performance settings in real-time. With smooth mouse control and shortcuts for fast navigation, the new and exclusive Dashboard Mode gives users complete access to all data related to your motherboard, including CPU, graphics and memory clocks, temperatures and voltages.
New GIGABYTE EasyTune
A revised and updated GIGABYTE EasyTune offers a simple and easy-to-use interface that allows users to fine-tune their system settings, adjust system and memory clocks and voltages in a Windows environment with comprehensive system-related information displayed without the need to install additional software.
Leading Wi-Fi / Bluetooth Support
The GIGABYTE Z87X-UD7 TH includes an exclusive PCIe expansion card that offers support for the latest 802.11ac and Bluetooth 4.0 standards, offering incredibly fast network connectivity.
Durable Black Solid Capacitors
GIGABYTE 8 Series motherboards integrate the absolute best quality solid state capacitors that are rated to perform at maximum efficiency for extended periods, even in extreme performance configurations. This provides peace of mind for end users who want to push their system hard, yet demand absolute reliability and stability. With ultra-low ESR no matter how high the CPU loading, these exclusive capacitors also come in customized jet black, exclusively on GIGABYTE 8 series motherboards.
GIGABYTE Advanced Fan Control
GIGABYTE 8 series motherboards provide up to 9 strategically placed onboard system fan connectors, including a CPU OPT fan that can be connected to a water pump and configured for continuous full speed operation. The new GIGABYTE EasyTune app also offers comprehensive system fan controls with individual airflow settings provided by a dedicated digital controller.
GIGABYTE On/Off Charge™ 2
GIGABYTE On/Off Charge technology is revised and upgraded on GIGABYTE 8 series motherboards, with comprehensive and enhanced charging support for a broad range of devices that include those that run both iOS and Android. Users can enjoy fast AC charging over USB on mobile devices, even when the PC is turned off.
Gaming Headphone Amplifier
GIGABYTE 8 Series motherboards feature a high capacity headphone amplifier which is able to drive 600Ω loads, allowing gamers to enjoy a fuller range of dynamic sound with crisper details and less distortion when using high quality professional headphones. Featuring a wide bandwidth, low noise, high slew rate and low distortion, GIGABYE 8 series motherboards are ideal for professional audio usage and gaming enthusiasts.
High ESD Protection for USB and LAN
GIGABYTE 8 series motherboards raise the bar in terms of protecting your system, providing advanced electrostatic discharge (ESD) protection for both your Ethernet LAN and USB ports, both common sources of ESD-related failures. Each LAN and USB port is paired with a dedicated protection filter that can withstand high electrostatic discharges, protecting your system from common electrical surges and even direct lighting strikes.
Intel® Gigabit LAN
The latest GIGABYTE 8 series motherboards come equipped with Intel® Gigabit LAN networking, a popular choice with gamers that features several performance-enhancing features such advanced interrupt handling to help reduce CPU overhead and Jumbo Frame support for extra large data packets.
15µ Gold Plated CPU Socket
GIGABYTE 8 Series motherboards come equipped with a 15µ gold plated CPU socket, which means that enthusiasts can enjoy absolute reliability and longevity for the CPU socket overtime, without having any concerns about corroded pins and bad contacts.
You can find out more about the GIGABYTE Z87X-UD7 TH motherboard here