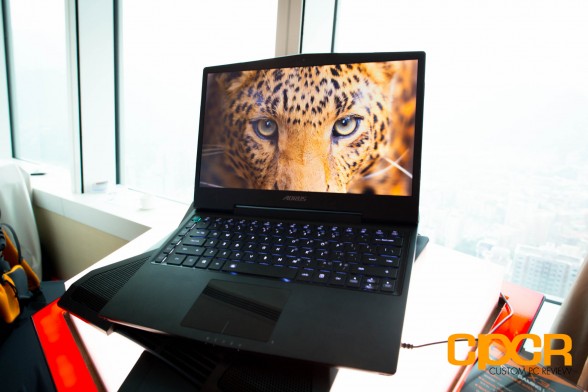 Earlier today, we had the chance to visit the Gigabyte offices and one of the most exciting products being unveiled at Computex this year is Gigabyte's Aorus X3 and X3 Plus gaming notebooks.
Unlike most gaming notebooks on the market which are big and bulky, the Aorus X3 and X3 Plus claim to fame is its sub 1″ thick chassis despite harboring hardware that's generally found in gaming notebooks twice as large and twice as heavy. While the entire Aorus X3 series will contain features such as 4th Generation Intel Core i7 processor, up to 16GB of DDR3L (two slots), Nvidia GeForce GTX 870M 6GB GDDR5 graphics, and up to 1TB of ultrafast storage with two M.2 SATA SSDs in a RAID 0 configuration, the main difference between the Aorus X3 and the X3 Plus is that the the X3 will come with a 13.3″ QHD display (2560×1440) while the X3 Plus will include either a 13.9″ QHD (2560×1440) or 13.9″ QHD+ display (3200×1800).
The Aorus X3 series is expected to be available by Q3 2014 with the QHD models starting at $2,099 and the QHD+ model starting at $2,199.
First Impressions
The only unit I had a chance to get hands on time with is the Aorus X3 Plus and first impressions are quite good. The first thing you'll really notice about the Aorus X3 Plus (QHD+ model) is its gorgeous IGZO powered QHD+ screen with its 3K resolution. Viewing angles were wide as expected, colors looked accurately reproduced, brightness was good and there were no issues with glare thanks to the screen's matte finish.
Despite the notebook being on all day, the unit was perfectly comfortable to the touch although Gigabyte did have a laptop cooler underneath the unit since it was resting on a fancy backlit stand that was quite hot. The Aorus X3 Plus does have numerous vents on the bottom of the unit so cooling shouldn't be a problem irregardless.
Construction quality seemed quite good on the entire unit as it is constructed of metal although the metal did feel a bit thin in parts like the screen probably for weight savings. The entire notebook weighs a mere 4.12lbs, which is about the weight of a college textbook or most mainstream 13″ and 14″ notebooks.
We should be getting a sample in the next few months, so stay tuned!