Computex 2014: First Look Inside SanDisk's 4TB Optimus MAX SSD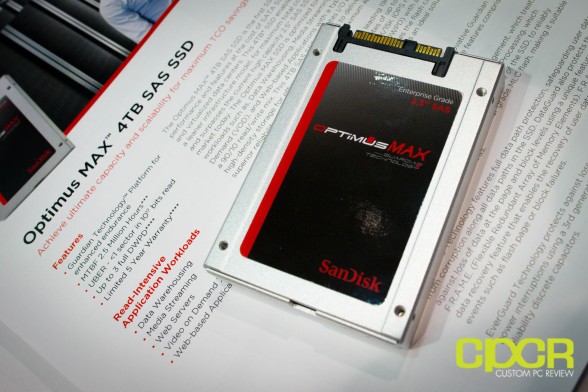 Earlier this year, SanDisk made headlines in the enterprise storage space when they introduced the Optimus MAX SSD, the world's first 2.5″ enterprise 6Gb/s SAS SSD with an unheard of 4TB capacity. It was an amazing feat of engineering, and here at Computex 2014 we get a first look inside the SSD to reveal just exactly how SanDisk was able to achieve this capacity despite the compact form factor.
First thing you'll notice about the SanDisk Optimus MAX is that it isn't exactly the size of your typical 2.5″ 7mm or 9mm SSD. The Optimus MAX is actually 15mm tall due to the fact that SanDisk is cramming three separate PCBs connected to each other via ribbon cables inside the chassis. On the center PCB we get the Marvell 88SS9185 controller and spread out between the three PCBs is a staggering 64 pieces of 19nm SanDisk eMLC Toggle Mode NAND. As this is an enterprise oriented drive, SanDisk also includes an array of Tantalum capacitors for full power loss protection.