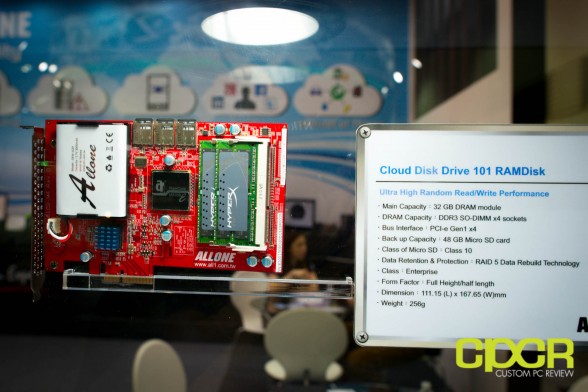 While storage performance have increased by leaps and bounds with the popularization of SSD technology, volatile memory (DRAM) is still the champ when it comes to raw performance. Unfortunately, with volatile memory being volatile in nature, it's not a very effective data storage medium if all data gets lost the moment power goes out.
Despite this "small" problem, Allone recently showed off their new Cloud Disk Drive 101 RAMDisk at Computex which aims to allow enterprise users the ability to harness the raw performance of DDR3 DRAM while simultaneously solving the problem of what happens when the lights go out. For those who remember the now discontinued Gigabyte i-RAM from years ago, the Cloud Disk Drive 101 RAMDisk is a similar concept except way, way faster.
Powered by an exclusive RamCore M5338 controller, the Cloud Disk Drive 101 RAMDisk is essentially a full height PCIe x4 card with four SO-DIMM slots which accept up to 32GB of ultrafast DDR3 memory which can be used as system storage. The drive also includes six MicroSD cards in a RAID 5 array which backup the data stored in the DDR3 DRAM and the entire drive is fully power fail protected using a 3,000 mAh battery which Allone claims can several hours after a power outage occurs.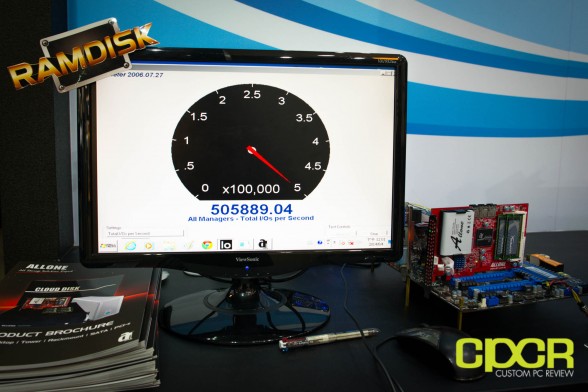 What all this means is that the Allone Cloud Disk Drive 101 RAMDisk can give enterprise users access to 500,000 IOPS from a single PCIe x4 drive. Given the fact that even the fastest SATA 6Gb/s SSDs can only barely touch 100,000 IOPS, the performance margin here is simply incredible.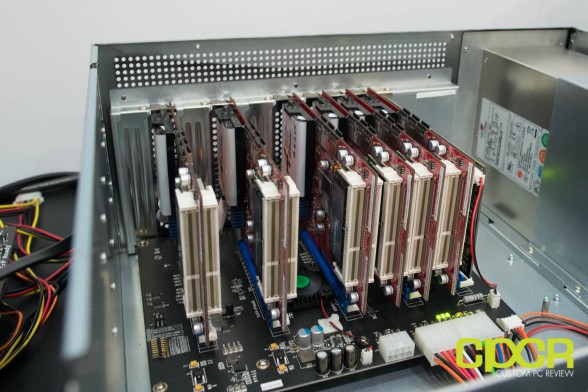 For those who need more performance than can be offered with a single Allone Cloud Disk Drive 101 RAMDisk, more units can be added to be used in a RAID configuration. Unfortunately, Allone didn't have a live demo available for this setup, but theoretically a couple million IOPS shouldn't be too big of a problem with a setup like this.
With DDR4 being the hot topic among DRAM vendors here at Computex, I also talked to some Allone engineers regarding the possible future implementation of DDR4. Allone engineers confirmed that DDR4 compatibility is in fact in the pipeline and should give future iterations of the Cloud Disk Drive 101 RAMDisk access to significantly higher performance and significantly higher capacities as well.