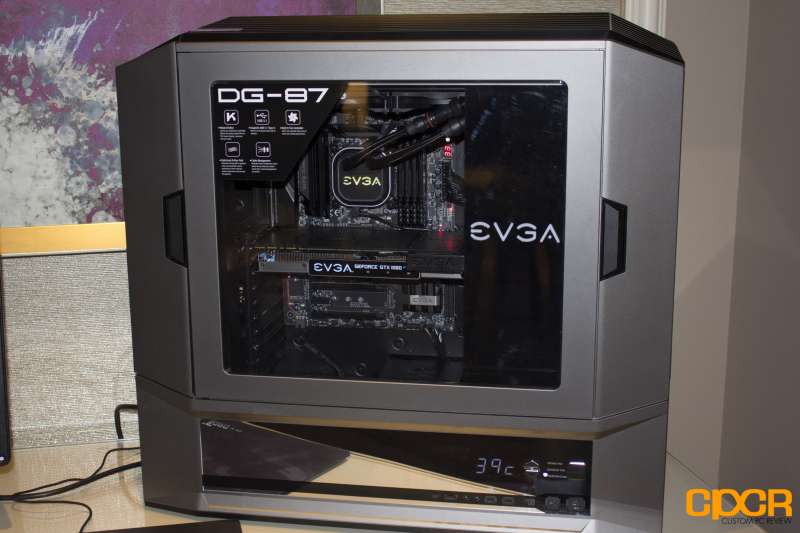 At CES 2017 we had the chance to stop by EVGA, which had a huge lineup of new products including the all-new iCX cooled GTX 1080 and GTX 1070 graphics cards, Intel Z270 motherboards, a brand new lineup of budget-minded B3 power supplies, and the finished version of the quick disconnect CLC coolers we saw back at Computex last year.
EVGA Shows off all-new iCX Cooled GTX 1080 and GTX 1070 FTW2 and SC2
Starting off our tour we had the chance to take a look EVGA's brand new "iCX" cooled graphics cards which are set to replace the ACX 3.0 cooled cards which make up the majority of their current GeForce 10-series lineup. The new rebuilt coolers will offer improved performance across the board with a redesigned heatsink and PCB in addition to some enhancements EVGA is keeping close to the chest until they're ready for launch.
Aside from the redesigned cooler, aesthetically the front of the cards are exactly the same as their ACX counterparts. The fans also appear to be the same as the previous cards. These new cards will be dubbed FTW2 and SC2 and should be available sometime in Q1. Of course, we'll update as we have more information.
EVGA Z270 Classified K, FTW K, and Stinger Series Motherboards

In addition to graphics cards, EVGA also gave us a look at their new lineup of Z270 motherboards. The new lineup includes three motherboards which follow EVGA's traditional naming scheme.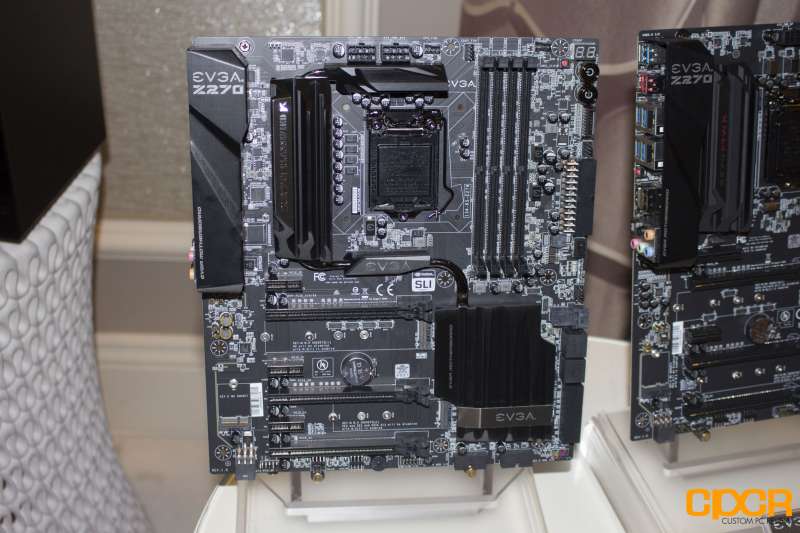 First up we have the top-of-the-line Z270 Classified K, this motherboard features an eATX form-factor and is geared toward extreme overclocking with a 13-phase power design and a 6-layer PCB. Unlike previous EVGA motherboards, this one only supports 2-way SLI, but that decision is due to NVIDIA's lack of support for configurations going past that for gaming. That said, there is a third slot available for PhysX cards, if you're into that sort of thing.
In addition to that, it also features a plethora of storage options including 2x native SATA Express ports, 4x native SATA 6Gb/s ports, 4x Marvell SATA 6Gb/s ports and 1x U.2 port, as well as 2x M.2 Key M slots (110mm and 80mm) and 1x M.2 Key E (32mm).  Of course being a Z270 motherboard is also comes equipped with Intel Optane support.  On top of that, we've got 4x rear USB 3.0 ports, 1x USB 3.1 Type-C as well as 1x USB 3.1 Type-A ports. Networking wise, we've got dual-Gigabit ethernet ports, one of which is supplied natively by the Intel chipset and the other is a Killer E2500 NIC. The Classified K also features upgraded audio, with the Creative Core3D quad-core audio processor.  Price is set at $299.99.
More information can be found at EVGA's website here.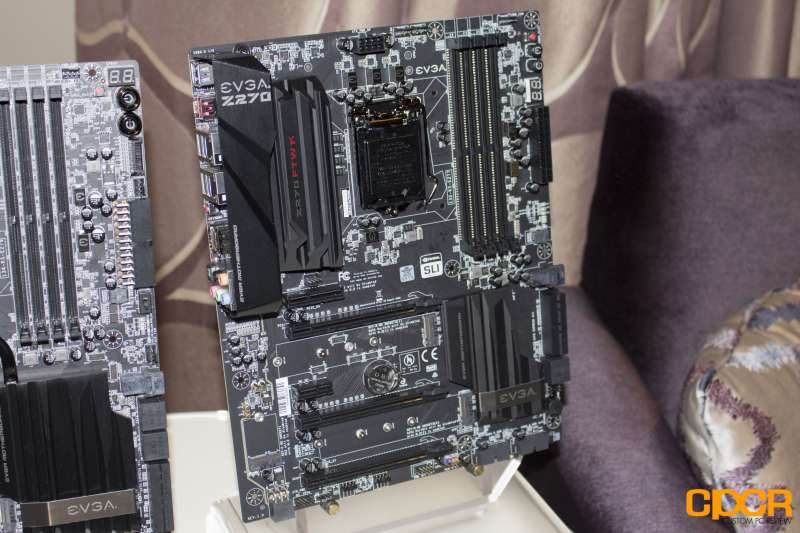 Next up is the EVGA Z270 K, which features the same 6 layer PCB, but in a smaller ATX form-factor. Power design is dropped to just 11-phases, but that shouldn't be an issue for most overclocks. We also get the same 2-way SLI support, with the option for a third PhysX card. Storage wise, we're looking at a slight step down here too. It features 2x native SATA Express ports, 6x native SATA 6Gb/s ports, 1x U.2 ports and 2x M.2 Key M (110mm) as well as 1x Key E (40mm) slots. 6x rear USB 3.0 ports, 1x USB 3.1 Type-C and 1x USB 3.1 Type-A ports. It features the same dual-Gigabit ethernet setup as the Classified K. In terms of audio, the Creative Core3D has been replaced with a standard Realtek HD audio setup.  Price is set at $239.99.
More information can be found at EVGA's website here.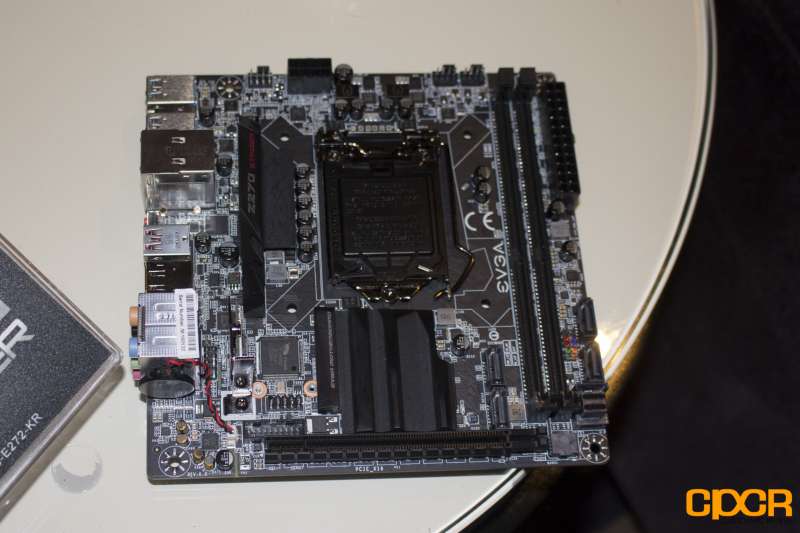 Finally, we have the Z270 Stinger, which takes everything from the larger FTW K model and puts it into a compact mini-ITX form-factor. It features a 10-layer PCB with a 6-phase PWM power design. Storage options include 3x native SATA 6Gb/s ports, 1x U.2 ports, 1x M.2 Key M (80mm) and 1x Key E (32mm) slots located around back of the motherboard. 6x USB 3.0 ports, 1x USB USB 3.1 Type-C and 1x USB 3.1 Type-A ports. Networking options include Gigabit ethernet (Intel) or 802.11AC dual-band WiFi+Bluetooth. Price is set at $169.99.
More information can be found at EVGA's website here.
EVGA QRC/ORG System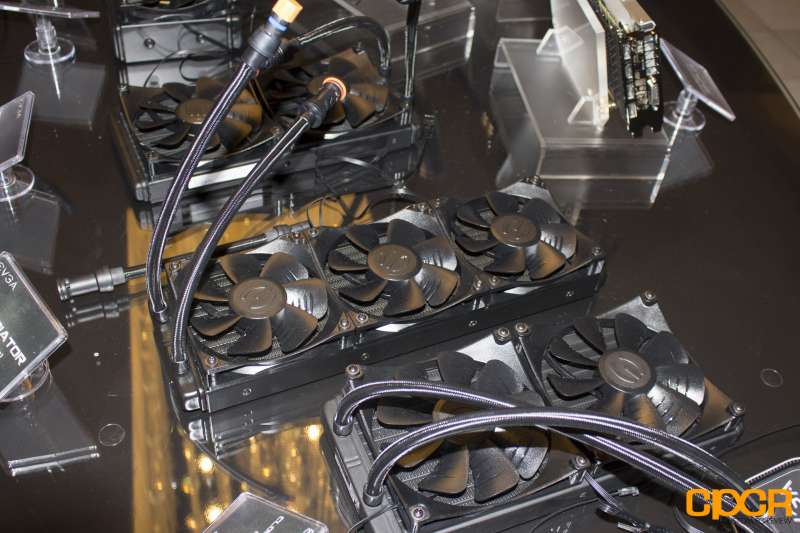 Typically, if you want to cool a CPU and GPU in a single cooling loop, you'd have to go with a custom solution. However, lately that has been changing with the introduction of expandable CLCs (closed-loop coolers). AT CES 2017 EVGA showed off their finalized QRC/QRG system which stands for Quick Release CPU and Quick Release GPU.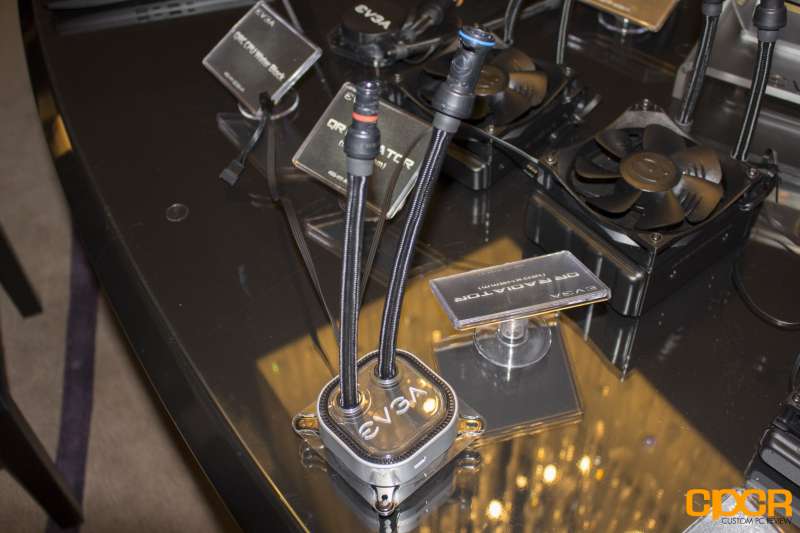 The system, which is designed in partnership with Asetek, uses basically the same parts we see in almost all standard all-in-one coolers. The key difference here is that each part has two quick-disconnect fittings which allow for expansion of radiators and CPU/GPU blocks which have their own built in pumps. The system can be expanded to support up to four graphics cards and as many radiators as you'd like. EVGA will be making radiators in the 140mm, 280mm and 360mm variants.
EVGA SuperNOVA B3 Series PSUs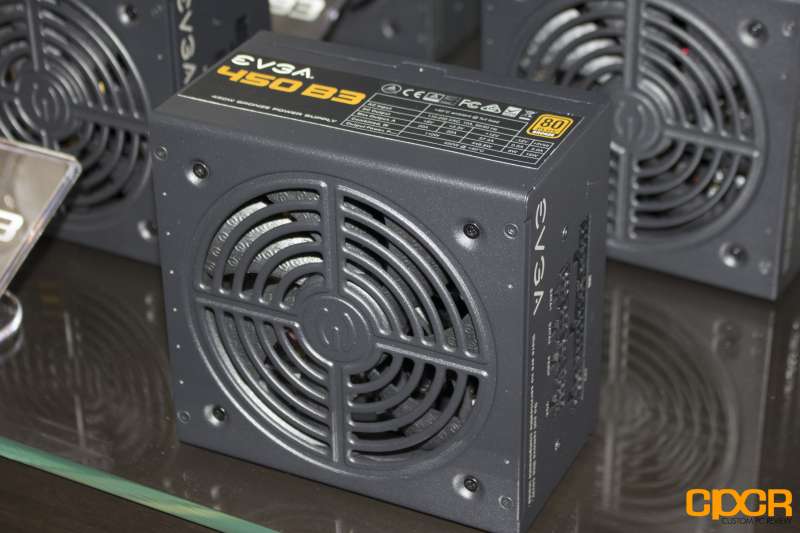 EVGA also announced their all-new B3 series power supplies, which will succeed the B2 series as the budget-friendly options from EVGA and will sit somewhere between their BQ and GQ lines. The platform is designed by Super Flower, just as the higher-end EVGA lines, however it is unclear if they are manufactured in Super Flower's facilities or elsewhere.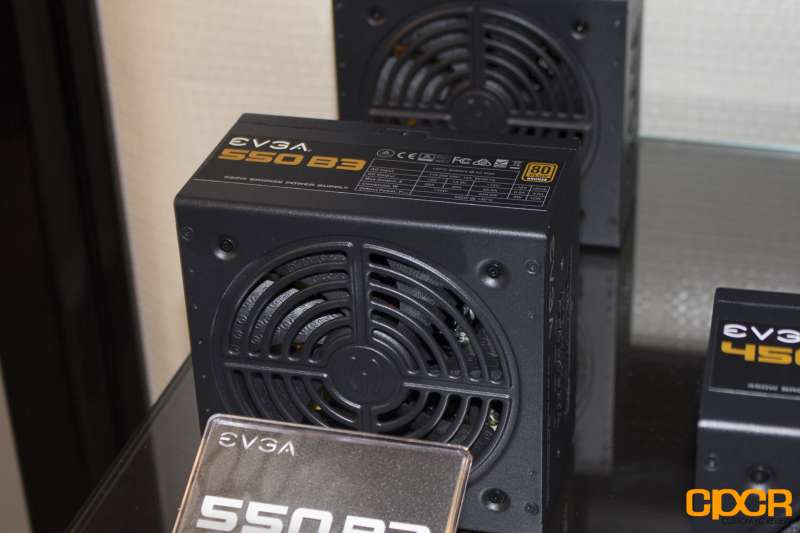 All B3 models come equipped with an 80 PLUS Bronze certification, and capacities will range from 450W all the way up to 850W. Pricing should start at $40 for the 450 B3, and up to $85 for the 850 B3. A key feature for the B3 line is that it is fully modular, which is very rare for a budget power supply. On top of that, since both the B3 and G3 lines are made by Super Flower, the modular cables are completely interchangeable between the two lines.