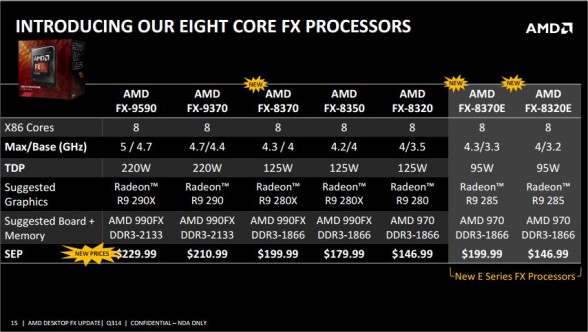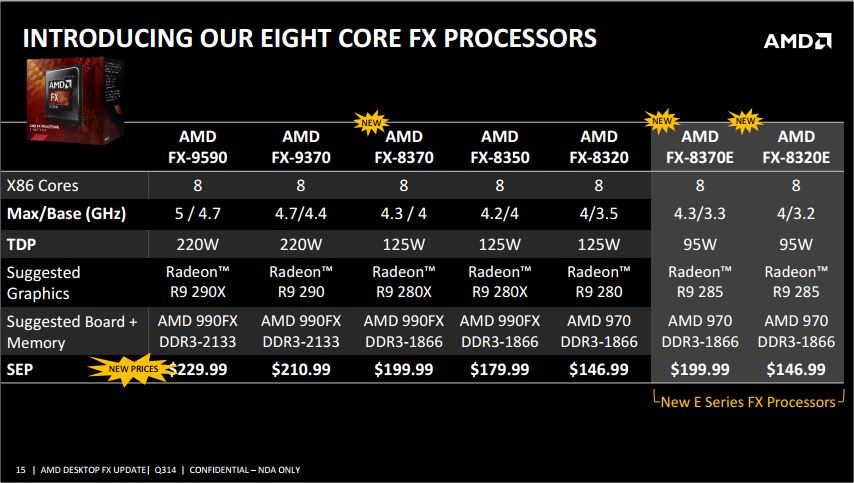 For the upcoming holiday season, AMD recently released a couple brand new FX series CPUs to fill out their enthusiast CPU lineup and slashed prices on their existing lineup to improve competitiveness.
On the performance gaming side, AMD added the new AMD FX-8370 which is designed between the existing AMD FX-9370 and AMD FX-8350. This is a slight upgrade above the AMD FX-8350 with a slightly increased turbo clock speed of 4.3GHz. While pricing is an additional $20 over the AMD FX-8350 for a mere 100MHz speed bump, AMD tells us that they're seeing great overclocking results internally, which may make this enticing for users looking to significantly overclock their CPUs.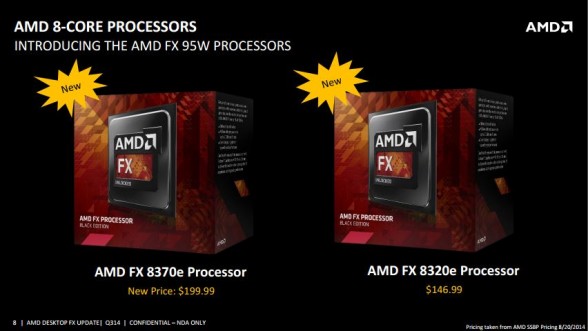 In addition, AMD also introduced the AMD FX-8370E and the AMD FX-8320E which are lower TDP versions of the AMD FX-8370 and the AMD FX-8320. While they both have the same turbo clock frequency as their original counterparts, AMD managed to lower the TDP down to 95w by dialing back the base clock and using more energy efficient bins. This allows users who purchased lower end AMD 970 motherboards with support for up to 95w TDP CPUs to get additional performance over AMD's current lineup of FX series 95W TDP CPUs. It's always nice to see that AMD is bringing more enthusiast level performance to budget users. The FX-8370E and the AMD FX-8320E will be priced at $199.99 and $149.99 MSRP respectively.
Unfortunately, no new architecture announcements have been made. AMD's entire FX lineup is still based on AMD's almost 2 year old Piledriver architecture. That said, AMD is slashing prices on their entire FX line of CPUs including their flagship AMD FX-9590. Its new MSRP of $229.99 brings it in line with the Intel's Core i5 processors and puts it squarely in the price-to-performance sweetspot which should make it a more attractive CPU for gamers and content-creators on a budget.