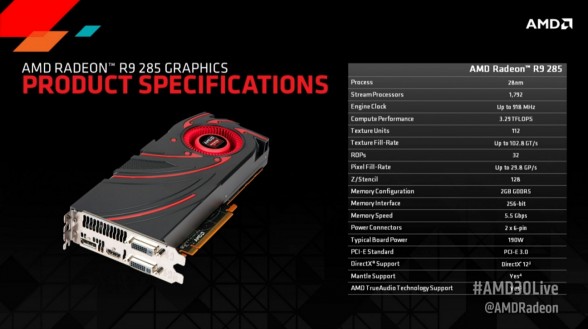 This past weekend, AMD celebrated 30 years of graphics at an event held at their Austin, Texas campus where they introduced several new products, including a new graphics card which will likely be based off the rumored "Tonga Pro" GPU core.
The new graphics card, the AMD Radeon R9 285, will come packed with 1792 stream processors, 112 TMUs, and 32 ROPs. At stock, the cards will ship with a core clocks of 918 MHz and a memory clocks up to 5.5 Gbps. It'll also have 2GB of GDDR5 running off a 256-bit memory interface. Of course, AMD hinted that AIB partners will have custom designs of the new GPU at launch so definitely expect variations with higher stock clocks and more video memory.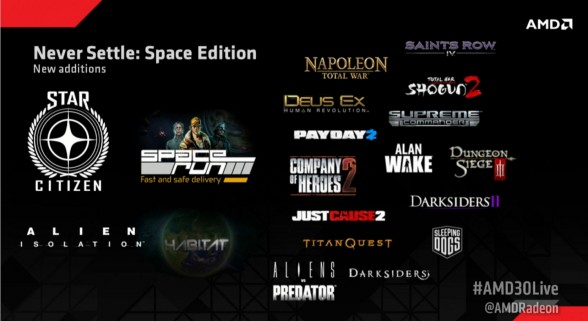 AMD is also simultaneously launching a new Never Settle bundle, which they call Never Settle: Space Edition. AMD is adding two new games, Star Citizen and Alien Isolation, which will be available for free when you purchase a new Radeon R9 285. Of course, if that doesn't interest you, you can also get one of the many games that AMD already includes in their Never Settle bundle.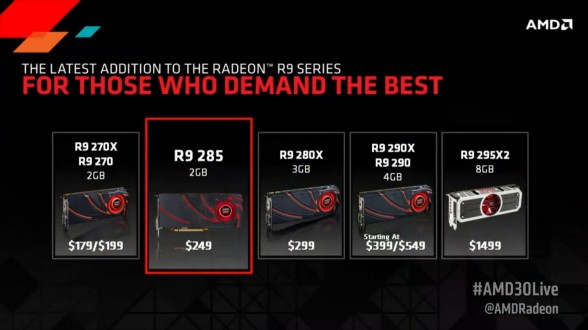 Pricing is expected to be $249 when the AMD Radeon R9 285 launches on September 2. These new cards will be available for purchase on that date as well. We'll likely have samples of these cards in-house at launch, so be sure to check back for a full review.
Sources: AMD via Twitch.tv