Along with the announcement of its new 950 Pro SSD, Samsung has also noted that the market can expect 4TB versions of the 2.5″ 850 Pro and 850 EVO SSDs as well as 1TB versions of the 850 EVO M.2 SSD in the early part of 2016.
This new capacity breakthrough on Samsung's consumer SSDs is made possible using Samsung's 3rd generation 48-layer Vertical NAND (V-NAND). The new NAND increases the maximum capacity of each memory chip to 32GB, double that of Samsung's 2nd generation V-NAND. We've already seen the benefits of the new NAND a few month ago when Samsung announced the 16TB PM1633a at the Flash Memory Summit.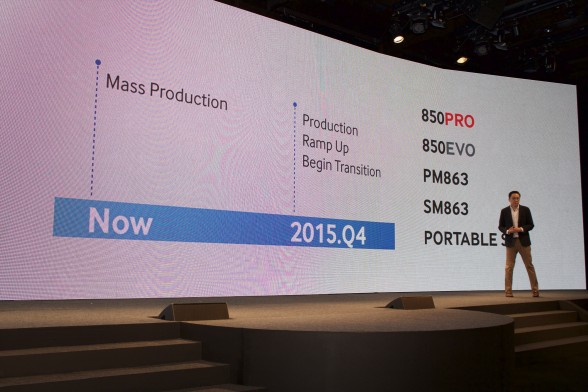 Samsung has also state that this is just the beginning of a series of transitions the company plans to make. Samsung plans to transition all of its existing core product lines to use its 3rd generation V-NAND. All products using the new technology will feature a "V-NAND" badge on its packaging to remind consumers their differences.