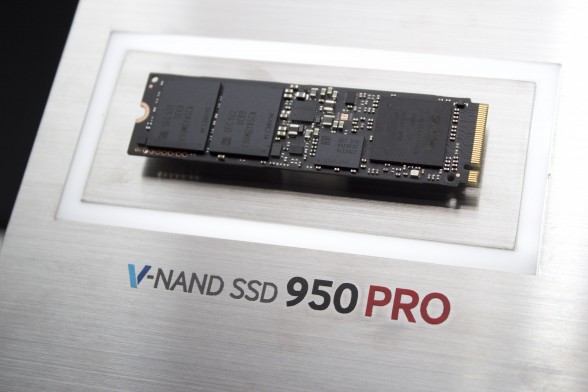 Samsung has just launched its 950 Pro M.2 NVMe SSD at the 2015 Samsung SSD Global Summit in Seoul, Korea.
As the latest addition to the consumer SSD line, the 950 Pro is Samsung's first consumer-ready M.2 SSD with Vertical NAND (V-NAND) and the NVMe protocol. V-NAND enables Samsung to cram more storage space onto a small form factor as well as improved power savings while NVMe protocol removes the limitations of AHCI by offering better multi-core support, higher queue depth, and lower latency. With the introduction the 950 Pro, enthusiasts and professionals now have a high-performance storage option in the consumer market space without the throughput bottleneck of SATA SSDs.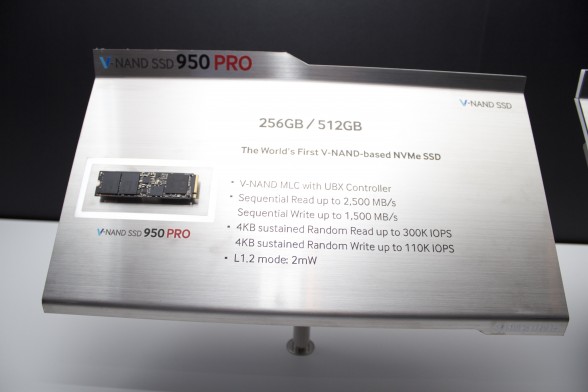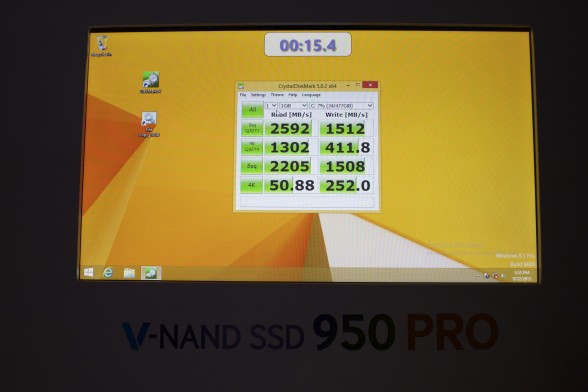 The Samsung 950 Pro comes in the M.2 2280 form-factor in either 256GB or 512GB capacities. Both versions takes advantage of Samsung's second generation 128Gb V-NAND and the UBX controller. Leveraging the power of four PCI-e 3.0 lanes and the NVM-e interface protocol, the 950 Pro can achieve random read/write speeds of 300,000/100,000 IOPS and sequential read/write performance of up to 2,500/1,500MB/s.  Samsung had a demo at the event demonstrating its performance using Crystal Disk Mark.
Both capacities of the Samsung 950 Pro comes with a 5 year warranty. While this may seem like a step back from the 850 Pro's 10 year warranty, their Terabytes Written (TBW) has been increased to 200TB for the 256GB version and 400TB for the 512GB version. The 950 Pro also features AES-256 full-drive encryption for added security.
The Samsung 950 Pro will be available in October 2015 with an MSRP of $199.99 for the 256GB version and $349.99 for the 512GB version.