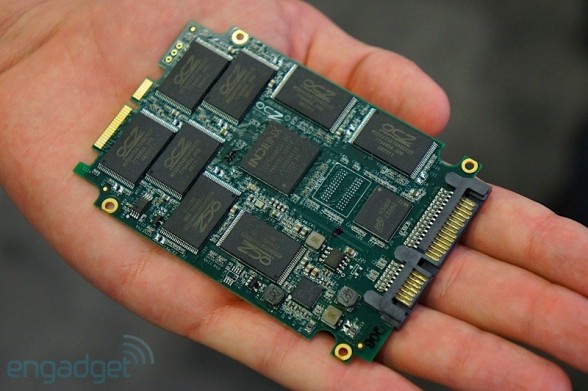 Back in March of 2011, OCZ acquired SSD controller manufacturer Indilinx and since then has been putting their acquisition to good use. By October of the same year, OCZ unveiled the Octane series SSD powered by the Indilinx Everest controller. Soon after, in March of this year, they unveiled the Vertex 4 SSD powered by the Indilinx Everest 2 controller. However, despite the Indilinx branding, OCZ up to this point has been using Marvell hardware combined with in-house Indilinx firmware, which…
… Brings us to today as Engadget was able to get a sneak peek at OCZ's soon to come Vector series SSD at Intel Developer Forum (IDF) 2012. What's special about the Vector series SSD is that it's going to be powered by OCZ's new Indilinx Barefoot 3 controller. This new controller will be produced 100% in house so there won't be any sourcing of Marvell hardware further differentiating OCZ from the many different Marvell based SSDs currently on the market.
The 256GB and 512GB editions of the Vector are currently planned for release in Q4 of this year with other capacities possibly showing up later this year. No pricing or performance figures are available at this time; however, the Vector is expected to be OCZ's fastest consumer SSD when it's released.
Source/Image Source: Engadget