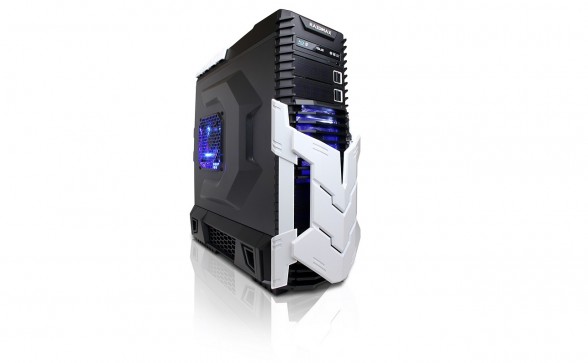 Press Release
The Ultimate Combination of Performance, Powered Efficiency, and Affordability
CyberPower Inc., a global manufacturer of custom gaming machines, today announced it will integrate NVIDIA's powerful Kepler-fused GeForce GTX 660 and GTX 650 graphics cards into its lineup of midrange to high-end desktop gaming PCs to deliver the ideal blend of affordability, class-leading performance and power efficiency.
Starting today, CyberpowerPC customers can custom configure GeForce GTX 660 or GTX 650-based gaming systems across its Fang III series, Gamer Xtreme and Ultra series of custom gaming PCs. The new NVIDIA graphics cards will also be featured in CyberpowerPC's recently introduced Zeus Thunder and Zeus Lightning series, which offer Intel's 3rd Gen. Ivy Bridge, 2nd Gen Sandy Bridge-E or AMD's FX series CPUs; combined with the refined design of NZXT's Switch 810 chassis and CyberpowerPC's Advanced Hydro Liquid Cooling kit.
CyberpowerPC systems based on the game-changing GeForce GTX 660 cards will start at $749 and $649 for the price-to-performance GeForce GTX 650.
The GeForce GTX 650 provides an affordable entry point to the GeForce GTX Kepler-architecture family of high-performance gaming graphics cards. CyberpowerPC customers who opt for a custom-built system fueled by the GeForce GTX 650 can expect up to six times faster performance over older systems based on DirectX 10 cards, and experience richer environments brought to life by the latest NVIDIA enhancements in full 1080p HD brilliance.
CyberpowerPC GTX 660 Systems: The Must-Have GPU for Today's Hottest Titles
For gamers seeking an even greater advantage, CyberpowerPC will offer a full arsenal of GeForce GTX 660 custom systems. According to CyberpowerPC, these systems will represent the Kepler "sweet spot" for gamers – the ultimate combination of performance, power efficiency, and affordability.
CyberpowerPC systems powered by the GeForce GTX 660 deliver game-changing performance that's twice as power-efficient as the previous generation GeForce GTX 560. Gamers can also take on this year's hottest titles with 8-times the performance of older DirectX 10 cards and stream games across three monitors on a single GPU with NVIDIA Surround technology.
Other enhancements on CyberpowerPC GeForce GTX 660 and GTX 650 powered systems include: the new temporal antialiasing (TXAA) technique, which minimizes jaggies for exceptional image quality and gaming performance; Adaptive Vertical Sync for faster frame rates; and NVIDIA PhysX and 3D Vision technologies for ultra-realistic simulation effects.
Standard features on CyberpowerPC GTX 660 and GTX 650 infused systems include PCI Express 3.0 to offer maximum data transfer speeds; HDMI support, CUDA and PureVideo HD Technology for accelerating graphics intensive tasks in High-Def picture clarity.
All CyberpowerPC custom gaming systems can be customized with a number of performance hardware and components such as custom liquid cooling, Solid State Drives, Blu-Ray drives, performance gaming memory, gaming peripherals, business and productivity software, and more.
CyberpowerPC loads every system with Microsoft Windows 7 Home Premium Operating System for an enhanced gaming and multimedia experience. All CyberpowerPC desktop gaming systems include an industry-best-3-year limited warranty.
To learn more, check out CyberPowerPC's website here.