[section label=1. Samsung Announces New 3D V-NAND SSDs]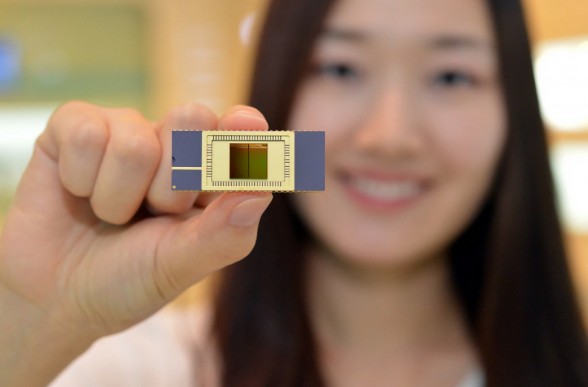 Thanks to a recent press release by Samsung's Semiconductor, some possible details about the highly anticipated Samsung 850 Pro SSD may be coming to light.
According to the press release, Samsung announced that they've begun mass production of 2nd Generation 3D V-NAND (Vertical NAND) which now features an industry first 32 vertically stacked cell layers, an increase of ~33% over the 24 layered 1st Generation 3D V-NAND product. This gives Samsung's 2nd Generation 3D V-NAND product an increase in capacity without a change in the fabrication process allowing Samsung to continue using existing 3D V-NAND manufacturing equipment for the updated V-NAND.
What's most interesting about the new announcement however is that in a strangely vague, non-descriptive manner, Samsung also mentioned that they're launching a new lineup of "premium" SSDs based off its 2nd Generation V-NAND product geared towards "high-end PC applications". These new SSDs will come in capacities of 128GB, 256GB, 512GB, and 1TB, and will "…have approximately twice the endurance for writing data and consume 20 percent less power, compared to planar (2D) MLC NAND-based drives".
No further details (product names, specs, performance figures, etc.) on the drives have been shared at this time; however, given Samsung's annual client SSD refresh schedule, these new 2nd Generation 3D V-NAND premium client SSDs sure sound like a worthy successor to the nearly two year old Samsung 840 Pro.
Currently, Samsung is the only known NAND producer on the market mass producing a 3D NAND product and has been doing so since August 2013. Toshiba/SanDisk is expected to begin mass production of their 32 layer BiCS (Bit Cost Scalable) 3D NAND by 2016, SK Hynix is expected to begin sampling their 3D NAND soon, and Micron expects their 3D NAND to be in the market by the end of this year.
**Update 6/30/2014**
As predicted, Samsung recently introduced the Samsung 850 PRO with 32-layer 3D V-NAND! Check out our full review here!
[section label=2. Press Release]
Samsung Starts Mass Producing Industry's First 32-Layer 3D V-NAND Flash Memory, Its 2nd Generation V-NAND Offering
Samsung Electronics Co., Ltd., the world leader in advanced memory technology, today announced that it has begun mass producing the industry's first three-dimensional (3D) V-NAND flash memory using 32 vertically stacked cell layers, which is its second generation V-NAND offering.
Samsung's 32-layer 3D V-NAND – also referred to as Vertical NAND – requires a higher level of design technology to stack the cell arrays than the previous 24-layer V-NAND, yet delivers much greater production efficiency because Samsung can use essentially the same equipment it used for production of the first generation V-NAND.
In addition, Samsung has just launched a line-up of premium SSDs based on its 2nd generation V-NAND flash memory with 128 gigabyte (GB), 256GB, 512GB and 1TB storage options. After introducing 3D V-NAND-based SSDs to data centers last year, Samsung is now extending its V-NAND SSD line-up to high-end PC applications, in expanding its market base.
"We increased the availability of our 3D V-NAND by introducing an extensive V-NAND SSD line-up that covers the PC market in addition to data centers," said Young-Hyun Jun, executive vice president, memory sales and marketing, Samsung Electronics. "Look for us to provide a consistent, timely supply of high-performance, high-density V-NAND SSDs as well as core V-NAND chips for IT customers globally, contributing to fast market adoption of 3D NAND technology."
The new 3D V-NAND-based SSDs have approximately twice the endurance for writing data and consume 20 percent less power, compared to planar (2D) MLC NAND-based drives.
Later this year, Samsung will introduce additional premium 3D-based SSDs based on this 2nd generation V-NAND memory with even higher reliability and higher-density in satisfying a diversity of customer needs.
According to a recent research report by Gartner, the global memory market is expected to grow from US $75.5 billion in revenues to approximately US $79.7 billion in 2017, while its NAND flash portion will continue to rapidly increase to reach a more than 50 percent share or about US $44.6 billion in 2017.