Warning
: Undefined array key "width" in
/var/www/vhosts/custompcreview.com/public_html/wp-includes/media.php
on line
1381
Warning
: Undefined array key "width" in
/var/www/vhosts/custompcreview.com/public_html/wp-includes/media.php
on line
1386
Warning
: Undefined array key "height" in
/var/www/vhosts/custompcreview.com/public_html/wp-includes/media.php
on line
1386
Warning
: Undefined array key "width" in
/var/www/vhosts/custompcreview.com/public_html/wp-includes/media.php
on line
1381
Warning
: Undefined array key "width" in
/var/www/vhosts/custompcreview.com/public_html/wp-includes/media.php
on line
1386
Warning
: Undefined array key "height" in
/var/www/vhosts/custompcreview.com/public_html/wp-includes/media.php
on line
1386
Warning
: Undefined array key "width" in
/var/www/vhosts/custompcreview.com/public_html/wp-includes/media.php
on line
1381
Warning
: Undefined array key "width" in
/var/www/vhosts/custompcreview.com/public_html/wp-includes/media.php
on line
1386
Warning
: Undefined array key "height" in
/var/www/vhosts/custompcreview.com/public_html/wp-includes/media.php
on line
1386
[section label=1. Introduction]
The Jack of All Trades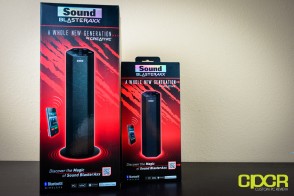 Creative is an interesting company. Despite them being most well known for their Sound Blaster line of discrete sound cards, they actually have a ton of product lines covering stuff like speakers, headphones, headsets, etc. What they don't yet have is something that combines the features of all these products into one. Until now.
Meet the Sound Blaster Axx. It's really quite hard to classify what kind of device this thing is, but it's basically a huge mash of all the stuff Creative makes into a single product. In the most basic form, the Axx is simply a USB powered computer speaker with a microphone. What makes this speaker special is that it's powered by Creative's SB-Axx1 audio processor. Creative's "new" SB-AXX1 multi-core voice and audio processor is Creative's newest audio processor, which like the SoundCore 3D series processors is capable of processing audio and voice information in real time. This allows Creative to enhance both audio and voice without the need of any PC software.
While this is pretty cool, the more advanced models of the Axx (SBX 10 and SBX 20) get cooler. Both of the more advanced models also feature a Bluetooth interface along with the standard USB interface, so it's capable of interacting with any Bluetooth enabled device such as a smartphone. This opens up a lot of doors as smartphones will be able to play music or take calls directly through the Axx. What then makes this even cooler…er is the fact that all of Creative's audio processing technology we've grown to know and love such as noise cancellation, voice focus, smart volume, etc. can be applied directly to voice streams in call and in real time.
Today then, we'll be reviewing both the Creative Sound Blaster Axx SBX 10 and the Creative Sound Blaster Axx SBX 20. Will the culmination of Creative's technical prowess result in epic success or epic failure? Let's find out!
Sound Blaster Axx Specifications
| | SBX 20 | SBX 10 | SBX 8 |
| --- | --- | --- | --- |
| Interface: | USB 2.0, Bluetooth | USB 2.0, Bluetooth | USB 2.0 |
| Wireless Technology: | Bluetooth 2.1 + EDR | Bluetooth 2.1 + EDR | N/A |
| Bluetooth Profiles | A2DP, AVRCP, HFP | A2DP, AVRCP, HFP | N/A |
| Frequency: | 2.4GHz | 2.4GHz | N/A |
| Audio Codec: | AAC, SBC | AAC, SBC | N/A |
| Operating Range: | Up to 10m/33ft | Up to 10m/33ft | N/A |
| Build-in Microphone: | Omni-directional microphone array | Omni-directional microphone array | Omni-directional microphone |
| Audio Inputs: | 1x 3.5 mm Aux In/Microphone In Combo Jack | 1x 3.5 mm Aux In/Microphone In Combo Jack | 1x 3.5 mm Aux In/Microphone In Combo Jack |
| Audio Output: | 1x 3.5 mm Headphone Jack | 1x 3.5 mm Headphone Jack | 1x 3.5 mm Headphone Jack |
| Dimensions (L x W x H): | 109.8 x 97 x 400.2 mm | 90.6 x 80.3 x 295.7 mm | 64.4 x 57 x 166.1 mm |
| Weight: | Approx. 1.9kg | Approx. 0.8kg | Approx. 0.3kg |
| Check Pricing | Click Here | Click Here | Click Here |
[section label=2. A Closer Look (Axx SBX 10)]
A Closer Look at the Sound Blaster Axx SBX 10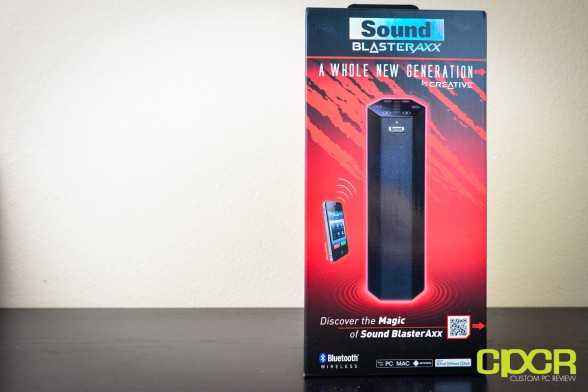 Let's take a look at the Sound Blaster Axx SBX 10's packaging.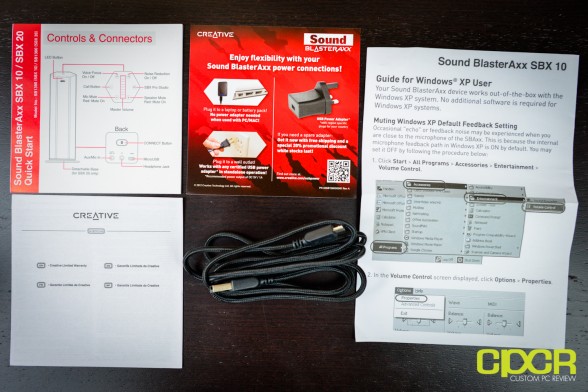 Inside the packaging, we get some documentation along with a braided micro-USB cable. They've even included special documentation for Windows XP if you're still using that.
Let's take a first look at the Axx SBX 10. Appearance wise, it's got a very simple and elegant pillar-like design. There's a nice looking Sound Blaster logo up top and there really isn't much else.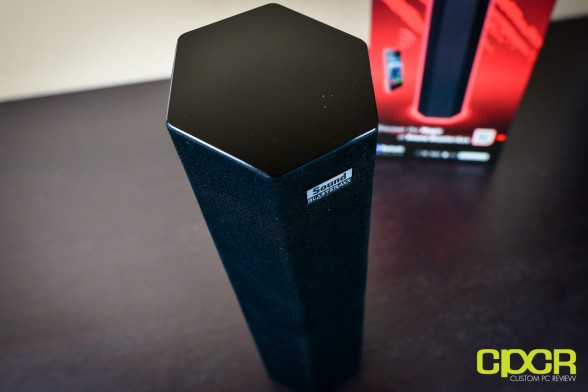 From the top, we can see that the Axx SBX10 has a hexagonal shape and the top of the unit features a glossy finish. We'll find out the reason for this soon enough…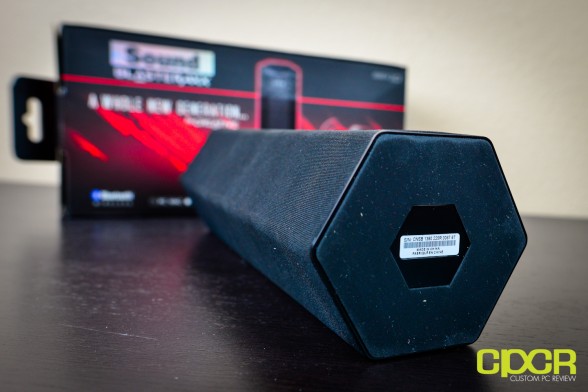 The bottom of the unit features a rubber finish along with some information about the Axx SBX 10 unit.
The only place where anything is happening at all is the rear of the unit. There's a port back here to give the unit a bit of a low end kick, a Bluetooth button for pairing the unit with a Bluetooth enabled device, a headphone jack, a microphone/aux combo jack and a micro-USB port.
The Sound Blaster Axx SBX 10 is powered through a single USB 2.0 connection. Once the unit is powered on, the entire top panel lights up to reveal a capacitive touch panel that may be used to start calls, change the volume, mute the unit, turn on SBX features, etc. Classy…
[section label=3. A Closer Look (Axx SBX 20 Exterior)]
A Closer Look at the Sound Blaster Axx SBX 20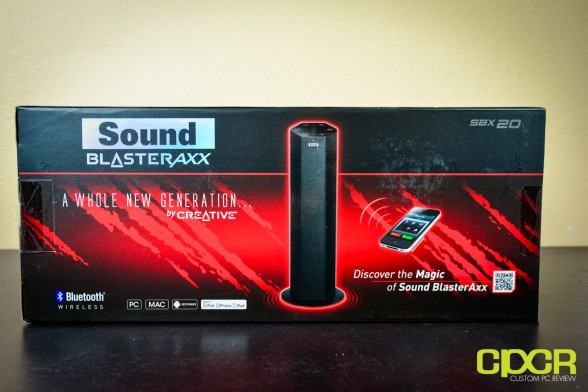 Packaging on the Sound Blaster Axx SBX 20 is near identical to the packaging on the Sound Blaster Axx SBX 10.
Included in the packaging, you get similar documentation, a micro-USB cable, and a USB power adapter for when a computer USB connection is unavailable. The only extra you get here is the power adapter as it does not come bundled with the SBX 10 or the SBX 8. However, it may be purchased as a separate accessory.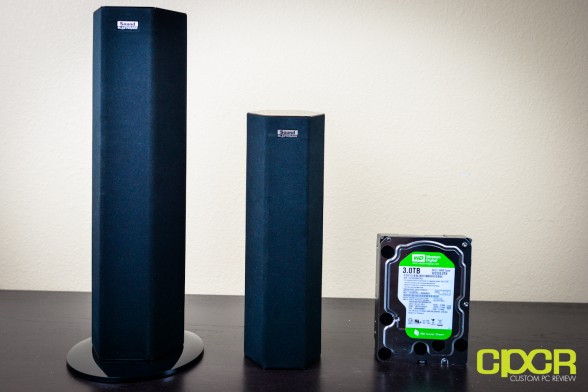 Here's a size comparison of the Sound Blaster Axx SBX 20, the Sound Blaster Axx SBX 10, and a standard 3.5″ Western Digital Hard Drive. With the exception of size, the SBX 20 and the SBX 10 are identical in shape and design.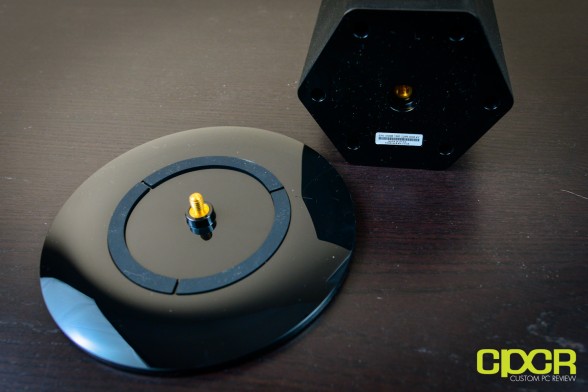 Because the Sound Blaster Axx SBX 20 is pretty tall, Creative includes a circular base with the SBX 20 to prevent it from toppling over. The SBX 20 can be used without the base, but it will be a bit unstable.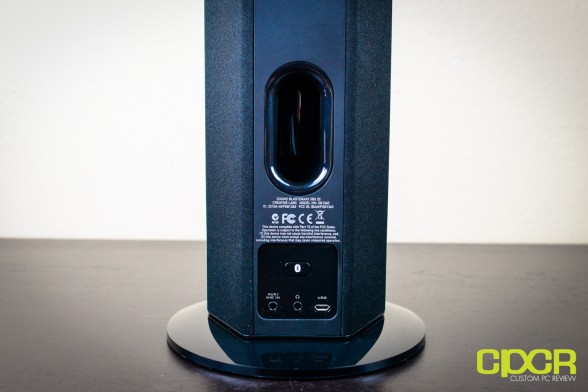 The connections back here and the port on both the Axx SBX 10 and Axx SBX 20 are identical. There's a larger subwoofer port here, a Bluetooth button, a headphone jack, a microphone/aux combo jack and a micro-USB port.
The top of the Axx SBX 20 and the Axx SBX 10 are identical except that the Axx SBX 20 is larger with larger buttons and all.
[section label=3. A Closer Look (Axx SBX 20 Interior)]
A Closer Look at the Sound Blaster Axx SBX 20
Unfortunately, since it would require destroying the Sound Blaster Axx SBX 10 to open it (the rubber material on the bottom is glued on), we'll only be taking a look at the electronics inside the Sound Blaster Axx SBX 20. Since the features on the Sound Blaster Axx SBX 10 and the Sound Blaster Axx SBX 20 are similar, the internals of both devices should be similar as well, but there might be some slight differences as the SBX 10 doesn't require as much power to drive as the SBX 20.
Here's a general look at all the electronics behind the Axx SBX 20.
Here's a look at one of the PCBs. This PCB is located right near the base of the Axx SBX 20, and houses the USB port, the headphone/aux jack, and microphone jack. Let's take a closer look…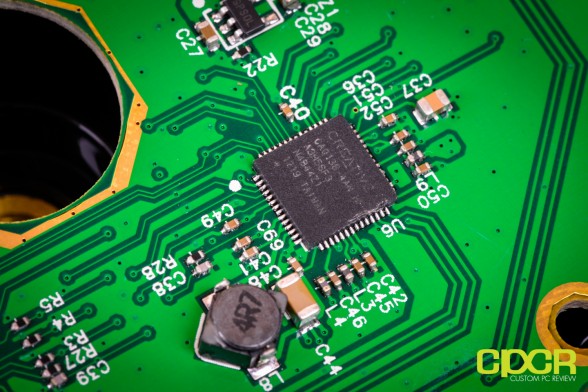 First chip we see here is the Creative CA0136, which presumably is what Creative is now calling the SB-Axx1 sound processor. If this chip looks familiar, that's because it's 100% identical to the Sound Core 3D sound processor being used on the Creative Sound Blaster Recon3D USB. As far as I can tell, Creative's new SB-Axx1 is just a straight rebrand of the Sound Core 3D.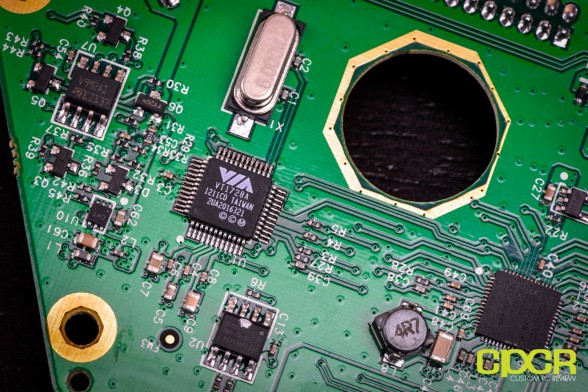 Since the SB-Axx1 is simply a sound processor, we've also got the VIA VT1728A USB 2.0 8-Channel Audio Controller onboard. Personally, I'm not too familiar with this chip, but the specs look decent (24-bit 192kHz support).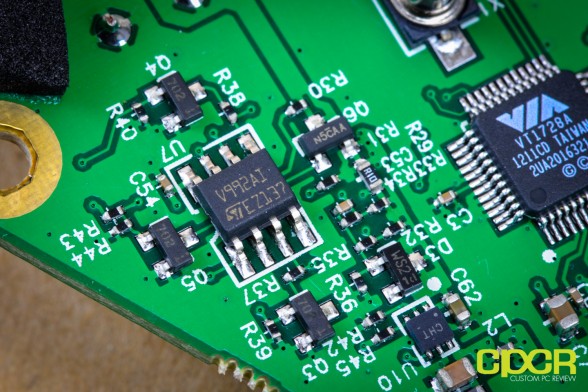 Can't say I'm too familiar with this one either, but here we've got a ST Microelectronics V992AI Operational Amplifier.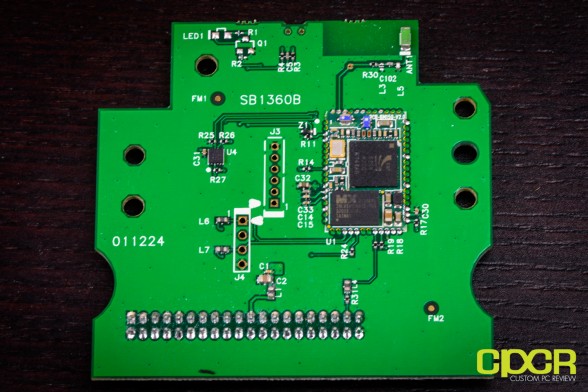 Next up we have another PCB that's situated right above the PCB we just checked out. This PCB houses the Bluetooth button, so it likely also houses any electronics associated with Bluetooth.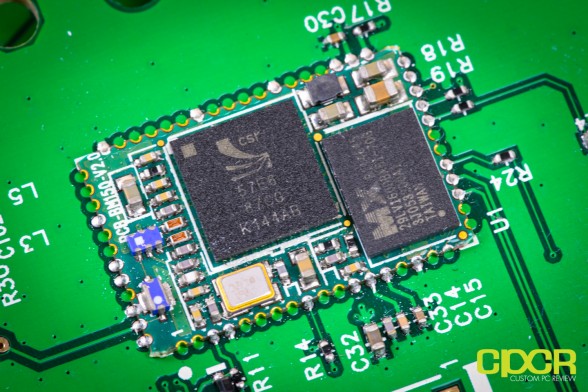 This PCB is pretty sparse. The main thing we get here is the CSR 57E6/87CG chip, which is a low power consumption Bluetooth chip.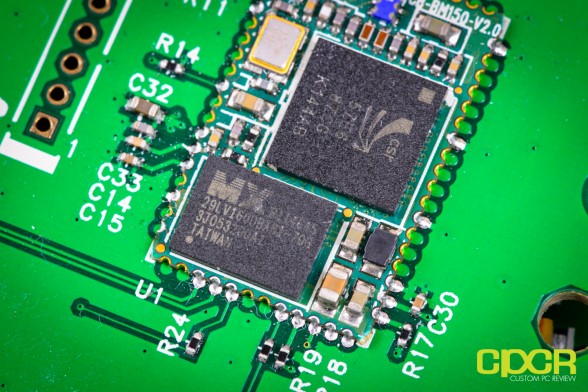 Next to the CSR Bluetooth chip we get a MXIC MX29LV160DBXBI-70G module which houses 16M of flash memory.
Finally, we have a third and larger PCB which slides out from the unit itself. This board houses the amplifiers and other electronics that will allow the Axx SBX 20 to create "room filling sound" over a single 500mV USB connection. Let's take a closer look…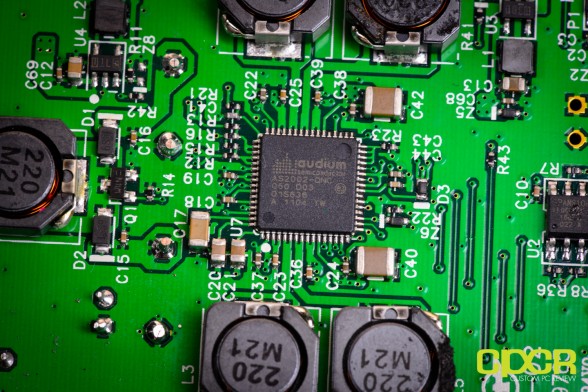 At the heart of this board is the Audium AS2002 stereo amplifier. This chip along with the Creative SB-Axx1 is pretty much all we really wanted to see as this Audium chip is "the magic" Creative is using in order to pump out "room filling sound" through USB on the SBX 20.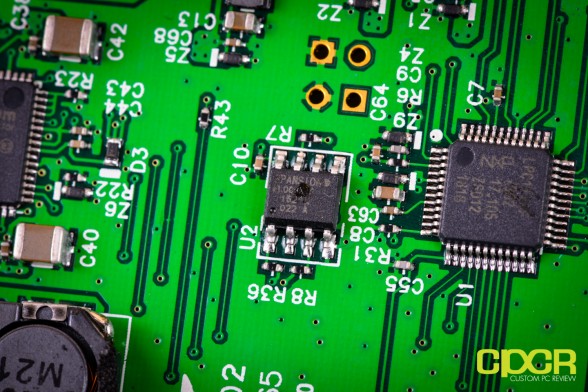 Model number is hard to see on this chip since it's a bit faded and there's some weird goop on it, but it looks like something from Spansion. Could be flash memory or could be some sort of coprocessor.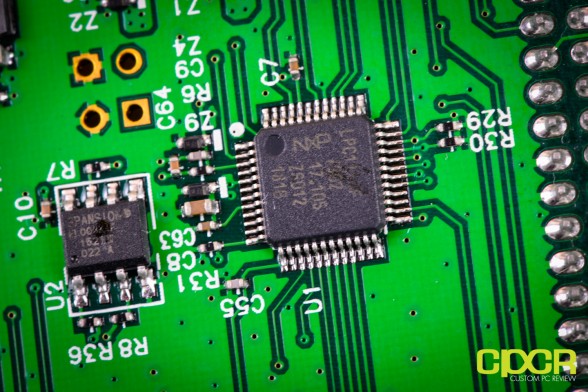 Next to that there's also a NXP ARM processor here.
[section label=5. Features Overview]
Sound Blaster Axx Features Overview
Since Creative already has pretty good explanations of the features, I'll let marketing do the talking here. I don't think I can explain it any better.
SBX Pro Studio
http://www.youtube.com/watch?v=XApmPyML0zs
SBX Crystalizer – Enhances audio for music and movies by restoring details in the high and low frequencies
SBX Surround – Delivers an immersive personal surround sound experience
SBX Smart Volume – Solves the problem of abrupt volume level changes in music, movies and games by intelligently applying gain and attenuation to deliver consistent volume levels; includes Night Mode™ to reduce the impact of explosions and bursts of sound so as not to disturb others after hours
SBX Dialog Plus – Enhances the intricacy of the human voice in movies and games, allowing the listener to hear the dialog clearly
SBX Bass – Fills in the missing low frequency tones and gives that 'extra punch' for a better entertainment experience
CrystalVoice Technology
Acoustic Echo Cancellation – Eliminates the echoes in a hands-free conference call
Noise Reduction – Enables the person speaking to be heard clearly over background noise by constantly monitoring the environment, eliminating unwanted noise that interferes with the conversation
Smart Volume – Automatically adjusts the loudness of a voice to maintain a consistent volume level. This makes it convenient for the speaker to converse normally, regardless of whether the speaker is close to, or far away from the microphone
Voice Focus – Envelopes the user in an audio shield that blocks out unwanted voices or noises, enabling only the user's voice to be heard clearly
VoiceFX – Enables the alteration of the user's voice with a variety of effects: create interesting accents, or enable someone to sound like a completely different person, such as changing one's voice from male to female, or monster, or robot, and much more
[section label=6. Setup & Software]
Sound Blaster Axx Setup & Software
Setup
Setting up the Axx was a very easy, very straightforward type of deal. After hooking the device up to a USB connection, simply download the drivers from Creative's website and install. In order to pair the Bluetooth, simply hit the Bluetooth button in the back, turn on Bluetooth on your phone, find the Sound Blaster Axx and hit pair.
Software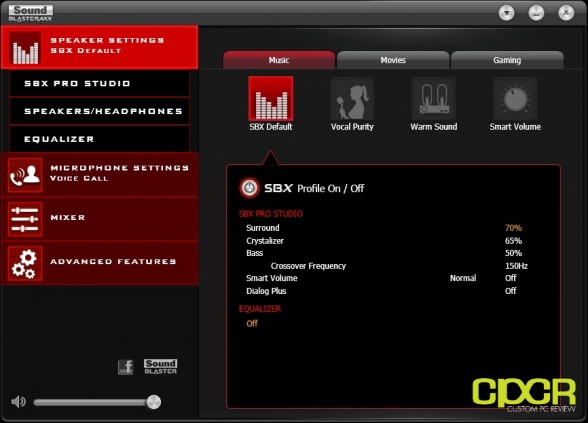 Here's a first look at the software. Seems like Creative changed the software suite to SBX Pro Studio, which pretty much just looks like a re-skin of THX Tru Studio Pro we've all grown to know and love. The licensing agreement probably expired or something. Anyway, in the main menu we get some different preset options with different profiles to choose from. There's four options each for music, movies, and gaming.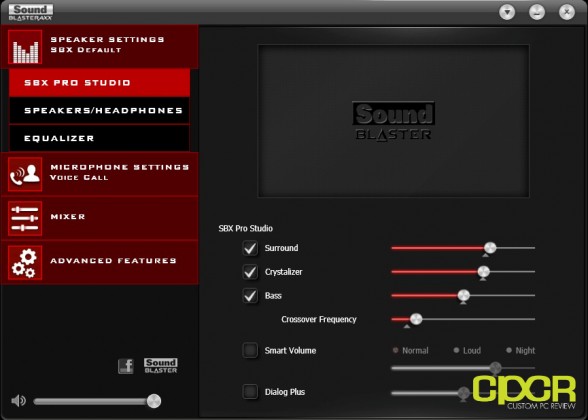 Those who don't like the preset options may also manually adjust the SBX Tru Studio Pro options. These are pretty signature Creative features carried over from THX Tru Studio Pro. Be sure to refer back to the previous page in order to find out what all of these features do.
Overall, they all work as advertised, but I have to say Smart Volume needs a bit of work. When nothing's going on, smart volume will try to boost the volume, which for those of you who've tried boosting the volume to 100% with nothing going on, creates hissing. Of course, this goes away as soon as some sort of audio gets played, but it's quite annoying to have on 24/7.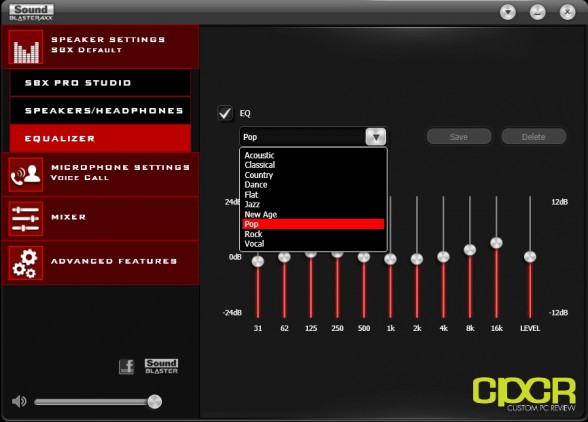 Yup, there's also an equalizer along with preset options of certain music types.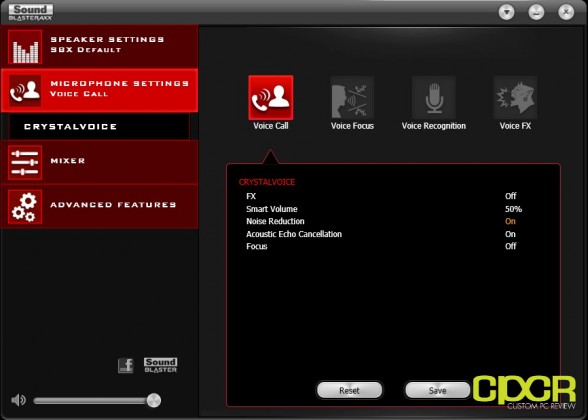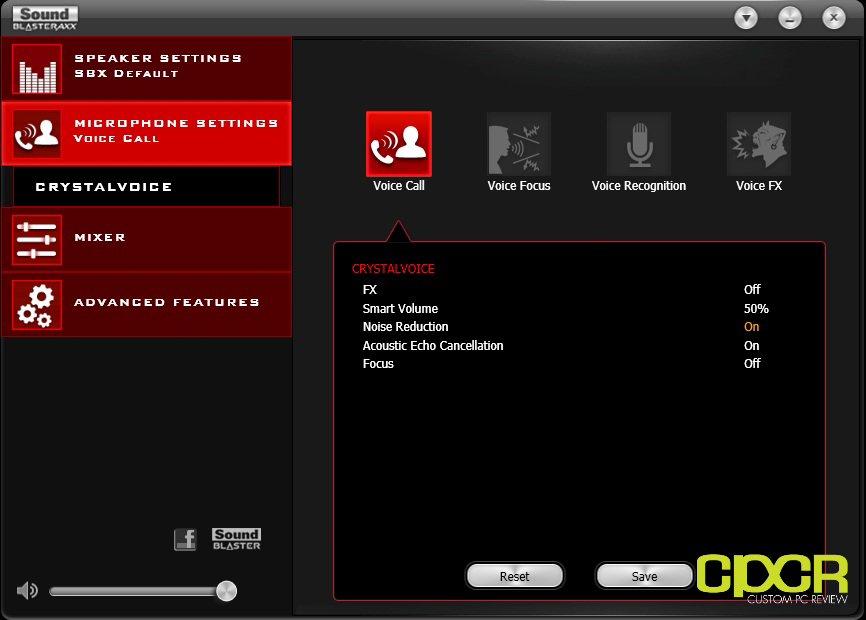 With Creative's introduction of preset profiles in SBX Pro Studio, they're also introducing preset profiles in Crystal Voice. There's a total of four voice profiles to choose from here.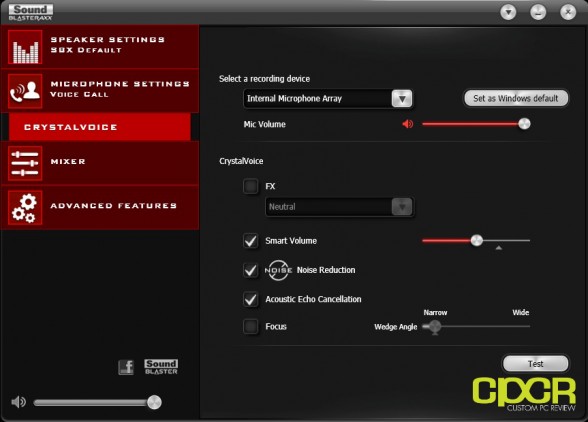 Again, those who find the profiles worthless may adjust every setting manually. Again, this is a straight up rebrand from THX Trustudio Pro.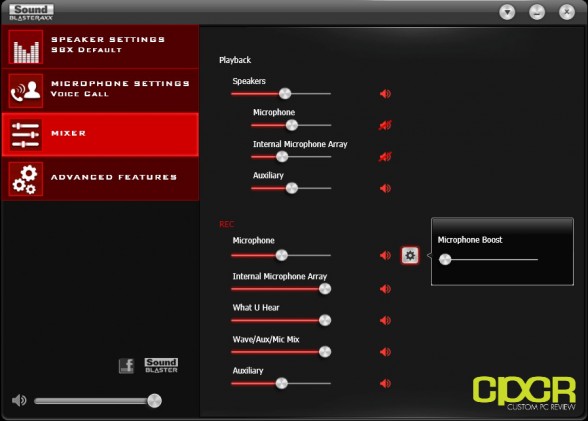 We also get some mixer options, so the volume of everything can be changed. Nothing special here.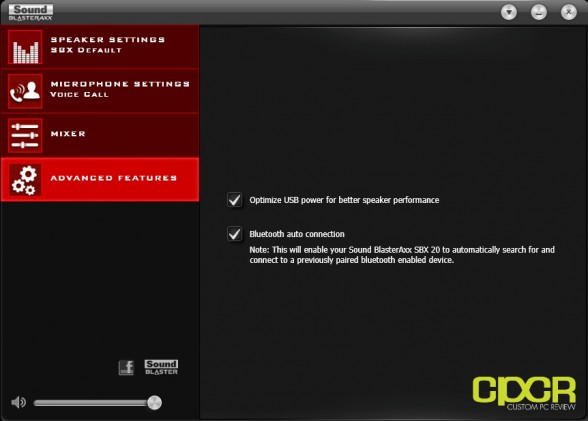 Under advanced options there's a couple interesting options. One is to optimize USB power, which is probably used to somehow get USB to feed more stable power to the Axx. The other option is Bluetooth auto connection, which allows your phone to automatically connect via Bluetooth to the Axx as soon as you're in range.
[section label=7. iOS Software]
Sound Blaster Axx iOS Software – Creative Central
The Axx's software suite on iOS (and presumably, Android) is called Creative Central and it allows for the configuration of pretty much everything that's allowed through the Windows edition of the software suite. Because of this, I'm not going into too much detail on the software so below is just some screenshots of the software itself.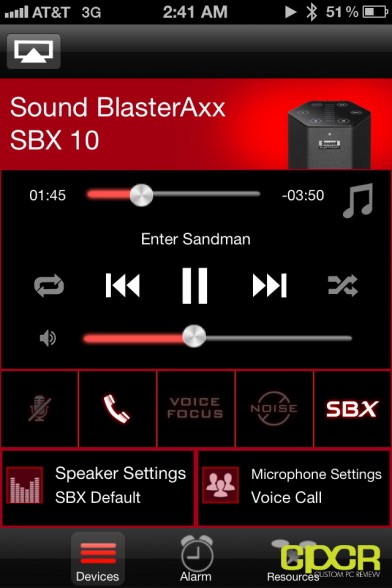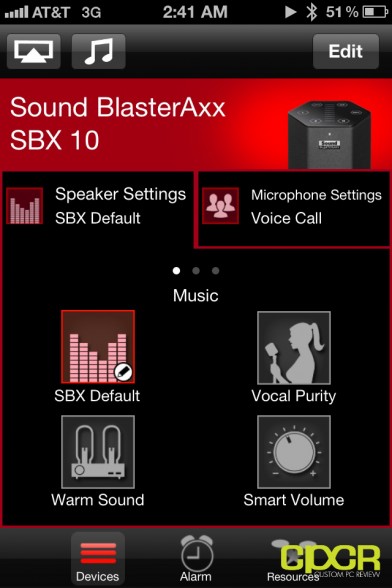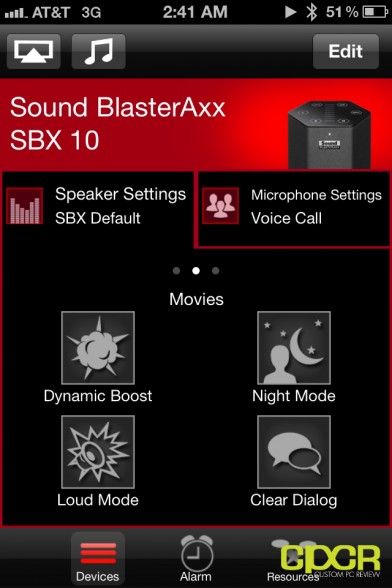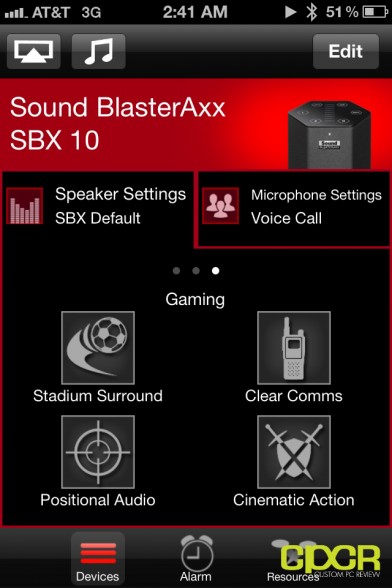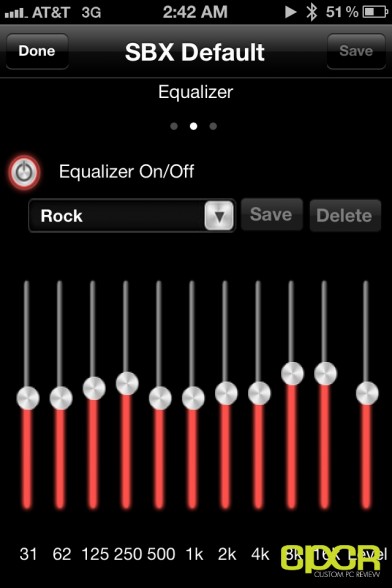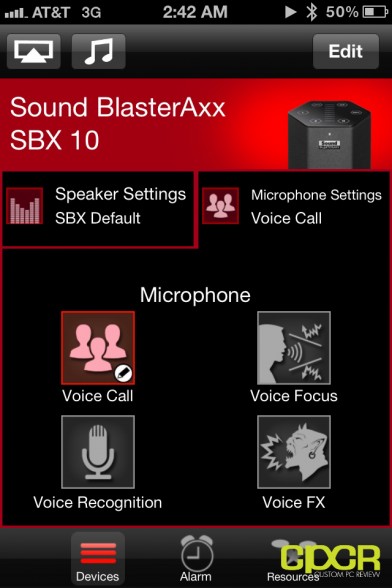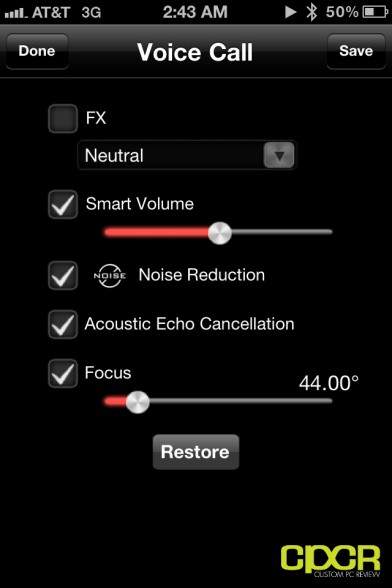 Here's a couple shots with the software in action. During times, I did find the software to be a bit buggy and it did crash once or twice, but it's unlikely that you'll spend a whole lot of time in this app so it's not a huge deal. I'm definitely expecting better stability as the software matures in future updates.
[section label=8. Performance]
Sound Blaster Axx Performance
Sound Blaster Axx SBX 10 vs. Sound Blaster Axx SBX 20
In terms of performance, the only difference you'll see between the Sound Blaster Axx SBX 10 and the Sound Blaster Axx SBX 20 is simply the amount of power each can output without the audio becoming distorted. Whereas the SBX 20 can easily fill larger rooms, living rooms, and kitchens with sound, the SBX 10 is more limited to smaller rooms or near field listening. That said, the testing below is equally applicable to both speakers, but do keep in mind that the SBX 20 is a considerably more powerful speaker.
Games and Movies
Kicking it off with some games and movies, I fired up some Battlefield 3 and some CS:GO, and overall I didn't really come away feeling too impressed with the SBX 10 or the SBX 20. The sound output from these speakers are best described as something like a high end iPod dock. The single speaker doesn't cut it when it comes to pinpointing enemy locations and the bass response was fairly weak on both the SBX 10 and the SBX 20. Where you'd normally experience nice deep booms in game, you'd actually get something more along the lines of a little thump instead. Personally, even after tweaking the settings around, I found it extremely difficult to really get immersed into the game and for those with a real desktop gaming PC, there are definitely much better alternatives out there.
After playing some games, I went on to test movie performance, and the experience was more or less the same. Loading up Captain America The First Avenger on Blu-Ray, I felt the Axx simply didn't cut it here as well and was the limiting factor to the superb lossless DTS-HD Master Audio 7.1 soundtrack included with Captain America. By no means was the audio bad – in fact, there's no other USB powered speaker out there that comes close to the SBX 10 or the SBX 20, but when compared to a 2.0 or 2.1 powered speaker system such as the Audioengine 5+ or the Logitech Z-2300, watching movies on the Axx is just unsatisfying. The lows felt like they hit a certain point before it simply became a thump and the very high end faced quite a bit of distortion when the audio is cranked up. Although the SBX 20 with its more powerful speaker is capable of handling this much better than the SBX 10, ultimately both aren't ideal solutions for movie watching if a full powered speaker system is available. Speaking of distortion, both the SBX 10 and the SBX 20 are only capable of about 75%-85% volume before you start getting distortion; however, it shouldn't be a problem for near field or in-room listening.
After spending some time testing the Axx on my desktop, I came to the conclusion that the Axx probably wasn't designed for the typical desktop PC gamer/PC enthusiast. I think the Axx is more oriented towards the casual PC user/casual PC gamer and those who spend a lot of time on mobile devices such as a smartphone or tablet. Because of this, I don't think my usual headset/speaker test games apply here. What does apply here is stuff like Angry Birds or Plants vs. Zombies. I found games such as Infinity Blade 2 a prime example of how much more enjoyable these games can be after being hooked up to the Axx. Personally, I've never really heard that game out of anything better than the iPhone 4S's internal speakers, and it's a shame so many users (myself included) have experienced it only on the internal speakers of something like the iPhone 4S. With the Axx, the game sounds a whole lot more lively, real and three-dimensional, which is a far cry from the flat, lifeless, almost monotone sound coming off the iPhone 4S's internal speakers.
Additionally, I also tested the Axx against the internal speakers off a 15″ Macbook Pro as well as the CyberPowerPC Xplorer X6-9120 and both laptops internal speakers were in a word, trash, when compared to the SBX 10 or the SBX 20. While the the Axx is quite underpowered versus a powered desktop speaker system, it's still sounds significantly better in comparison to any laptop speaker I've ever heard. With the SBX 10 being so small and it only requiring a single USB connection for power, it could serve as an excellent travel companion, offering decent movie/game sound quality when away from a main PC.
Music
So one of the biggest reasons to get a speaker is for music performance, and overall I found the performance here to be fairly good for what it is. Straight out of the box, the speaker sounds pretty flat and lifeless with a lacking low end, an overly bright high end, and a very narrow soundstage. However, Creative's onboard SBX Pro Studio audio processing suite gives a ton of flexibility allowing many different adjustments to the audio. The soundstage can be widened, the bass level/crossover can be adjusted and the equalizer can be tuned. With a couple adjustments, the Axx is capable of sounding better than laptop speakers, USB powered speakers, and even most iPod docks out there. One thing that's very important with the Axx is speaker placement. As it uses a stacked speaker design with one speaker on each side of the device, the speaker needs to be facing you or the sound will be off.
As usual with most Creative products, the sound processing on the Axx tends to favor both the highs and the lows, which is best suited for music slightly heavier on the lower end. Unfortunately, because the Axx does bottom out fairly quickly on the low end, it doesn't work too well for the music it's better suited for. What a bummer. I think one thing Creative can and should do here is drop in functionality for interfacing the Axx with their ZiiSound line of wireless speakers/subwoofer. I think this would make the Axx a whole lot more versatile. Safe to say then, the Axx is definitely not designed for any sort of monitoring or critical listening applications. Then again, I seriously doubt any company in their right mind would design a single speaker solution for an application like that, so those looking for a perfectly flat, perfectly accurate speaker need not apply here.
Productivity
Productivity isn't something I usually have a section on while testing speakers, but I think this is what makes the Axx such a special little device. With the Axx hooked up to my iPhone, the Axx made it easy to take phone calls hands free, which allowed me to freely move around the room or do other things while still having the ability to talk to someone else on the other line. For me, this meant I could be talking to someone on the other line while typing, taking product photos, or even benchmarking on my test bench. Previously, this required either putting the other party on speakerphone, which meant I couldn't stray too far from the phone, or doing the shoulder hold method, which severely limits mobility. Of course, office work isn't the only situation where I found the Axx quite useful. Moving the Axx into the bedroom allowed me to chat on the phone or listen to music while laying down on my bed, and having the Axx in the kitchen meant I was able to play music, listen to podcasts, or even take calls while preparing meals or washing dishes.
Microphone
Microphone quality on the Axx is fairly decent. It does its job as a microphone designed to pick up sound, but it's nowhere near the quality you'd get from entry level condenser microphones such as the Blue Snowball. However, voice pickup was clear in every test I conducted and features such as noise cancellation, acoustic echo cancellation as well as voice focus does a superb job getting a clear voice to the other party. One thing to note is that some of these voice processing technologies will make voices sound a bit artificial, but I guess it's better than the other party hearing a lawnmower humming in the background.
Power Consumption
One thing I was quite interested in with this product was exactly how much power was needed to drive the speakers. In order to do this, I hooked up both the SBX 10 and the SBX 20 to an Extech 380801 Power Analyzer.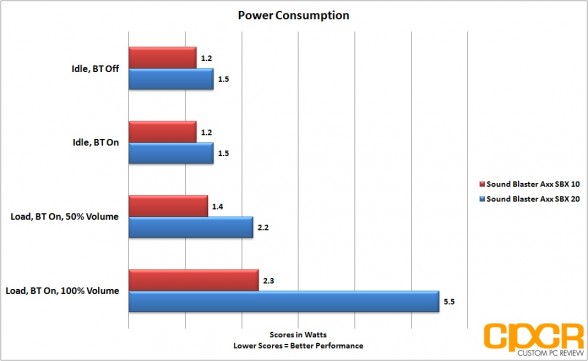 Wow… Just wow. During typical usage, the SBX 10 only draws 1.4 watts and the SBX 20 only draws 2.2 watts. That's about as much power as the phantom draw on a PC that's turned off! Even at full load, the SBX 10 doesn't break 2.3 watts and the SBX 20 doesn't break 5.5 watts. Additionally, do keep in mind the load numbers here are peak figures throughout an entire song. During points in the song where less is going on, the power consumption dials down significantly on the SBX 20.
It's quite strange that the SBX 20 is capable of drawing up to 5.5 watts on full power as USB 2.0 spec limits maximum power output at around 2.5 watts. (5v * 0.5A) Of course, power draw does vary during the song, so my best guess is that the combination of capacitors and the Audium chipset is what allows this to work.
[section label=9. Conclusion]
Conclusions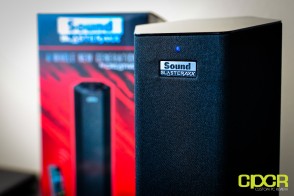 The best way to describe the Sound Blaster Axx is that it's a jack of all trades, but a master of none. It blends a ton of functionality into a single device and the value of the product will be very different for a very wide range of users. Now before I get into why you should buy the Axx, I'm going to come flat out and say that if you're a desktop enthusiast looking for some high quality speakers or a high quality microphone, the Sound Blaster Axx is not the way to go. Unless you absolutely need the convenience of hands free calling for your mobile phone, you'll be far happier with some Harman Kardon Soundsticks, the Logitech Z623, or, for those really serious about audio quality, the Audioengine 5+. Those looking for a high end microphone will be far better served with an enthusiast/professional grade condenser microphone such as the Blue Snowball or the Blue Yeti Pro.
With that out of the way, let's talk a little about what the Sound Blaster Axx does right. In the looks department, the Axx exudes an air of both modern and elegant with its professional looking pillar like hexagonal shape along with the capacitive touch panel up top. Along with its incredibly awesome design, the Axx has an incredible amount of functionality as well that requires very little setup, and is cross compatible with everything. Sound quality is acceptable although not amazing and the microphone while not amazing is still better than the microphone in most cellphones on the market.
For business users, this makes the Axx an ideal product. In fact, I think the Axx should be marketed more for productivity rather than entertainment. The hands free capability for example is exactly what you want while working (given you have your own office) as it's capable of freeing up both hands so you can work on other more productive tasks than holding a phone. Ever wanted to be that guy putting golf balls while on the line with an associate? Now's your chance. Of course, hands free isn't the only thing the Axx is good for. Those who've given presentations with laptop speakers or even low powered USB speakers will know that it sucks when the rest of the room can't hear a thing. With the Axx, that problem is solved as a single SBX 20 powered through USB will fill a good sized meeting room with audio. Additionally, those who do a lot of group conferencing will find the Axx quite useful as well as the omnidirectional microphone can pick up voices from a number of people and the speaker is powerful enough to broadcast voices from the other side so that everyone can hear what's going on.
For those whose primary computer is a laptop, I can also see the Axx being quite useful as well. Like a laptop, the Axx is fairly portable (the SBX 10 anyway) and the speaker is capable of producing audio that's a whole lot better than what you'd get from any laptop on the market. Those who spend a lot of time traveling will find that something like the SBX 10 will fit quite well into a laptop bag so that it may be taken on the go. Pair it with the ability to also hook into your phone and you have a very decent audio/microphone setup on the road.
While this may seem like a lot already, it doesn't end there as it's also capable of fairly decent music playback via Bluetooth, USB or aux-in. Like I said earlier, the music quality won't blow you away – in fact, it wont even come close, but it's always nice to have some music while working. I mean, the chances of anyone doing any critical listening while working in the office, cooking in the kitchen, etc. is quite unlikely. The Axx to me is most similar to something like an iPod dock, except you don't get the docking station and instead you connect via Bluetooth. Not a big deal since having Bluetooth and being able to control every function of the Axx through Bluetooth pretty much makes having the dock moot anyway. Why would you have your phone trapped on a dock when you can instead have it in your pocket?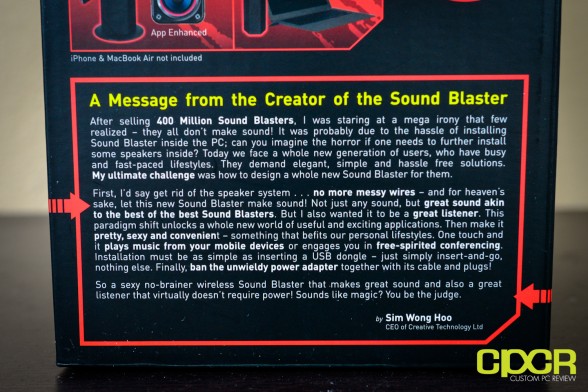 Currently, pricing on the Sound Blaster Axx SBX 10 is $147.87 and pricing on the Sound Blaster Axx SBX 20 is $199.99 on Amazon. Additionally, the Sound Blaster Axx SBX 8, which wasn't tested today that runs for $95.98. Now, pricing for these products is quite steep, but in terms of competition, it's definitely reasonable. Competing products such as the Jawbone Jambox are priced at around $178.28, so that's about the going price for a speaker/microphone/Bluetooth combo type device. That said, Creative's SB-Axx1 audio processing does give the Axx an advantage over competing products. However, one thing I'd really like to see is a battery powered version of the Axx. This is something that's currently possible from competitors and should definitely be possible on the Axx as well. Yes, it's currently possible to power the Axx using a USB battery pack, but it's a far better, far more portable solution to have it internally powered.
Speaking of this, I'm definitely quite interested in seeing where Creative is planning to take the Axx in future generations. USB 3.0 ports are capable of up to 900mV, which is nearly double the USB 2.0 spec of 500mV, so hopefully more features/power can be squeezed out of the speakers in future generations. Additionally, with Creative's willingness to license their technologies, I'd be very much looking forward to this technology being used in other applications such as headsets, headphones and even in-car hands free systems.
Bottom Line
The Creative Sound Blaster Axx SBX 10 and SBX 20 are both very innovative products that deliver a ton of features and a ton of sound in a very small package. Those users looking for a speaker/microphone that's capable of interfacing with practically everything you own, definitely consider picking up the Sound Blaster Axx.
| Creative Sound Blaster Axx SBX 10 | Creative Sound Blaster Axx SBX 20 |
| --- | --- |
| | |
Special thanks to Creative for making this review possible.
The Creative Sound Blaster Axx SBX 10 and Creative Sound Blaster Axx SBX 20 is currently available on Amazon.