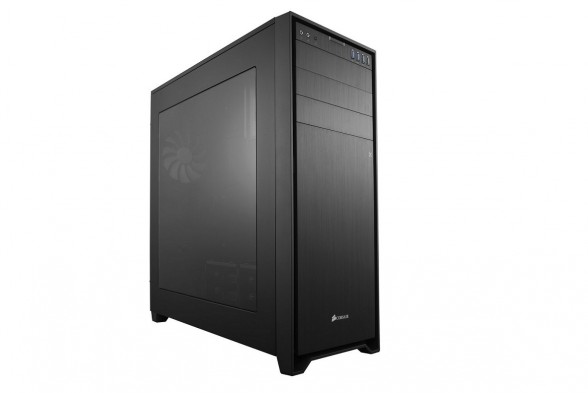 Build Your Own Next Generation High End Gaming PC!
Over the past couple years, the very high end gaming PC segment has really been neglected. Computer hardware had so far surpassed what games required that most users with modern sub-$1,000 gaming systems would easily be able to run the latest games at maximum resolutions. Now a huge part of this has to do with last generation gaming consoles as most games are developed on them yet they contained hardware that was low/mid-range to begin with even when they were introduced all the way back in 2005 (Xbox 360) and 2006 (PS3). With the introduction of new gaming consoles with some modern hardware in addition to game developers such as DICE pushing the envelope, the high end gaming PC is definitely ready for a comeback.
This is why for our November build, we chose to go with a high end $2,000 gaming PC build that would contain the right hardware to easily power all the next generation games hitting the market.
Let's take a look at the components we've selected!
Best High End Gaming Computer Build Component Summary – Budget: $2,000
Core Component Details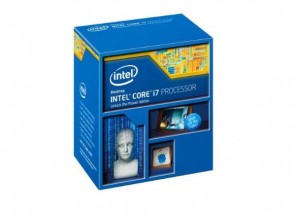 Over the past couple years, CPU performance wasn't a huge, huge deal for gaming PCs. AMD CPUs which generally had mid-range performance tended to perform equally as well in gaming as Intel's top of the line CPUs given equivalent graphics hardware. Games simply weren't much CPU hogs and were much more graphics heavy overall.
That said, for our gaming build today, we'll be recommending Intel's Core i7-4770K processor. The Intel Core i7-4770K is Intel's latest Haswell based quad core processor with a stock clock of 3.5GHz (3.9GHz Turbo), 8MB of L3 cache, hyper-threading support, and an unlocked multiplier for overclocking as well. It's the flagship mainstream desktop PC CPU for Intel and at $340, it's a good value.
Now prior to the release of DICE's latest game Battlefield 4, we would've recommended the Intel Core i5-4670K for this build without hesitation. Don't get us wrong, the Intel Core i5-4670K is a powerful quad core processor with plenty of single threaded performance for today's games, but we definitely feel like the Intel Core i7-4770K is currently the better way to go for tomorrow's games. The reason for this is that in our Battlefield 4 testing, Battlefield 4 was able to take advantage of up to 6 threads when played on a system that has the capability. On the other hand, when using an Intel Core i5-3570K, Battlefield 4 was eating up near 100% CPU utilization suggesting that CPU performance is becoming much more important than it has been in the past. Whereas the Intel Core i5-3570K and the Intel Core i7-4770K are both quad core CPUs, the difference between the two is that the Intel Core i7-4770K includes Hyper-Threading, which doubles the amount of threads on the CPU from 4 (1 per physical core) to 8 (2 per physical core). While this doesn't bring a full 100% improvement in performance in multi-threaded applications, it can improve performance ~30%, which I feel will be becoming quite important down the line.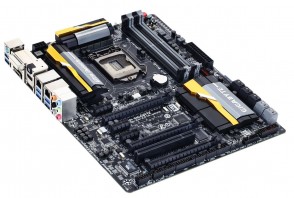 When choosing a motherboard for our high end build this month, we wanted a couple major things. We wanted a reliable, good looking board with tons of features and tons of expansion yet we didn't want to allocate much more than $200 here. Luckily, we reviewed the Gigabyte Z87X-UD5H recently and we felt like it was the perfect board for our needs.
Starting with reliability, the Gigabyte Z87X-UD5H is an Ultra Durable 5 Plus board. This means it features a slew of technologies such as an IR Digital power delivery system, 10,000 hour @105C Nippon Chemi Con solid capacitors, a 2x Copper PCB (0.070mm vs 0.035mm), dual BIOS, and additional features that can be found here that help enhance durability of the board. Aesthetics wise, I think it's possibly one of the best boards around. It features gold and silver plated heatsinks that sit on top of a fully blacked out PCB giving it that high performance look yet doesn't look gaudy.
As far as features go, the Gigabyte Z87X-UD5H doesn't disappoint either as it's got a 16 phase (12+2+2) IR digital power delivery system, dual Gigabit Intel network ports, support for up to DDR3 3000, multi-GPU configurations, 10x individually fused USB 3.0 ports, 7x fan headers, and more! Expansion options include a whopping 10x SATA 6Gb/s ports (6x on Intel chipset, 4x on Marvell 88SE9230 chipset), 3x PCIe x16 slots (one wired for x16, one wired for x8, and one wired for x4), 3x PCIe x1 slots, and even a legacy PCI slot for those with older hardware!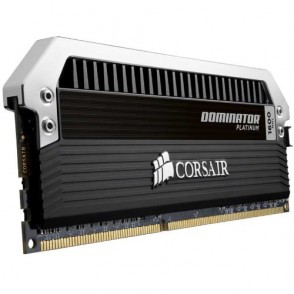 Since we're splurging quite heavily on possibly one of the most beautiful motherboards, one of the most beautiful graphics cards, and one of the most beautiful computer cases on the market today, we also wanted to splurge a bit on quite possibly the most beautiful memory as well.
This is why our choice for memory today is the 16GB kit of Corsair Dominator Platinum DDR3 1600MHz memory. The aggressive styling of the Corsair Dominator Platinum lets you know that it means business and there simply isn't anything out there that can offer the same classy, but high performance look that can match the rest of our build.
While aesthetics was a huge deciding factor on our choice in memory, so was the memory's performance and reliability as well. Corsair's Dominator line of memory has always been known to be the best of the best for the company with hand picked, 100% tested ICs that offer both maximum performance and reliable operation. With a lifetime warranty on these sticks, you simply can't go wrong here.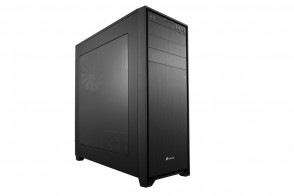 It was a couple years ago that Corsair entered the computer case business, but it wasn't until the past year that they've really focused heavily on the computer case market. With the upcoming holiday season, Corsair recently introduced a number of new computer cases, one of which is our choice for this month's build – the Corsair Obsidian Series 750D.
The Obsidian Series was originally one of the first lines of computer cases offered by Corsair and was extremely successful by offering very innovative designs along with lots of features. The Obsidian 750D follows that tradition with the same classy, yet aggressive, feature filled design that made the original Obsidian cases so popular.
In terms of design, the Obsidian 750D features a steel and brushed aluminum finish that is both beautiful and durable. The sidepanel features a large window, which will be able to show off the awesome hardware sitting inside the system. Speaking of the hardware sitting inside the system, the Obsidian 750D features up to 9x expansion slots with maximum GPU lengths of up to 450mm for compatibility of even the most powerful graphics cards on the market today. It also features support for up to E-ATX motherboards, plenty of fans and/or watercooling support, tons of drive support, dust filters, front USB 3.0 ports, and more!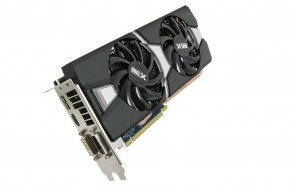 Unlike AMD's CPU division, AMD's graphics division is very competitive on the high end with AMD recently releasing a whole slew of new Radeon R9 200 series graphics cards to better compete with Nvidia's offerings. Unfortunately, the all new flagship R9 290 and 290X cards haven't arrived yet, but the R9 280X is here and it's got plenty of power to run any game on the market today at high/ultra settings.
Our choice for this month's gaming build then will be the Sapphire Dual-X Radeon R9 280X 3GB. The Sapphire Dual-X Radeon R9 280X 3GB is overclocked from the factory with a clock speed of 870MHz (1020MHz boost), 2048 x Stream Processors, and a 3GB of memory running off a 384-bit GDDR5 memory interface. In addition to the overclocks, the Sapphire Dual-X will also come with Sapphire's custom dual fan cooler, which will reduce both GPU temperatures and noise allowing the card to kick into turbo frequencies more often to boost performance.
One of the reasons we went with the R9 280X over a similar Nvidia offering is that it will also support AMD's Mantle API, which is a low level access API that allows game developers to directly access the graphics card hardware better optimizing games for better performance. So far, DICE/Frostbite/Battlefield 4 has confirmed support for Mantle along with a number of other game developers (Eidos, Cloud Imperium Games, and Oxide Games), which should be very interesting in the coming months.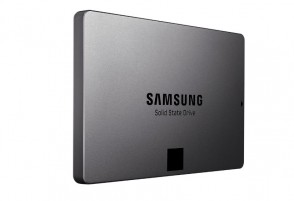 What a difference a year makes! Our last high end gaming build was in August of 2012, and it featured a measly 256GB SSD. Today, our SSD choice the Samsung 840 EVO it contains a whopping 500GB, which means most of us will finally be able to install our game libraries on the SSD and load those games from the SSD thereby reaping the benefits of SSD technology. The Samsung 840 EVO, which we've reviewed previously, is a fantastic SSD that's not only ultrafast in read performance, but also fast in write performance thanks to its TurboWrite cache. Given the fact that it's currently available for a mere $0.68/GB, it's also one of the best deals around making it our top pick for a SSD.
Additionally, we've also added a Seagate Barracuda 1TB 7200RPM hard drive on top of the SSD for storage purposes. Music, movies, pictures and other media that don't necessarily require the performance of a SSD, but require a lot of disk space can be stored on hard drives which are much cheaper ($0.06 vs $0.68/GB). That said, I would've preferred to include the 3TB Seagate Barracuda, which doesn't actually cost that much more, but because of our limited budget of $2,000 we weren't able to do so. If you find a couple extra bucks to spare in the budget, a larger hard drive is definitely a good upgrade.
Final Pricing
Current pricing on Amazon for our build today is $1995.11, which falls just under our budget of $2,000. As usual, if you're interested in upgrades, downgrades or any changes to the build, be sure to post in the comments section below or check out the PC Builds and Upgrades section in our forums.
Optional Components
Some readers have expressed interest in monitor, speaker, mice and keyboard suggestions, so we've also started including some recommendations for these items as well. I won't be explaining the choices as these optional components are quite dependent on the purpose of PC (For example, someone serious about audio may end up with $400 Audioengine 5+ speakers and an ASUS Xonar Essence STX), but here are some suggestions that are a good fit for this build. If you have questions or need additional suggestions for these products here, be sure to post your question in the proper section in our forums.
Remember, if you have any questions, need some help, or need to fit the build into your budget feel free to visit the forums! Myself, or the community here will be more than happy to help you out with your own custom build or answer any computer questions you may have. If this build doesn't fit your needs, be sure to drop by our Computer Builds section to find more computer builds. If you spot any issues with our build such as GPU/case incompatibilities, cooler/case incompatibilities, etc. please let us know!
Also, be sure to join us on Facebook, Twitter, Google Plus, or YouTube to be updated on the latest news, reviews, tutorials, custom computer builds, and more!