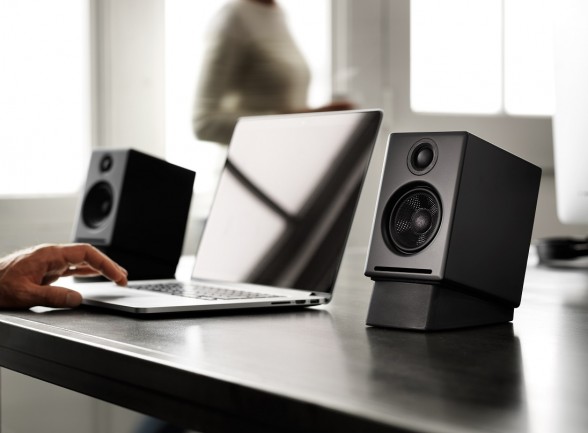 Press Release
Audioengine Introduces New Desktop Speakers
Audioengine today announced the Audioengine 2+ Premium Powered Desktop Speakers
The award-winning Audioengine 2 speakers just got better. With a built-in digital-to-analog converter (DAC), the Audioengine 2+ allows you to bypass your computer's headphone output and send music directly through USB for improved sound.
Upgrade your audio
The Audioengine 2+ sets a new standard for computer audio and these small, but high-performance speakers are the perfect upgrade for your computer.
"We designed the A2+ with the same philosophy as our other products – great sound and simple setup and operation," says Audioengine Director, Dave Evans. "The A2+ upgrades are based on customer and dealer feedback and I feel we've achieved our goal without altering the fundamental design and sound of the original A2."
Versatile and efficient
The A2+ was designed for your desktop but their superb soundstage and imaging also makes them the perfect choice to fill a room. An output to connect a subwoofer is included and you can even go wireless with our W3 adapter. Using a similar analog design as the Audioengine 5+, the A2+ power amplifiers are built inside the left speaker providing a very efficient system. Setup is easy. Just plug the left speaker into a power outlet and connect the included speaker wire from left to right. We've included multiple inputs for easy connection to your computer or iDevice. All cables needed are included, there's no software to install, and A2+ works with any computer or music player.
"The Audioengine 2+ is another step forward for powered speakers and a very affordable upgrade for your music," says Brady Bargenquast, Audioengine Director. "As is the goal with our other products, the A2+ offers quality and performance not generally seen in other speakers in this price range."
Features
Built-in analog power amplifiers
Dual analog audio inputs
USB audio input
Variable audio output
Works with Mac or PC, no software to install
Designed for desktop use, but will fill a room
Differences between the A2+ and original A2
USB digital-to-analog converter (DAC)
Variable audio output (connect a subwoofer or wireless adapter)
Upgraded speaker connectors
Standard 1/4″ threaded inserts for wall mounts
Upgraded power supply
Upgraded accessory cables
Pricing and availability
The Audioengine 2+ (A2+) Premium Powered Desktop Speakers is available now for US$249 per pair and can be purchased from over 500 authorized worldwide re-sellers (Amazon) or via the manufacturer's website here.