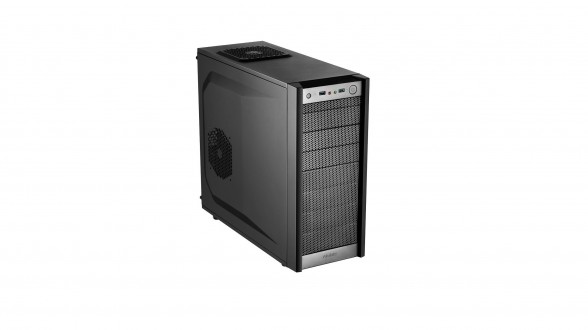 As most of you may expect, I typically get a couple requests a month asking about computer builds. Whether it be if a certain one is good, a certain one isn't, or simply a request for a PC to fit within a certain budget, I get them. So, today I'll be sharing the best gaming PC build that I think falls under probably one of the most requested computer builds out there – the gaming PC/computer build around or under $1,200-$1,300.
Budget: $1,200 – $1,300
CPU – Intel Core i5 3570k
For our Ivy Bridge gaming computer, we're going with Intel's Core i5 3570K. Equipped with excellent performance, great overclocking capability, and more than enough processing power to run today and tomorrow' games, the i5 3570K is literally a no brainer. Those thinking about the Intel Core i7 3770K, don't. Unless you're doing activities that can take advantage of the extra threads offered by hyper threading (video editing, rendering, 3d modeling, etc.) there's no reason to overspend for the i7 3770K. For gaming, i5 3570K and the i7 3770K will perform nearly identical. Don't get sucked into the marketing hype, people.
Motherboard – Gigabyte Z77X-UD3H
Prior to the introduction of Intel's Z77 chipset, Gigabyte's boards simply weren't that competitive when compared to boards from other manufacturers such as ASUS, ASRock and MSI. While many board manufacturers moved over to a superior all digital power delivery system, Gigabyte didn't. When many manufacturers moved to a true UEFI BIOS, Gigabyte didn't. So, throughout the P67 and Z68 generation, Gigabyte motherboards weren't exactly the hottest boards on the block. Don't get me wrong, Gigabyte boards were still great motherboards, but with what the competition had, they just weren't that appealing.
Well, after the introduction of Z77, Gigabyte really stepped up their game and have once again shown us what a top tier motherboard manufacturer is capable of. Ultra Durable 4 technology? Check. All digital power delivery system? Check. Full UEFI BIOS? Check. Yup. In a single generation, Gigabyte was able to catch up with every other motherboard manufacturer and, in some instances,surpass them.
As for the Z77X-UD3H we're looking at here? Well, with what's been mentioned above, it's also got USB 3.0, SATA 3 6Gb/s, PCIe 3.0, full support for both Sandy Bridge and Ivy Bridge processors, and a whole lot more. Not to mention it's the board that powered the record setting 7GHz i7 3770K overclock. Those interested in pushing their new i5 3570K for a modest ~20%-35% performance boost, may check out our overclocking tutorial/UEFI demo video below. Also, don't forget to check out our full review of the Z77X-UD3H here.
Memory – Corsair Vengeance Low Profile 8GB
As usual, the Corsair Vengeance Low Profile 8GB kit is our go to kit for memory. Stable, high quality memory running at the optimal Sandy Bridge / Ivy Bridge voltage of 1.5v. Those opting to purchase other brands of memory, be sure to invest in some memory with low profile heatsinks. Unless dangerous amounts of voltage is pumped into the memory, memory simply doesn't overheat and high profile "flashy" memory ends up serving as interfere to larger CPU coolers more than anything else.
Video Card: EVGA GeForce GTX 670 FTW
For a gaming build, we've got to go with a serious graphics card and Nvidia's GeForce GTX 670 is just that – a serious graphics card. Built on Nvidia's new 28nm Kepler graphics technology, the EVGA GeForce GTX 670 FTW is capable of running pretty much every game on the market at ultra settings even with AA turned on. Additionally, we're also going with the FTW edition this time, which will include the heftier cooling solution of the GTX 680 allowing the GTX 670 FTW to run cooler and more silently. Finally, don't forget that EVGA has probably the best warranty and customer service in the industry.
Oh, look! $10 rebate too! Niiiice!
Those on a budget who don't require such a nice graphics card will do well with the Sapphire Radeon HD 7850. Excellent mid range card for the price.
Case – Antec One Computer Case
Out of every awesome piece of hardware being featured today, the one that really inspired me to do this gaming build (more than a week before July) is because of this case. Currently being sold at only a mere $39.99, the Antec One is undoubtedly an insane value especially considering the case is coming from a company as well known as Antec.
With tool-less design, front panel USB 3.0, painted interiors and more, it's a top notch case from a top notch manufacturer for a price that's practically unbeatable.
Boot Drive: OCZ Vertex 4 128GB SSD
While we usually end up going with the Crucial m4 for our top pick since it's been such a great top tier SSD going for dirt cheap prices, it looks like OCZ has finally also dropped prices of their top end Vertex 4 SSD to match as well. Featuring high end 25nm IMFT synchronous MLC NAND, their own custom Indilinx firmware atop proven Marvell controller hardware also seen on the Crucial m4, excellent performance, and a industry leading 5 year warranty, the OCZ Vertex 4 is clearly a top pick. Read our full review here.
Optical Drive – OEM DVD Drive or OEM Blu Ray Drive (Any Manufacturer)
PSU – Corsair TX650 V2
Once again, we'll be falling back on our trusty Corsair TX650. High quality Seasonic made power supply for a great price to boot. Those interested in going SLI with the GTX 670, don't even worry about it. The TX650 will handle that just fine too!
Those interested in grabbing a modular power supply, check out the Corsair HX650.
Cooler – Cooler Master Hyper 212 Plus
$25 cooler that will work magic. Seriously though, at this price, there's no cooler out there can that beat this thing.
OS – Windows 7 Home Premium 64 bit
Total price on Amazon (No tax and free shipping for most residents of the USA) for this build is $1,251.26, so we're actually right in the middle of our $1,200 to $1,300 budget. If you don't need an operating system, you can save an extra $100 on that as well, pushing the price to under $1,200. Not too shabby for a gaming PC that'll do it all.
Remember, if you have any questions, need some help, or need to fit the build into your budget feel free to visit the forums at http://forums.custompcreview.com. Myself, or the community here will be more than happy to help you out with your own custom build or answer any computer questions you may have. If this build doesn't fit your needs, feel free to drop by our Computer Builds section to find more computer builds.
Also, be sure to join us on Facebook, Twitter, Google Plus, or YouTube. Be updated on the latest news, reviews, tutorials, custom computer builds, and more!